Halloween SPECIAL: BOO! "What Scares Me Most About Nuclear…" – 35 Activists Share Their Nightmares
Special feature:
Halloween is supposed to be a scary holiday, and I can think of nothing scarier than nuclear. So I talked with some people who know a thing or two about nuclear to find out what about it scares them most. Vrtually everyone I recorded could have spoken for an hour at minimum. But I wanted to get as many people as possible on the show, which required limiting the length to around one minute, direct address with no interview to steer the comments.

These statements came in little snippets/snapshots running from 8 seconds to 90 seconds; you'll hear more than 30 voices, from front line anti-nuclear movement leaders to audience members at the showing of a really scary documentary about the San Onofre nuclear power plant. All were recorded between September and October, 2023.
Among the activists you'll hear from:
Karl Grossman – Long Island, NY
Harvey Wasserman – Los Angeles
Manna Jo Green – New York
Leona Morgan – New Mexico
Dave Kraft – Chicago
Kevin Hester – New Zealand
Anna Rondon – Navajo Nation
Tim Deere-Jones – UK
…and many more!
PLUS: Scary Nuclear Stories from Hanford Site in Washington State – "The Most Polluted Place in America"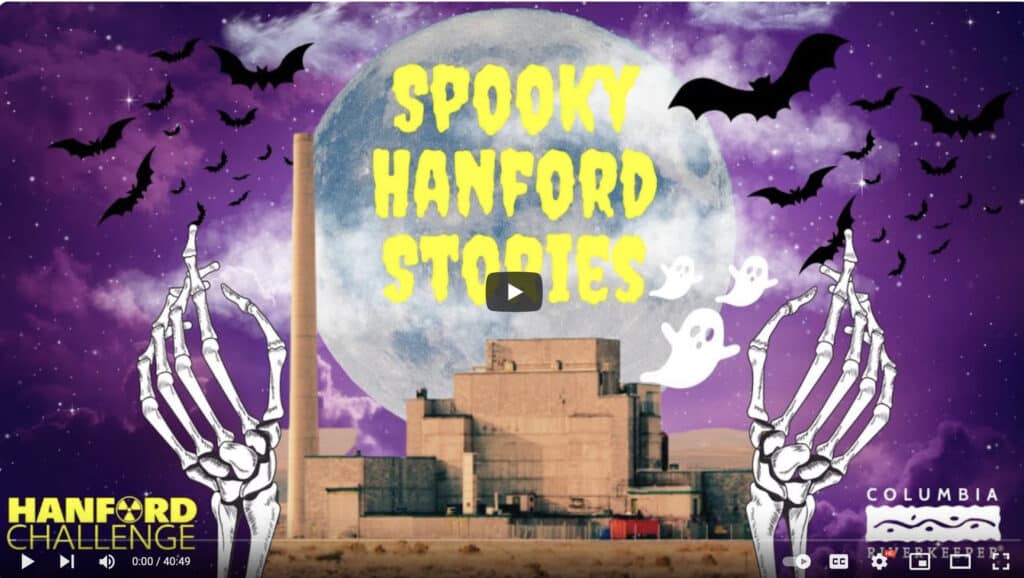 Spooky Stories from Hanford – thanks to Hanford Challenge and Columbia Riverkeep
Numnutz of the Week (for Outstanding Nuclear Boneheadedness:
Whether it originated with Aristotle, the Jesuits, or Lenin, all of them said: "Give me a child until he is 7 and I will show you the man." Or woman. The nukesters know how to put on a show – and provide materials for school involvement – to recruit the imagination of children around the world with their annual "International Nuclear Science Week." It's a real Pinnochio's Pleasure Island of trips and traps for impressionable young minds, without a single word about the forever deadly radioactive waste. And we wonder how they embed their propaganda so deeply into the world consciousness? They start young. Pure evil.
Links:
If You Love Nuclear Energy, Then You Love Nuclear Weapons by Harvey Wasserman
Filmmaker Greg Mitchell's award-winning film, ATOMIC COVER-UP, is now airing for free at the PBS main site and all PBS apps, and it will start appearing over PBS stations this weekend. The film features the first on-the-ground footage of the devastation at Hiroshima and Nagasaki after the United States dropped the atomic bombs in 1945. Narration is from the newsreel photographers who were there. Devastatingly powerful film – perfect to show on a double bill with the "what – did we do something bad on the ground?!?" Oppenheimer film to fill in the blanks from that Hollywood bio-opus.
The International Uranium Film Festival will return to the United States March-April, 2024 with stops scheduled in 10 states, 12 venues. Highlight will be DU in DC, films on depleted uranium weapons being shown in Washington. More information and details on the itinerary will be posted here as it becomes available.