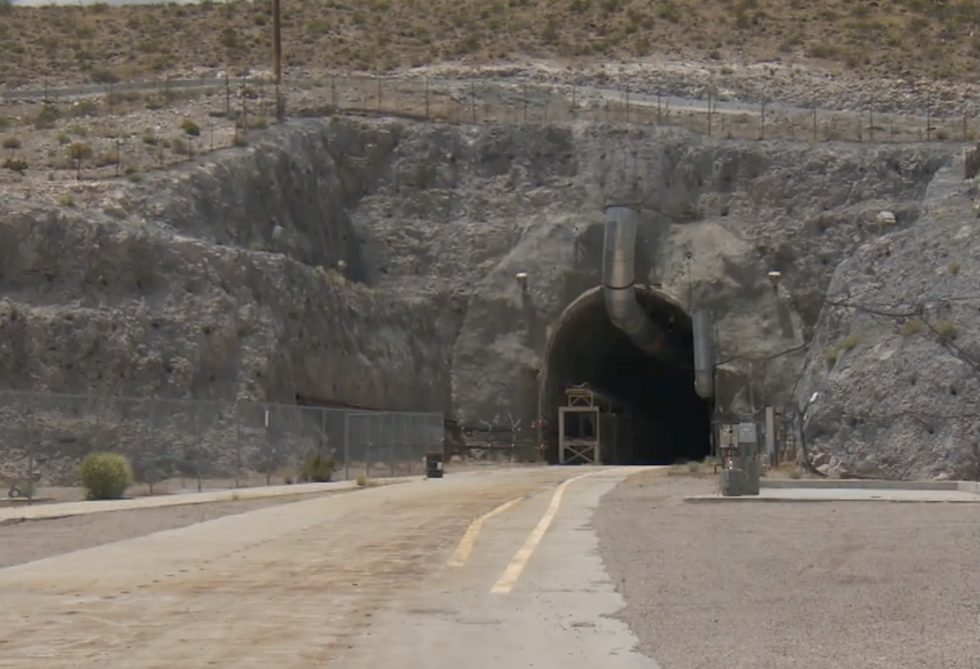 This Week's Featured Interviews:
Radioactive waste dump connection between Yucca Mountain and West Texas explored and exposed by Ian Zabarte, Principal Man for the Western Bands of the Shoshone Nation. He rips apart the recent decision by the Nuclear Regulatory Commission to approve a high level "interim" nuclear waste dump in West Texas and brings to the fore a range of Native American issues long-overlooked by the NRC and the nuclear industry in connection with this nuclear sacrilege.
You can CONTACT Ian at: www.NativeCommunityActionCouncil.org.
Dave Kraft of Nuclear Energy Information Service (NEIS) gives us the latest unfortunate update in the ongoing saga of taxpayer-funded bailouts of unprofitable for-profit Exelon nuclear reactors in Illinois. Then he lets us know what's being planned for the nuclear honey-pot of Congress in the proposed Build Back Better Act. It's not a pretty picture!

Video featuring Greg Jaczko, former chair of the Nuclear Regulatory Commission, which is referenced in the interview with Dave Kraft:
Numnutz of the Week (for Outstanding Nuclear Boneheadedness):
The United Nations' COP 26 conference on the climate crisis has for the first time banned nuclear groups from presenting their propaganda. No, that's not the "numnutzery" – it's the nuclear industry crying in its beer over not being allowed to crash the party!
Links:
New Website coming!
A personal note to everyone that the new website for Nuclear Hotseat now has the wireframe (structure) secured. Next step: fill in the blanks with tons of great new information, easier searchability, new features, and the world-class look that we deserve to match the quality of information. It's a lot of work and we're still raising funds to pay for the second half of the fee in order to be able to launch it. Approximately 6-8 weeks to completion, but well worth the wait!
For those of you who have contributed to this massive step – thank you!  And for those of you who want to help us cross the finish line – please do!  Just Click Here or on the Big Red Donate Button to provide a donation of any size.  I'll post pictures in the coming weeks of what's going it's going to look like.  An exciting important step for this 10-years-and-counting weekly podcast/broadcast on nuclear issues!  Stay tuned! — Libbe.
Libbe HaLevy 
00:00:01
Nuclear short sightedness, the nuclear regulatory commission just approved a so-called interim nuclear waste dump in west, Texas near the New Mexico border. That's supposed to be safe for in gathering the highly radioactive debris from nuclear power reactors around the country. You'd think that the NRC would have carefully considered all aspects of the possible problems with this model before granting a for-profit company with the ability to accept and concentrate such forever dangerous materials in one place. But then you learn about the problems of transporting that waste from existing nuclear reactors to west Texas, and a genuine expert tells you
Ian Zabarte
00:00:48
There are 75 sites where some have multiple reactors up to four. Each of those communities have borne the burden of risk from their reactors. They would all come together and become a river of risk and waste that ends up in Texas or eventually in Nevada. And there's no quality assurance that these private corporations can do what they say they're doing. We have trouble when a train falls off the tracks and it happens to be a multipurpose canister filled with nuclear waste. People will die. The environment will be damaged and they don't have the quality assurance that they could retrieve the waste safely. If it falls off the tracks.
Libbe HaLevy 
00:01:29
And of course there's more well, if the NRC is planning to allow Holtec and waste control specialists to take radioactive waste materials out for a joy ride on our highways and our rail lines, passing that deadly cargo through more than 80% of the country, you and I are all truly stuck in an impossibly dangerous seat that we all share
Announcer
00:01:56
Clear hot seat. What are those people thinking? Nuclear hot seat. What have those boys been breaking clear? Hot? See Ms. Sinking our time to act is shrinking, but nuclear Hotsy. It's the bomb.
Libbe HaLevy 
00:02:27
Welcome to nuclear hot seat. The weekly international news magazine, keeping you up to date on all things nuclear from a different perspective. My name is Leebee Halevi. I'm the producer and host as well as a survivor of the nuclear accident at three mile island from just one mile away. So I know what can happen when those nuclear so-called experts get it wrong. This week, we have two interviews illuminating bad news from the past week on nuclear matters. First of the Western Shoshone nation clarifies the dangers of the nuclear regulatory commissions approval of a high level nuclear waste dump in west Texas. Then Dave craft of any S in Chicago nuclear energy information service illuminates the fallout from the Illinois nuclear reactor bailout, and the potential bill to taxpayers of the nuclear aspect of the build back better GAC to the name, build back better act currently making its way through Congress.
Libbe HaLevy 
00:03:33
We will also have nuclear news from around the world numnuts of the week for outstanding nuclear bone headedness, and more honest nuclear information than anyone in national mainstream media bothered to convey to their audiences this past week. All of it coming up in just a few moments today is Tuesday, September 21st, 2021. And here is this week's nuclear news from a different perspective. It has been a lousy week for those of us who oppose nuclear. And here's the first of two interviews we have illuminating those issues. First nuclear bailouts, Illinois has signed into law, a bailout of excellence, nuclear plants in that state to the tune of $700 million over five years now, attention shifts to Washington where the nuclear industry is seeking bailouts in the build back better act BBB, which has nothing to do with the better business bureau build back better app in the range of 55 to $60 billion.
Libbe HaLevy 
00:04:42
Exelon reactors would be eligible for as much as 25 billion with a B dollars of this to bail out their soon to be spun off reactors, to learn more about this issue. We spoke with Dave craft. He is co-founder and director of nuclear energy information service, or any S which is headquartered in Chicago. Dave is a regular guest on nuclear hot seat because among his many other qualities, he is one of the most knowledgeable people in the country on nuclear bailout issues here. He illuminates this shock of bad news that we got in the past week. I spoke with Dave on Monday, September 20th, 2021, Dave craft. Thanks so much for being with us today on nuclear hot seat.
Dave Craft
00:05:28
Thanks for the invitation.
Libbe HaLevy 
00:05:30
Let's start out with my condolences. Tell us what was just passed by the Illinois legislature and signed by your governor.
Dave Craft
00:05:39
Okay. Within the past week, as of this recording, the state of Illinois assigned a massive, massive energy bill, and it had many, many good things. It was 950 pages long was in the works for about two years, honestly, of all the parties who were participating, but in spite of the many, many good things in it, which included expanding renewable energy, energy efficiency, just transitions job equity for, for BiPAP communities, regrettably, there was a $694 million bailout for three excellent nuclear reactors that are losing money here in Illinois. So once again, the nuclear hostage crisis worked for Exelon. They pressured the legislature, even though they had a huge ethics scandal going on over the last two years, and the bill was signed by the governor in the past week. Now there's still a lot of work that has to be done moving forward in the fall session in terms of all the tweaks and figuring out which department pays what and manages whatever. But essentially the big pieces are in place in many respects. It's a great effort, a great bill. The environmental community should be proud of, but unfortunately the fly in the ointment is this a massive bailout, which is unwarranted in our opinion.
Libbe HaLevy 
00:07:00
So is this male out of the nuclear industry, excellent, a done deal, or are there other avenues that might still be taken to either forestall or derail it
Dave Craft
00:07:11
In terms of the state of Illinois, these bailouts are a done deal. So there's not much you can do about them. However, the action now shifts over to the federal side of the ledger because with the so-called BBB act, the build back better act and the infrastructure package, which was proposed over the last several months, it's been calculated that the nuclear industry is slated to get as much as $60 billion over a 10 year period in bailouts. Now I bring that up because according to the law that was passed in Illinois, if excellent should apply for those federal funds, then the monies that the state was going to come up with would be canceled. And they'd be feeding off the federal trough. Now our opinion is if something is evil, it doesn't matter if you spread it out over a larger victim base, which is what you do when you go from the state, which are rate payers to the federal government, which are taxpayers. A bailout is a bailout it's turning rate payers into ATM machines for utilities. And we oppose that
Libbe HaLevy 
00:08:15
What tactics were used, how was it justified that with all of this money in Illinois, that was earmarked for renewables and energy efficiency and all the rest, somehow nuclear horned in there for a great big chunk of the pie.
Dave Craft
00:08:31
It's been a kind of a defacto business model of not just Exelon, but the nuclear industry in general, to engage in what we call the nuclear hostage crisis. What that means is in a particular locality, the utility says, oh, these reactors that we have are not being compensated for their great environmental contributions of not producing carbon, which is true. They're a very low carbon energy resource at the point of generation, but they also produce about 20 to 30 tons of high level radioactive waste each year. So they're not exactly clean. That's their panic pedal message is, oh, we're not making enough money. We're not being compensated for our environmental benefits. Therefore we're going to close them down by XYZ date, which is exactly what Exelon did in Illinois. They had slated the Byron one and two reactors to be closed September 13th and the Dresden two and three reactors to be closed in November.
Dave Craft
00:09:29
If they didn't get their weight. Now, what that does is it puts a lot of pressure on the local mayors whose budgets are heavily tied into the tax monies that you get from a company town, entity like Exelon, which is huge, and the workers who will be losing their jobs and the economic multipliers involved with that. So you have now the locals all up in arms, they put pressure on their state legislators who then go back and put pressure on the governor. And eventually you end up with a bailout now in 2016 in Illinois, excellent did this and they did much better back then they got $2.3 billion over a 10 year period. This time they only got close to 700 million. What irks us about the 700 million though in Illinois was that to his credit governor JB Pritzker commissioned an independent audit earlier this year, excellent was forced to open its books and provide numbers to this auditor.
Dave Craft
01:10:28
But the auditor determined back in April that Exelon at best should get $350 million over five years and maybe less if energy market prices improved. So then that was supposed to be the ceiling, how it got up to $694 million is beyond us. But I guess you could just chalk it off to Illinois politics. So that happened in Illinois, but I mentioned this being as a business model and a number of us in the anti nuclear community stumbled across a amazing PowerPoint presentation done by a utility lobbyists and at a utility conference in New York. A lot about lobbyists actually did a PowerPoint where he puts up on the screen, what a terrific return on investment, the excellent company got in New York and their bail out for a very minimal amount of investment. So this has actually been incorporated as a kind of suit pseudo or de facto business model that the new utilities are using. We can provide you with the PowerPoint slide if you'd like to see it
Libbe HaLevy 
01:11:36
Loved to. And of course, we'll post that on the website under this episode of nuclear Hotsy now let's get back to the build back better act, which I just think it's no coincidence that it has the BDB of the better business bureau, just for a little bit of confusion, but be that as it may, how is that supposed to impact the nuclear industry and their attempts to build back quote unquote, better in their minds, which means more nuclear, right?
Dave Craft
01:12:07
Well, you have to go back actually, even to the Biden campaign, even before the election took place, he was very clear that he supported the nuclear industry. It's one promise, I guess he's trying to keep at this point because the secretary of energy and others in his administration had been going around the country saying how we absolutely need nuclear power to combat climate change, which of course we disagree with, but that is their administration position. So the next piece is we had some of the senators and representatives and voting in the house. They're making proposals of different amounts in both of the two bills, the BBB bill, as you point out, and the infrastructure bill, the production tax credit, and the infrastructure bill would have amounted to roughly $6 billion to bail out, failing nuclear plants like Exelon's around the country, but another 6 billion would be poured into so-called small modular nuclear reactors, advanced reactors for the future.
Dave Craft
01:13:09
So that's, what's happening with that bill. The bigger chunk of change though, is in the BBB because as I pointed out earlier, calculations have been done and these numbers are gonna change a lot because of the reconciliation negotiations, but estimates are as high as 60 to $64 billion would be allocated to nuclear. A good portion of that, if not, most of it to bail out, failing nuclear power plants, the excellent corporation in particular, out of the 50 to $60 billion would qualify for somewhere between 24 and 25 billion nationwide. And what is most interesting is that the champion of this in the Senate, Senator Ben Cardin of Maryland just happened to have gotten $80,000 in campaign contributions from Exelon and IBW over the last five years. So I think we see how this gets manufactured,
Libbe HaLevy 
01:14:03
What a coincidence, and you can put the quotes anywhere you want to around them.
Dave Craft
01:14:08
Well, the funny thing was I had a, I was on a radio interview and a very good reporter from downstate Illinois in Springfield when, when we were talking about the legislation and he stopped me right there. And he said, but, but aren't those campaign contributions legal, well, of course they're legal, but how are they, you know, are they ethically correct? I mean, everything in Nazi Germany was perfectly legal to, you know, we had some ethical qualms with that.
Libbe HaLevy 
01:14:34
What has been the response of the other environmental groups to this nuclear bailout and it's position, both in Illinois and also in the field back better act,
Dave Craft
01:14:47
I'll start with the federal response because that is extremely in August. The letter was sent to the house and Senate leadership and to the president Biden co-signed by over 250 national organizations, many of them, national groups, a lot of them local groups essentially saying, do not fund nuclear support, renewable support efficiency, et cetera, et cetera. That was co-signed. As I say, by over 250 groups separately, and this is very significant to us at the end of August, Michael Brune, the executive director of Sierra club put out a statement, which I think was on Twitter. I'm not exactly sure which social media it was on, but I want to read this one point. He wrote, this is the Sierra club position, providing a broad taxpayer subsidized Dale out of existing nuclear power plants would divert resources from the most critical opportunity in front of us, which is to spur the development of the next generation of clean, renewable electricity that will serve us now.
Dave Craft
01:15:50
And in the future, that's a very unambiguous statement from Sierra club national. Now also about a week ago at a press conference, the league of conservation voters LCV came out with a statement of things that they are in supportive and things that they are opposing. And one of the things that they list that they want done in the build back better act is removing additional, extra support for existing nuclear power. These are two of the largest environmental based organizations in the country, which I've spoken out against nuclear bailouts at the federal level. And regrettably, it does contrast with some of the local positions that have been taken particularly like in Illinois, where the environmental groups here like Sierra club had to bite the bullet and swallow that 694, a million dollar bailout in order to get the rest of the stuff, which was just politics. And that's the way Illinois has been going with the nuclear hostage crisis for decades. So it was a bitter pill to swallow, but it does stand in contrast with the national position
Libbe HaLevy 
01:16:56
In a recent email, from any I S you spotlighted and linked to an interview with former NRC chair, Greg yacht scope. I watched that. I found it remarkable. Tell us about that. Why you sought to put that out to a larger audience.
Dave Craft
01:17:13
Yes. I'm glad you brought that up. A wonderful progressive show on online. I see it on YouTube, but you know, they have their own channel is the hill rising, which is a morning show. And this past week, Greg was one of their invited guests. And the day before the, the actual commentator for the show who happens to be the guy who sponsors the intercept, which is a progressive kind of muckraking organization, which, you know, ferrets out all of these nasty little details. He had an editorial where he was suggesting that if Joe Manchin in the Senate is looking for ways of reducing the cost of the BBB package, that he eliminates the $60 billion for the nuclear industry and the $25 billion for the fossil fuel industry that are in there, start there and then go. So the next day he invited a former NRC chairman, Greg yachts go to, to speak.
Dave Craft
01:18:11
And Greg has been going around the country for the number of years now, pointing out from his viewpoint as former chairman of the NRC that the nuclear industry has absolutely no meaningful role to play in combating climate change. He has pointed out the flaws in the, if you call it thinking at all in investing in small modular reactors or advanced reactors moving forward, they just will have no impact on positively moving the climate arrow in any direction. And he's not alone in this. The former chair, woman Ellison McFarland has pretty much said the same thing in various avenues as well. So these are people who are in the know on these matters. They've been in the trenches. They know both the politics and the facts and are saying nuclear powers that no go and should not be funded at these levels. What we should be doing is investing in renewable energy and energy efficiency and energy storage and improved transmission. If we really want to meet the climate crisis deadline. So if you're gonna, if you're going after climate code red, and you're not going to get there through nuclear.
Libbe HaLevy 
01:19:20
So with the current status of the, I hate to call it BBB. Cause again, it's better business bureau gets harked up in rows. Ooh, it's a good guy. No, it's not with the current status of the build back, better act and all these bail outs, where does NIS go from here? And where does a committed activist against nuclear go from here
Dave Craft
01:19:43
From this moment forward until the bills are up for a vote? The best thing people can do is be mercilessly calling the representatives and senators saying pretty much what we've said on this show. If you really want to BBB your way to the future, invest in renewables and the others and take the money and relocated it away from the nukes. Move that money around if you have to, or just eliminate it and save money and make Senator mansion happy, but do not invest in nuclear power. And this has to be a daily phone routine between now and the time of the votes. Now how speaker Pelosi had mentioned and pledge that there would be a house vote on the two bills no later than September 27th. So at least in the house, that's your target deadline? I don't know that there is one set in the Senate. At this point. We don't even have a bill number at this point, cause they're still negotiating all this stuff. But if you are to do anything, that would be the thing to do
Libbe HaLevy 
02:20:41
Well. We will be posting the link to the disco interview, which I thought was super purlative some of the best, less than 10 minutes about nuclear, not being green and not being a solution to climate change that I've ever seen. So thanks for bringing that to our attention. And Dave, you're always out there in the trenches coming up with trenchant things to say, so thank you for being my guest again this week on nuclear hub seat. It's good. Bad to be back. Thank you, Dave craft co-founder and director of nuclear energy information, service, or NIS, which is headquartered in Chicago. We will link to the video of the interview with former nuclear regulatory commission chair, Greg, that will be available on our website, nuclear hot seat.com under this episode, number 5 35. The other piece of bad news this week is that the nuclear regulatory commission has approved a so-called interim nuclear waste dump for high level radioactive waste in west Texas.
Libbe HaLevy 
02:21:47
Any use of the term interim or temporary is misleading because while the NRC says that west Texas could hold spent nuclear fuel for up to 40 years in truth, they can extend that to up to 100 years. And who knows if anyone would have the will or the ability to act at that point to move the waste, any place else, there should only be someplace else to move it. At the same time. A bill passed by the Texas legislature could ban the storage of high-level nuclear waste in the state and could prove a path to similar efforts in neighboring New Mexico. If an acted, how spill seven would express Lee prohibit the state from issuing permits to construct our operating facility to store nuclear waste within the state with the exception of existing nuclear facilities, like power plants that store the waste onsite. Karen Hadden, director of the sustainable energy and economic development or seed coalition said the Texas Bill's passage would not only protect Texans from risks associated with the site, but communities across the nation hadn't said that were threatened as the waste is transported.
Libbe HaLevy 
02:22:59
Thousands of miles to the deserts of west Texas and Southeast New Mexico. She said these strong bipartisan votes are a clear message from the Texas legislature to the U S nuclear regulatory commission. When it comes to storage of deadly radioactive waste in Texas, we don't want it. We will address this story more specifically in the second of two days to featured interviews, the United States along with the United Kingdom has made the decision to transfer Naval nuclear propulsion technology to Australia. Such a decision is a fundamental policy reversal for the United States, which has in the past spared, no effort of nuclear reactor technology by other countries. This is in response to perceived threats by China in the south China sea. The us UK and Australia are giving themselves 18 months to hammer out the details of the arrangement, which will include figuring out what type of submarine, reactors and uranium fuel won't be required as well as where to base the submarines.
Libbe HaLevy 
02:24:07
What new infrastructure will be needed, how maintenance will be conducted, how nuclear fuel will be handled and how crews will be trained. Australia has no civilian nuclear power infrastructure beyond a 20 megawatt thermal research reactor. Meanwhile, France is furious about the canceled $90 billion in Australian money quote, contract of the century with France, for conventionally powered attack submarines. It has been stated that France clearly feels backstabbed by its Anglo-Saxon allies and could in retaliation relax their position on not transferring Naval reactor technology to Brazil. As part of helping that country build its first nuclear attack submarine. In other words, nuclear proliferation all around at the same time, new Zealand's prime minister Jacinda Arden has announced that the country will not change its policy on prohibition of nuclear powered submarines. Here I quoted the prime minister new Zealand's position in relation to the prohibition of nuclear powered vessels in our waters remains unchanged.
Libbe HaLevy 
02:25:20
Certainly the nuclear powered submarines could not go into our waters. Thanks for being sane. Great international news out of Glasgow, Scotland, that's where the United nations annual climate change conference cop 26. This year is going to be held from October 31st to November 12th. One major feature of the conference is the green zone, which is billed as a space for organizations to host workshops, panel discussions, and keynote speeches, which promote dialogue awareness, education and commitments on the climate crisis. And for the first time ever nuclear energy and the nuclear industry is going to be excluded, which leads us to
Libbe HaLevy 
02:26:16
Well, a poor widow nuclear industry had their feelings hurt and they'd complained about being excluded from cop 26 prompting environmentalist to say it should have no place there, but back to the numnuts Alak Sharma, who is UK president of the world, nuclear association, a global trade body and spewer of pro nuclear propaganda has written a letter saying that every application made by nuclear groups for exhibits at the conference has been rejected. And that this was quote unquote, very disappointing
Libbe HaLevy 
02:27:00
In rebuttal Richard Dickson, director of friends of the earth. Scotland said the nuclear industries disastrous history of cost and time overruns show very clearly what they offer would be too little too expensive and too late and added with renewables and energy efficiency, cheaper and quicker to build and run the nuclear. They have already lost this argument and should have no place to spout their lies at cop 26, to which we say Brava to cop 26 and to the world nuclear association, which lists 193 nuclear companies as its members, as your constellation prize, you are this weeks. No.
Announcer
02:27:46
Okay. Your hot seat
Libbe HaLevy 
02:27:50
Over to Japan where Tokyo electric power company, TEPCO operators of the crippled Fukushima nuclear power plant and in charge of the decommissioning process, maybe forced to reconsider what they're doing for decommissioning after lethal radiation levels equivalent to those of melted nuclear fuel were detected near one of the lids covering a reactor on September nine. It was announced that the round concrete lid called a shield plug, which is in the upper area of the containment vessel of reactor. Number two still contains a huge amount of radioactive cesium that was released during the meltdown in March, 2011. This according to Japan's nuclear regulation authority, Japan's NRA estimated that the dose from a contamination source that existed beneath the lid was more than 10 sieverts per hour, which is a level lethal to humans if exposed to it for about an hour. But the findings suggested that the actual dose would likely be dozens of seabirds per hour.
Libbe HaLevy 
02:28:57
Thus being far more dangerous, Cav co has also been caught out, not informing Japan's nuclear regulation authority for two years, about 25 damaged filters at the Fukushima Daiichi site. Not informing can also be interpreted as lying by omission. TEPCO claimed that they did not notice that there were holes in 25 filters for these two years, but they did replace the 25 filters with holes in 2019, something they failed to mention to Japan's NRA. Now in 20 21, 24, out of those same 25 filters again, have holes in them. Japan's NRA is investigating and TEPCO has also been caught out misplacing dozens of fire detectors at its Kasha was Zaki Curry. One nuclear plant in nit. It got to prefecture about 100 fire detectors were not placed in location set under safety regulations and the misplacements could cause delay of the detection of heat and smoke from a fire hampering and immediate response to such a potentially disastrous event.
Libbe HaLevy 
03:30:11
So we trust TEPCO to run a nuclear reactor when they can't even get the fire alarms right in Germany, the gorleben mine, which for decades has served as a storage location for German radioactive nuclear waste is being closed. Locals and environmental groups have protested against the facility for years, arguing that the salt in the ground could weaken containment structures and cause radioactive leaks. The site became the focus of Germany's anti-nuclear movement with activists, staging city and protest and blocking trains, bringing containers of nuclear waste to the facility in the fall of 2020 Germany's federal company for radioactive waste disposal announced that large parts of Germany met the geological criteria for a nuclear repository, but the garlic and salt dome, the site of the mine was not among them. And the mine was then removed from the list of potential permanent sites for nuclear waste due to geological concerns.
Libbe HaLevy 
03:31:12
And in the UK fire broke out at the Hinkley point C power station that is under construction. Spokesman said that a small fire in a temporary building away from the main construction area was burned and suggested that we pay no attention to the nuclear incompetence behind the curtain. We'll have this week, second featured interview in just a moment. But first the nuclear industry never lets up with their propaganda using talking points, op EDS, press releases, talk show bookers and all other media tactics to brainwash our politicians reporters and the public into giving them whatever they want, which is money, money, money, and more money. And let's face it. They have all the money in the world to fund their PR agencies and their agenda. As you just heard from Dave craft, it's a business model with a terrific return on investment because for whatever millions, the newscaster spend on their public relations propaganda, they stand to get billions of dollars back from the hornswoggled taxpayers.
Libbe HaLevy 
03:32:21
That is why you need nuclear hot seat for more than 10 years. This show has been one of the only places in the world where you can get a one hour hit of honest nuclear information interviews with genuine experts, a Roundup of international news stories. You won't hear covered else, numb, nuts, bad puns, a touch of musical theater. Where else can you find all this in a weekly counterbalance to nuclear industry lies, but up against their unlimited financial resources, this show operates on a really tight budget and that budget is dependent on you. The listeners to keep us going. That's why if you've come to value, nuclear hot seats work, the time to support us with a donation would be right now it's easy. Just go to nuclear, hot seat.com and click on the big red donate button to help us with a donation of any size.
Libbe HaLevy 
03:33:19
You can also set up a recurring donation for as little as $5 a month. The same as a cup of coffee and a nice tip here in the U S so if you value the different perspective on nuclear information that we give you each week at nuclear hot seat and want to help us continue, please do what you can now and know that however much you can help. I am deeply grateful that you're listening and that you care now here's this week's second featured interview last week, the nuclear regulatory commission finally, and not unexpectedly approved a site in west Texas for a so-called interim storage facility for higher level radioactive nuclear waste from power reactors around the country in the Barta explains why this move by the NRC is illegal. Wrong-headed not thought through and a danger to the entire country and his principle man for the Western bands of the Shoshone nation, a member of the native American action council and member of the United States nuclear regulatory commission, Yucca mountain licensing support network advisory review panel. We spoke on Monday, September 20th, 2021 in the Barta. It's always great to have you with us here on nuclear hot seat.
Ian Zabarte
03:34:39
Yes. Thank you for having me. Let's start out with
Libbe HaLevy 
03:34:42
Your background and your current status as regards dealing with nuclear issues.
Ian Zabarte
03:34:50
I am the secretary of the native community action council, which is a party was standing in the atomic safety licensing board panel of the us nuclear regulatory commission in Yucca mountain proposed high-level nuclear waste repository under the 1982 nuclear waste policy act as amended in 1987 to designate Yucca mountain is the only site to be investigated. Further. Yucca mountain has been declared the most studied piece of real estate in the world, but the U S department of energy never considered the fact that they did not own the site. And that's how we came into the licensing proceedings.
Libbe HaLevy 
03:35:32
When you say we, who are you referring to?
Ian Zabarte
03:35:37
The native action council is composed of two and pipe people that began investigating the adverse health consequences known to be plausible from exposure to radiation. And we looked at our food, which is diet. We looked at where we lived shelter and mobility, where we went and what we did there. And those were the basis for our NEPA contention, our national environmental policy at contention in the atomic safety licensing board on Yucca mountain. Our primary contention is ownership of land and ownership of water. We are the water. We are the land, and this is our identity.
Libbe HaLevy 
03:36:13
And the land is actually part of Western Shoshone property. That was seated you under treaty rights. And I believe that that treaty has never been rescinded
Ian Zabarte
03:36:26
You're right in part and seriously wrong in part the treaty of Ruby valley in 1863, granted the United States access to Shoshone country to build a railroad, to build the Telegraph and for migrants to go across and build forts and towns in support of that, the treaty did not give us anything that we did not all ready, possess. We held in trust for the United States, the rights and interest that it sought. Now it's important to understand that property is not a thing. So when I say she's only property, property is a relationship between people with regard to things. And so it is our property interests, which the United States failed to acknowledge failed to make a claim under the treaty. And there is where the department of energy failed to even consider that they did not own the land
Libbe HaLevy 
03:37:18
Given that you already have these contentions on file with the government. Let's take a step to the side now because there's something that just happened that directly impacts what is going to happen or what has already happened at Yucca mountain. And that is that on Monday, September 13, the U S nuclear regulatory commission issued a 44 0 year license to interim storage partners, which is a private company to store 5,000 metric, tons of commercial high level radioactive nuclear waste in Andrews county, Texas, which is just across the border from New Mexico. What's wrong with this picture?
Ian Zabarte
03:38:00
Well, there's plenty wrong with it. First of all, the amount of time that it took, they just slipped this through very quickly. And most people aren't aware transportation was not considered in this. It was outside the scope of the environmental impact statement as well is the proposed Yucca mountain high level nuclear waste repository, which in the license application, if you look through it thoroughly, you will find numerous instances where maps show the final geological repository as Yucca mountain, where the nuclear waste policy act of 1982 is referenced, but not the amendments of 1987, that designate Yucca mountain as the only site to be investigated for a deep geologic repository. And as I said earlier, it's not going to happen. It is a violation of law for Congress. It is congressional malpractice to designate somebody else's treaty defined property as a high level nuclear waste repository without our consent and without our approval. And in the long-term. This is inflicting conditions intended to bring about the destruction of the Shoshone people by placing high-level nuclear waste, the most toxic material ever created by conducting nuclear weapons testing on our treaty lands.
Libbe HaLevy 
03:39:14
Those are serious objections, important objections that need to be respected about Yucca mountain. Given that everyone is acting like Yucca mountain is already a deep geologic repository for radioactive waste, which is what gives the permission to an interim site to even be considered in west Texas. What is the current status of Yucca mountain as this deep geologic repository?
Ian Zabarte
03:39:45
Well, there is nothing at Yucca mountain. There is a 4.5 mile tunnel. That's 25 foot in diameter, and I was appointed in 2018 to the U S nuclear regulatory commission licensing support network advisory review board because of my expertise on the licensing of domestic include facilities, I've been underground at Yucca mountain. So many hours underground that I got a letter in about 2000 from the department of energy that says because of my time underground, I am at risk of developing silicosis a miner's disease because of the tunnel boring machine was going, and they did not provide us respirators or other protective equipment. And I believe 16 of the miners that were doing that hole became ill and sued the government several have since died. And, you know, I, I hate this because my family is from the area and they're dying from radiation exposure. So I really take this seriously and passionately, and I need to see radiation exposure, compensation, act funding. And that's part of the problem with the New Mexico and Texas sites. Nobody should be asked to bear additional burden of risk without first understanding what has happened to them. So we have the Trinity site, which spread radiation across the area, and those people are getting sick already and don't know why. And then they're going to put this additional risk upon the people there. And they're not going to know why either
Libbe HaLevy 
04:41:08
The site that is being proposed is supposed to be built by Holtec, which has got just such a bad reputation. They like to do their work cheap and fast. And two things that we don't like to hear in connection with anything, nuclear is cheap and fast because the danger is forever. The waste we're talking about has plutonium in it, which has a radioactive half-life of 24,000 years. And 240 years is the low end of how long it's dangerous. So there's nothing interim about the danger and without a real repository for it to go to. We're talking about the waste being buried in west Texas. And if they approve the one in New Mexico, literally forever,
Ian Zabarte
04:41:53
Yes, those two sites, the one in Eunice, New Mexico, and the one just six miles away, which is in Andrews, Texas, which is the one the NRC recently licensed. They are in the biosphere and will be defacto permanent and clear waste dumps because there will not be the Yucca mountain high level nuclear waste repository. It is a violation of law and it is unconstitutional under article six, section two of the us constitution treaties are Supreme, all state laws to the contrary, not withstanding the Texas site is an Aranow site, which is formally a Reba, a French corporation who do processing, who want to do waste, who have other issues. Now with the United States, dealing with small modular reactors, they want to do reprocessing. So we have foreign corporations coming here to tell us what to do with our waste. And that's not the U S policy. They shouldn't be directing policy for the United States.
Libbe HaLevy 
04:42:54
I refer to Yucca mountain as a legal fiction because there is no repository, but a repository has to exist for an interim repository to get licensed. So they're keeping alive the fiction of Yucca mountain, as opposed to any kind of reality for a deep geologic repository, with this being the kind of shell game that is being played with all of our futures. And you're definitely you and your people are on the front line of it. What kind of coverage or awareness is there of this being explored through the media in Nevada,
Ian Zabarte
04:43:36
In Nevada, there is little media coverage of what's happening in Texas, the Texas interim storage facility, whether it's Texas or New Mexico, Eunice New Mexico, those both would be illegal because they're not allowed under the nuclear waste policy act of 1982. And another problem is that because these are for-profit corporations, they are doing this to alleviate the federal government of the liability of claims against the United States for not disposing of high level nuclear waste. And what may happen is the department of energy would take title to the waste and it would stay at those reactors. And that's a concern that a lot of people aren't aware of and have to think that they're going to take, this is a initially a 5,000 metric ton license, but over the life of the 40 years, it's up to 40,000 metric tons. It's going to remain in Texas. And the people in Texas are not going to get the kinds of value that they expect to take care of that long lived nuclear waste over the life of that project. And when there's a problem, they can't send it back to where it came from. That's the other big elephant in the room. Transportation,
Libbe HaLevy 
04:44:52
Explain more about what you mean about transportation.
Ian Zabarte
04:44:56
Well, according to the guidelines of the department of transportation, nuclear waste is to be transported along the federal highway transportation system and the federal rail transportation system. So nuclear waste, for example, may come from California, go to Texas. And if a repository is at Yucca mountain, be sent back to Nevada and that's just too much risk. And another problem is there are 75 sites where some have multiple reactors up to four. Each of those communities have borne the burden of risk from their reactors. They would all come together and become a river of risk and waste that ends up in Texas or eventually in Nevada. And there's no quality assurance that these private corporations can do what they say they're doing. We have trouble when a train falls off the tracks and it happens to be a multipurpose canister filled with nuclear waste. People will die. The environment will be damaged, and they don't have the quality assurance that they could retrieve the waste safely. If it falls off the tracks,
Libbe HaLevy 
04:46:05
Right? It's like people have never heard of accidents, trains, or Jack knife, big rigs, if it comes by truck. So there are multiple problems there. And when they are labeling this, an interim site, what they're talking about is 40 years up to a hundred years with no guarantee that they're going to have the ability to move it, let alone have a place to move it. But it seems that if an area is populated by people who are poor and of color and do not have strong political ties and political power, there are forces in the world that think that they can just Trump on them and not pay any attention to what their needs and what their safety requires. What awareness is there for the people of Nevada through either their politicians or the media as to what the dangers are and the importance of this decision that's just been made down in west Texas.
Ian Zabarte
04:47:09
There is enough awareness in Nevada of the general public to oppose the proposed Yucca mountain high level nuclear waste repository. However, the decision in Texas isn't well understood that the final solution is Yucca mountain. And so right now there's nothing happening. Our media are not really covering it. A national media are. And I know that Texas is very concerned about it, but it's not coming to Nevada after that. And we are aware that is the official many people. And we see this as a very serious problem. And we're of course going to do everything to make sure that it doesn't come here.
Libbe HaLevy 
04:47:50
One other point last week, right before the NRC made its decision to license. This site in west Texas, governor Greg Abbott signed into law, something prohibiting the transport of high level nuclear waste in the state of Texas. So in other words, the NRC says, it's going to be fine to have a facility and bring it here. But the state of Texas is now saying, nah, you cannot drive this across our roads. What is that setting up in terms of the federal versus the local versus state? Well, it's only six miles from New Mexico, so we'll take it through New Mexico and then over to, to Texas kind of a situation.
Ian Zabarte
04:48:35
Well, the transportation issue was not investigated in the environmental impact statement. It was outside the scope of that process. But the big problem with transportation again, is shipping under the department of transportation's federal regulations that require using rail, but our rails are not in good shape. And these casts would be very heavy. We're talking about dedicated trains that are not going to be going that fast. Another problem is in order to use the national highway transportation system, these would have to be legal weight casks. We're talking about something that would haul this cast. We're talking a hundred tires, we're talking about five or six pivot points. And these things would be traveling at 20 miles per hour. And if we find any terrorists on the way, well, that's just a sitting duck. And there again is the issue of whether we expect first responders to go out there and protect these things.
Ian Zabarte
04:49:36
The nearest capable radiological response team would probably be at the Nevada test site, hundreds of miles away. And if it's on the rail, there is not anything nearby or a way to get someone to some of these rail routes, which are very isolated in beautiful country. It's just too risky. And in the great basin here, we have the oldest life in the world, the oldest life in the world, 6,800 year old trees. These are the things that are precious to me. And again, the idea that we'll risk our aquifers pure, pristine water. I am water, and you've heard a lot about indigenous water protectors. I am water and Americans need to live up to their obligation under the constitution and the laws of the United States and learn what we're sharing. They are water to your water, I'm water.
Libbe HaLevy 
05:50:26
As of the native community action council, this may be premature, but what actions has your group taken or will you be taking in response to these latest developments?
Ian Zabarte
05:50:41
We've been trying to communicate for a long time that Yucca mountain is illegal. It violates, the treated would be valley, which is part of the United States constitution. We entered into the treaty of peace and friendship. The intent of treaties emanates from international law. It is to maintain the existence of the parties. Signatory to those in the United States needs to live up to its responsibilities, including the U S nuclear regulatory commission to protect the Shoshone people. And that has not happened. And again, what we see in this license of Texas is the nuclear regulatory commission playing a role, which inflicts conditions intended to bring about the destruction of this is showing people. They are not unbiased. They are racist.
Libbe HaLevy 
05:51:29
What are the next steps ahead for your group? And what can the listeners of nuclear hotseat do to support you?
Ian Zabarte
05:51:37
This is how many people have born the burden of the nuclear age. We need additional funding now in the radiation exposure, compensation act. And as I said, we've been sharing our understanding of the adverse health conditions. We suffer with other people and nuclear hot seat, I think is doing a great job in trying to communicate our position. It's important for all people. I think understanding the transportation issue, which is not in the environmental impact statement for the interim storage partners, what is in the application and the former EIS are maps that show Yucca mountain are statements, which say the deep geologic repository, which is under the nuclear waste policy amendment acts of 1987 Yucca mountain. So we hope that by communicating this and giving you an understanding, you'll share that with other people so that we can all come to an understanding. 80% of the population lives within two miles of the proposed transportation routes from reactors around the country that is important and poor people mostly live there.
Ian Zabarte
05:52:46
We just had a fire this morning, downtown, which is two miles away from where I live in Las Vegas. The Ash came over this way. Six miles is not enough. And that is what they're proposing in Texas. You need 60, or maybe even 600 miles because there are near term downwinders. And we've learned that from experience from U S nuclear weapons testing, and my family who were children at the time, my mother, my aunts and uncles, they're sick and dying from the exposure to the radioactive Ash that felt in our communities. And basically we're all downwinders. So I'm concerned about reactor communities that have to deal with this problem and the accidents, the for accidents, because these companies, these independent companies are going to cherry, pick the waste and leave, whatever else is there. And they're just going to move it around. And this is the shell game that they're playing. You're gonna move it around to a new location. And hopefully hope is not a strategy. Hopefully they're not going to make a mess.
Libbe HaLevy 
05:53:46
Hope is a terrible strategy to have in terms of nuclear.
Ian Zabarte
05:53:50
And don't forget somebody is already doing something about it. They're not talking about it. Silence is dangerous. Silence is abuse.
Libbe HaLevy 
05:53:59
As they said, during the aids epidemic, when it was at its height, silence equals death. And that applies for us as well in you are a passionate, knowledgeable and powerful defender of your people, defender of the planet, the water, and truly all of us. And I invite you to stay in touch as this issue goes forward as all these issues move forward. And thank you for being my guest this week on nuclear Hotsy.
Ian Zabarte
05:54:29
Thank you for having me.
Libbe HaLevy 
05:54:31
That was principal man for the Western bands of the Shoshone nation, a member of the native American action council and member of the United States nuclear regulatory commission, Yucca mountain licensing support network advisory review panel.
Libbe HaLevy 
05:54:55
The award-winning documentary in the dark of the valley, which Chronicles local moms' efforts to clean up the Santa Susana field lab radiologically and chemically contaminated site from rocket dine, which is only 30 miles from downtown Los Angeles has been accepted both to the Catalina film festival on September 25th and the OHI film festival November 4th through 14, to learn more and get your tickets for the online presentations go to in the dark of the valley.com. There is a webinar coming up on new nuclear. What's at stake for wildlife it's co-hosted by beyond nuclear greater Manchester and the district CND nuclear free local authorities and Chernobyl children's project UK. It will be held on Thursday, October seven, from seven to 8:30 PM in the UK, which is 2:00 PM to three 30, us Eastern and 11:00 AM to 1230 us Pacific time links to both of these will be up on our website, nuclear hot seat.com under this episode, number 5 35, and I've gotten the first look at the complete reconfigured nuclear hot seat website.
Libbe HaLevy 
05:56:07
And it's a Wowza we're still more than six weeks away from a full launch where everybody can access it. But rest assured it is coming. This has been nuclear hot seat for Tuesday, September 21st, 2021 material for this week's show has been and compiled from nuclear-news.net to own renard.wordpress.com beyond nuclear.com, nis.org, and I R s.org. The international campaign to abolish nuclear weapons, NBC D F w.com. Current argus.com. The bulletin.org, aa.com dot T R the ferret dot Scott, bbc.com dw.com. History of yesterday.com asahi.com and I'll r.geo.jp, and be captured and compromised by the industry. They're supposed to be regulating nuclear regulatory commission. If you'd like to get nuclear, hot seat delivered by email every week. So you don't miss a single episode. It's easy. Just go to nuclear hot seat.com, scroll down for the yellow box and sign up for a weekly email link to the latest show with a brief outline of what's included.
Libbe HaLevy 
05:57:23
And if you have a story lead, a hot tip or suggestion of someone to interview, send an email to [email protected]. If you appreciate weekly verifiable news updates about nuclear news around the world, take a moment to go to nuclear, hot seat.com and look for the big red button. Click on it, follow the prompts and anything you can do to help will help and will be greatly appreciated. This episode of nuclear hot seat is copyright 2021 Leiby Halevi and hardest streak communications, all rights reserved, but fair use allowed as long as proper attribution is provided. So please link away. This is Leiby Halevi of hardest streak communications, the heart of the art of communicating, reminding you that the decisions we make about nuclear waste today will be with future generations forever. That's it? That's your nuclear wake-up call. So don't go back to sleep because we are all in the nuclear hot seat,
Announcer
05:58:29
Clear hot seat. What are those people thinking? Nuclear hot seat. What have those boys been? Braking, nuclear hot. See Ms. Sinking. Our time to act is shrinking, but the visceral Hotsy it's the bomb.