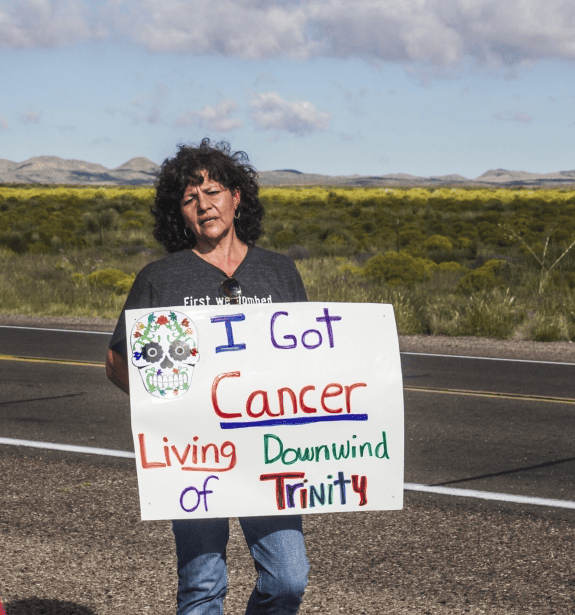 Trinity downwinder Tina Cordova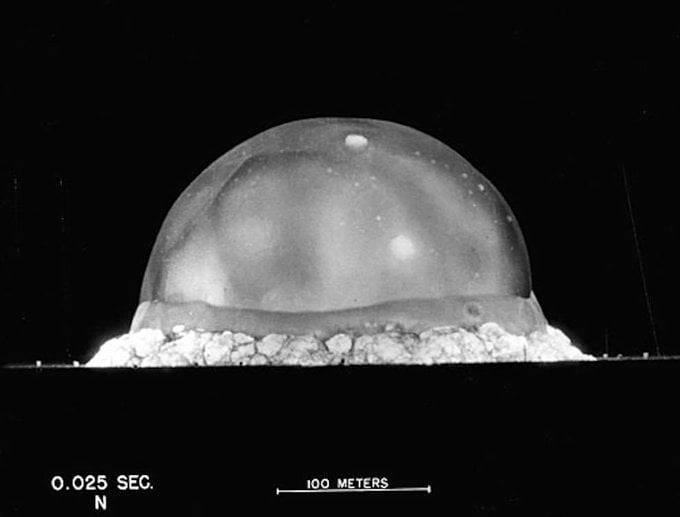 First photo of the Atomic Age – the Trinity atomic bomb test of July 16, 1945, 0.025 seconds after detonation.
This Week's Featured Interviews:
Trinity Downwinders advocating for justice: Tina Cordova grew up in her family home in the Tularosa Basin, 40 miles from the explosion of the first atomic bomb in 1945. A cancer survivor like so many in her community, in 2005, she co-founded the Tularosa Basin Downwinders Consortium.  She and her community have been working for compensation for New Mexico atomic downwinders for the past 15 years.

 

Video produced by the long term victims of the Trinity atomic bomb blast, Tularosa Basin Consortion Downwinders:
Trinity is but one of the nuclear nightmares in New Mexico.  Joni Arends helped to found Concerned Citizens for Nuclear Safety, based in New Mexico.  The group is dedicated to protecting all living beings and the environment from the effects of radioactive and other hazardous materials now and in the future.  It appears that this country is setting New Mexico up to be a nuclear sacrifice zone.  A longtime activist, Joni previously spoke with Nuclear Hotseat on episode #443 from December 17, 2019 –  Joni's Toxic Tour of New Mexico. Here, she enumerates the ongoing nuclear problems facing New Mexico.

NUMNUTZ OF THE WEEK (FOR OUTSTANDING NUCLEAR BONEHEADEDNESS):
Boneheaded head of the National Nuclear Security Administration visits Los Alamos to claim that nuclear bombs have "contributed to the betterment of humanity." Say what?????????
Action Links: 
Publication event for Uranium Atlas, presented by Beyond Nuclear.  It contains a collection of maps indicating everywhere that uranium was — or is still — extracted and used.  The editorial team that created it includes Beyond Nuclear, the Nuclear Free Future Foundation, (which earlier published a German language edition) the Rosa Luxemburg Stiftung, and International Physicians for the Prevention of Nuclear War (IPPNW) Germany. LINK to a free download of the full book.