Nuclear Corruption Panel, POWER STRUGGLE Film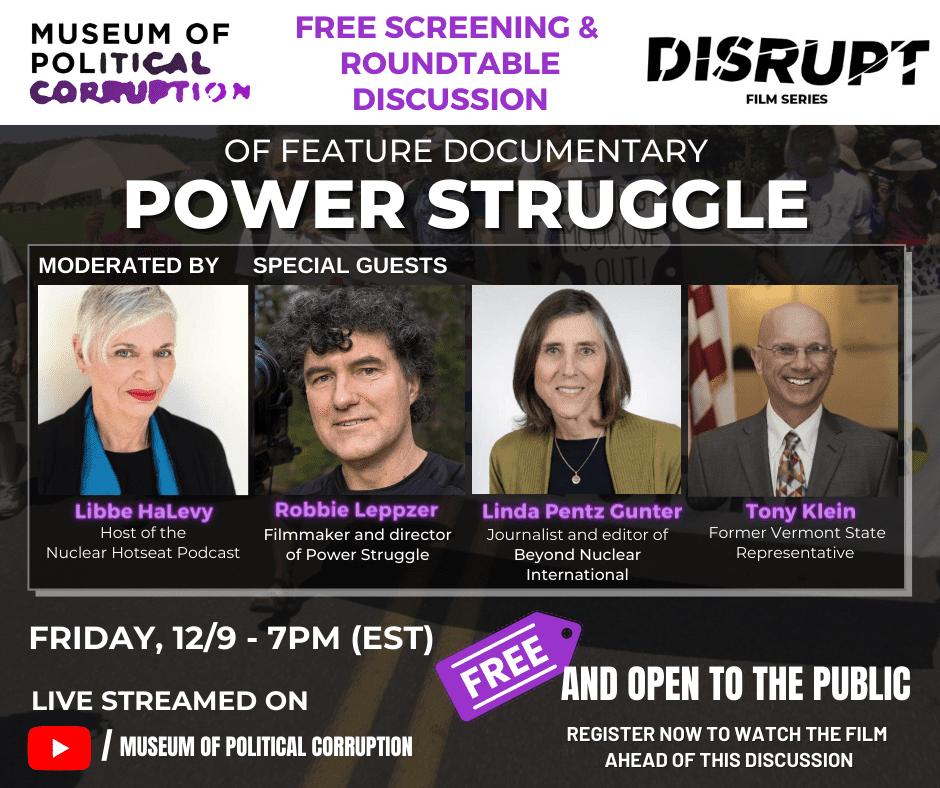 This Week's Special Feature:
While "nuclear" and "corruption" deserve to be listed as synonyms in the thesaurus, we don't usually take the time to discuss this as a specific focus. That's why this panel discussion from The Museum of Political Corruption was so powerful. Nuclear Hotseat producer/host Libbe HaLevy both moderated and participated in the session, which took place on Friday, December 6, 2022. Participants were:
Robbie Leppzer, director of the film POWER STRUGGLE, whose critically acclaimed feature-length and short documentaries about contemporary social issues, grassroots activism, and multicultural themes have been broadcast by CNN International, NHK (Japan Broadcasting Corporation), the Canadian Broadcasting Corporation, HBO/Cinemax, CNN, and more.
Tony Klein was a Vermont State Representative for 14 years from 2002-2016. He served on the House Committee of Natural Resources and Energy for 12 years, the committee responsible for oversight of the majority of issues pertaining to the Vermont Yankee Nuclear Power Plant.
Linda Pentz Gunter is the international specialist at Beyond Nuclear; writes for and curates Beyond Nuclear International; and was a journalist for 20 years, principally with Reuters and other print and broadcast media. She now contributes regularly to Nuclear Hotseat with the Hot Story.
Panel discussion was followed by a Q&A with viewers.
Thanks to the producing efforts of the Museum of Political Corruption, spearheaded by Veronica Medina-Matzner and Bruce Broter. If you're reading this before December 18, 2022, and would like to watch POWER STRUGGLE at no charge, go to Museum of Political Corruption/Power Struggle.
For more information about POWER STRUGGLE or to obtain a DVD of POWER STRUGGLE, visit: www.PowerStruggleMovie.com
For schools and libraries wanting to obtain a copy of POWER STRUGGLE, visit New Day Films at NewDay.com
Numnutz of the Week (for Outstanding Nuclear Boneheadedness):
How can they say that nuclear fusion makes more more power than it takes to create it, but not check back on how much power it REALLY took to make it? But oh, that's right – nuclear. You can tell they're lying when they move their lips.