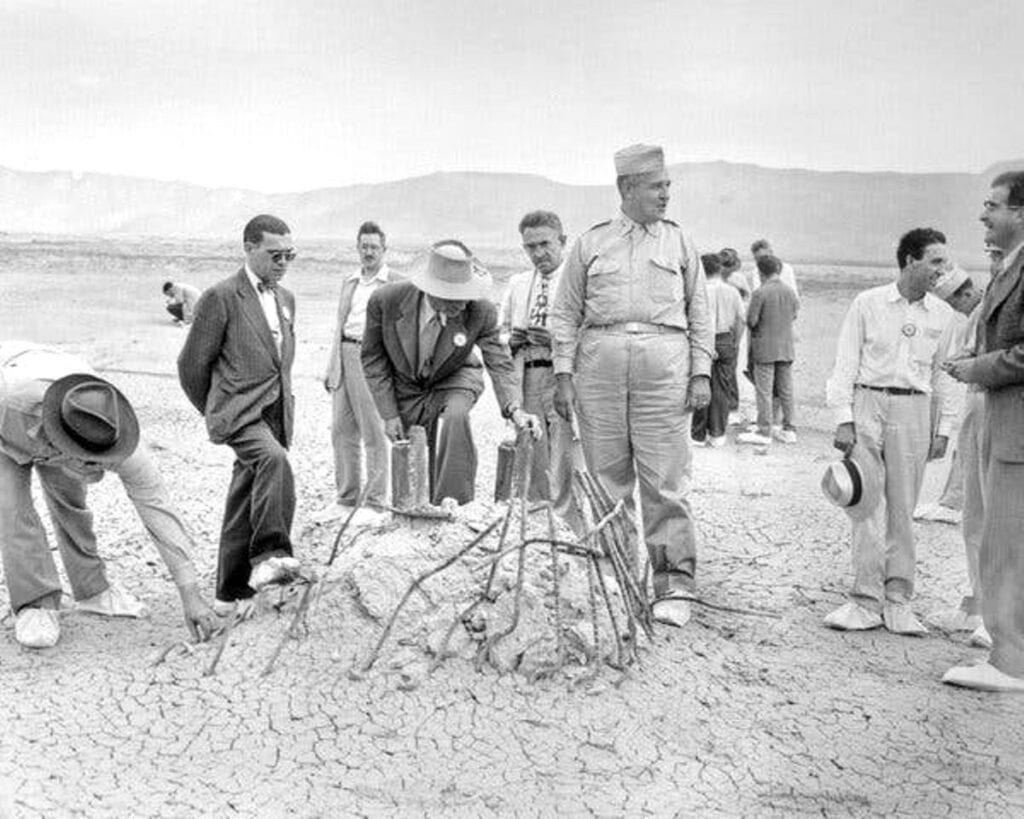 J. Robert Oppenheimer (in hat) and Gen. Leslie Groves at ground zero of the Trinity a-bomb test in New Mexico, six weeks after Trinity test and one month after Hiroshima.
NH #634: Post-Oppenheimer Media Fallout + Superb Radiation Class – Greg Mitchell, Mary Olson
Everything Oppenheimer Inspired in the Media:
Author/Filmmaker Greg Mitchell
In the weeks following the premiere of the Oppenheimer film, there has been a deluge of articles not only reviewing the film but going into the issues the movie avoided. We revisit Greg Mitchell, author, filmmaker, and expert on atomic weapons from the Manhattan Project era to evaluate this surge of atomic awareness, nuclear issues, and where it might lead activists. We spoke on on Friday, August 11, 2023.
LINK to Greg Mitchell interviewed about Oppenheimer on Nuclear Hotseat #631.
New Radiation Class: Everything Oppenheimer Ignored
Gender and Radiation Impact Project's Mary Olson
Biologist Mary Olson is Founder of Gender and Radiation Impact Project, a 501(c)3 educational and funding nonprofit.  An internationally acknowledged expert in radiation health damage, especially to women and little girls, she has addressed: the 2014 Vienna Conference on Humanitarian Consequences of Nuclear Weapons; in 2015; the United Nations during review of the Nuclear Non-Proliferation Treaty, and in Russia, on the medical consequences of nuclear weapons at an event sponsored by the International Committee of the Red Cross.

This September, she joins Cindy Folkers of Beyond Nuclear to present Radiation Information for Everyone (RIFE). an online series of classes for people for whom understanding radiation is personally important. Together they bring 60 years of combined experience in analysis, research, policy, politics and support for and collaboration with radiation impacted communities.

I spoke with Mary Olson on Friday, August 11, 2023.
LINK to sign up for Radiation Information for Everyone (RIFE)
Nuclear Hotseat Hot Story with Linda Pentz Gunter
Nuclear-free cities help drive support for a nuclear-free world. But one of the most famous, Takoma Park, just took a step backward.
Numnutz of the Week (for Outstanding Nuclear Boneheadedness):
Hot, hot produce right off the tree from Fukushima sent to the Dominican Republic! Isn't that just Peachy???
Links:
Nuclear Hotseat's Libbe HaLevy storytelling about her recent trip to Brazil to attend the International Uranium Film Festival. Header includes the first announcement of her being named U.S. Ambassador for the IUFF.
CALL FOR PAPERS – YOUTH FOR TPNW
Papers on youth-led research into nuclear weapons + intersecting issues, to have this inform our policy & advocacy and share it with our networks. Youth for TPNW invites interested authors to submit papers for publication in our inaugural research papers series. 
Eligibility requirements:
Author must be under the age of 30 years old.
Paper must be relevant to the subject of nuclear disarmament/abolition (with preference to those referencing the TPNW).
Paper must be within the range of 2,000 to 4,000 words long.
Paper must be fully referenced and cited. 
Paper must be written in English.
To submit a paper for publication, please fill out this google form.
The deadline for submission for this first call for papers is the 1st September 2023. Good luck!
BBC 1980 mini-series OPPENHEIMER starring Sam Waterston:
PBS American Experience: The Trials of J. Robert Oppenheimer:
After the Fallout – short documentary about Downwinders from Bulletin of the Atomic Scientists: