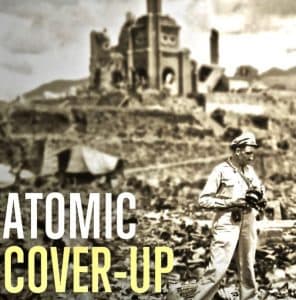 This Week's Featured Interviews:
ATOMIC COVER-UP – Director Greg Mitchell is the award-winning author of a dozen books including 2020's "The Beginning or the End: How Hollywood–and America–Learned to Stop Worrying and Love the Bomb." His previous books on the atomic bombings were "Hiroshima in America" (with Robert Jay Lifton) and "Atomic Cover-up." He has served as chief adviser to several documentaries, including "Original Child Bomb," screened at Cannes and winner of the top prize at API/Silverdocs,  His current film, ATOMIC COVER-UP, shares film that was shot in the immediate aftermath of the atomic bombing of Hiroshima and Nagasaki, and was classified Top Secret for more than 25 years. It is a testament to the Nuclear Mass Murder caused by the bombs. ATOMIC COVER-UP was a winner at the 2021 International Uranium Film Festival. This year, it is again available for viewing through the IUFF until May 29, 2022. I spoke with director Greg Mitchell on Saturday, May 15, 2021.


Blast the money out of nuclear weapons!  Nuclear divestment means institutional nuke investments are going down — and Susi Snyder explains how any one of us can join that movement. She is project lead for the PAX No Nukes Project and coordinator for the Don't Bank on the Bomb research and campaign.  Susi's an expert on nuclear weapons, with over two decades of experience working at the intersect between nuclear weapons and human rights.

LINK to the 2020 Global Report on the Financing of Nuclear Weapons Producers HERE.
To find out which companies invested in nuclear weapons in 2021, CLICK HERE.
Nuclear Hotseat Hot Story with Linda Pentz Gunter:
Small Modular Nuclear Reactors and the bilking of public funds.
Links:
If You Love This Planet – Dr. Helen Caldicott: