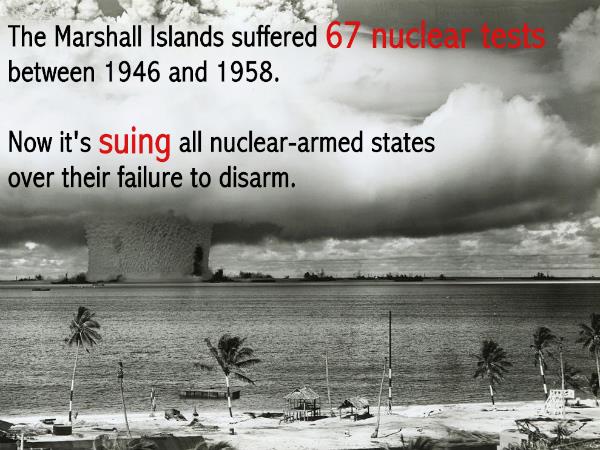 This Week's Featured Interview:
Nuclear Guinea Pigs:Desmond Narain Doulatram, a citizen of the Marshall Islands, is co-founder of the nonprofit organization REACH-MI (Radiation Exposure Awareness Crusaders for Humanity- Marshall Islands), where he serves as Research Director and Advisor. REACH-MI provides information and explores ways to address unresolved nuclear issues to improve community conditions, people's lives, and achieve "Nuclear Justice." Desmond is an in-kind researcher for the Republic of the Marshall Islands' National Nuclear Commission and has presented at anti-nuclear related conferences, workshops, trainings, and seminars at the University of Basel in Switzerland, Oregon State University, University of San Francisco, Melbourne University, University of Tokyo, Toronto's Humber College, and College of the Marshall Islands. He is currently a Social Science Instructor at the College of the Marshall Islands teaching Issues in Pacific Studies and Contemporary Social Issues in Micronesia, where the Nuclear Legacy of the Marshall Islands and the greater Pacific Region continue to be hotly debated issues amongst its people. We spoke on Sunday, June 6, 2021.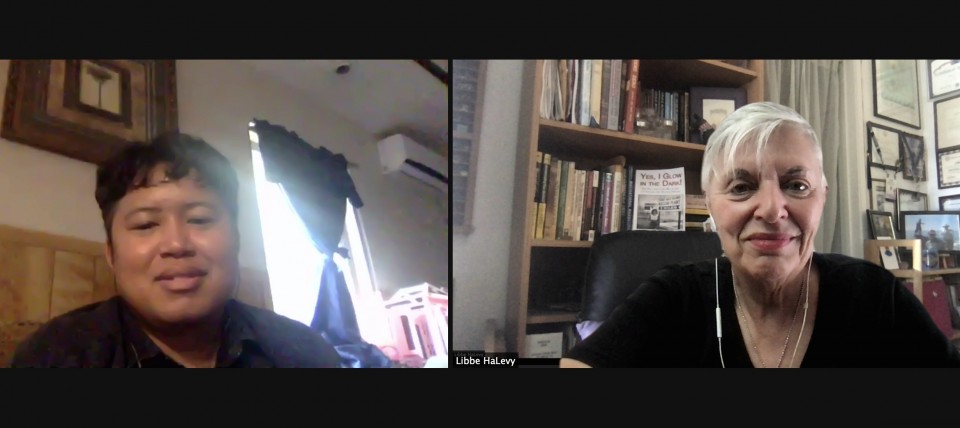 Other Marshall Islands contacts, information:
Keyoka Kabua, Secretary for the National Nuclear Commission

[email protected]

Adam Jonas Horowitz' powerful documentary Nuclear Savage, which tells of the https://www.nuclearsavage.com/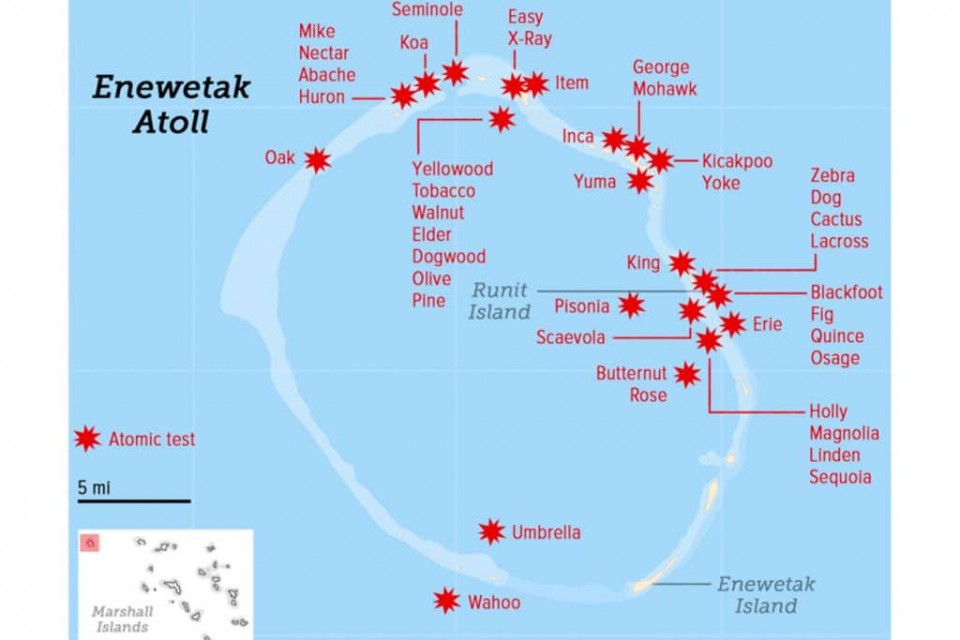 Numnutz of the Week (for Outstanding Nuclear Boneheadedness):
UFOs and Fukushima? Hey, why not…! (Oy!)
Links:
Libbe HaLevy 
00:00:01
Nuclear Guinea pigs. No, not those cute fuzzy little rodents beloved of scientists for lab experiments, but people real people intentionally subjected to radioactivity from United States, nuclear bomb tests in their distant corner of the world. We, as a nation have been taught to think, well, really, we were just testing some weaponry. We needed to protect ourselves from the Russians and come on. How bad could it be? But then you talk with someone from the Marshall Islands in the south Pacific, where those bombs were detonated and where his family members were subjected to that radiation. And he tells you,
Desmond Doulatram
00:00:44
It was like 108 mega cans, like 67 nuclear bombs were detonated here. So that's the equivalent of about 1.6 Hiroshima bombs being detonated every day for the duration of those 12 years. So every day was like a Hiroshima bomb being dropped.
Libbe HaLevy 
00:00:59
Well, when you learn about the magnitude of the danger, the U S government subjected peaceful people in a peaceful nation to, and the lack of recourse these people have for the damage done to their land, their sea, the food, water, and their DNA. It's with a sinking feeling that you realize that some of us on this planet are in an ultimately more dangerous part of that radioactive seat that we all share
Announcer
00:01:29
Clear, hot seat. What are those people thinking? Nuclear hot seat. What have those boys been breaking their hot seat? The Ms. Sinking our time to act is shrinking, but the visceral linking nuclear Hotsy, it's the bomb.
Libbe HaLevy 
00:02:00
Welcome to nuclear hot seat, the weekly international news magazine, keeping you up to date on all things, nuclear from a different perspective. My name is Leebee Halevi. I'm the producer and host as well as a survivor of the nuclear accident at three mile island from just one mile away. So I know what can happen when those nuclear so-called experts get it wrong. This week, we learn about the Marshall Islands and the aftermath of them being hit with 67 nuclear bomb detonations labeled as tests between 1946 and 1958. We talk with Desmond Narain, dollar traum, an anti-nuclear NGO founder, whose grandparents were exposed to the explosions and resulting fallout, and who has been opposed to nuclear his entire life. We learn about what is and is not being done for his people and what listeners to a nuclear hotseat can do to help the people of the Marshall Islands.
Libbe HaLevy 
00:03:02
We will also have nuclear news from around the world, numb nuts of the week for outstanding nuclear bone headedness, and more honest nuclear information than could ever get passed. A Senate filibuster, all of it coming up in just a few moments today is Tuesday, June 22nd, 2021. And here is this week's nuclear news from a different perspective, starting out in Southern California, where we're following up on our featured story from last week about the Santa Ana fray nuclear generating station, and it's dismantlement a legal challenge looking to interrupt dismantlement work at the center and offering nuclear generating station suffered a preliminary setback on Wednesday, June 16, Los Angeles county superior court, judge Michael L beckloff issued a tentative decision rejecting a lawsuit by the Samuel Lawrence foundation, an advocacy group based in Del Mar that argued that the California coastal commission had quote abused its discretion and quote.
Libbe HaLevy 
00:04:08
When it issued a permit, allowing Southern California Edison to take down buildings and other infrastructure at the now shuttered plant beckloff has 60 to 90 days to issue a final ruling. But in his 12 page tentative decision, the judge says the commission did not violate its own regulations. When it okayed. The permit response was swift Chelsea Sparty, who is associate director of the Samuel Lauren's foundation said this isn't over. The judge took our points under submission, and the case is ongoing. We are fully supportive of the plant decommissioning. We want to make sure that it is done in a way that is most protective of coastal resources and the public coastal commission spokeswoman. Naomi Schwartz said the commission shares significant concerns raised by the foundation, but the commission does not have jurisdiction to regulate this federal issue and agrees with the court's tentative ruling at issue are the spent fuel pools refer to in this article for the first time I've ever seen as wet storage pool at commercial nuclear power plants.
Libbe HaLevy 
00:05:18
When the highly radioactive fuel rods used to generate electricity, lose their effectiveness operators placed the assemblies in a metal rack that is lowered about 40 feet into a wet storage pool. Typically for about five years in order for the rods to be cooled. Edison says the pools at San Onofre are unnecessary now that the spent fuel or nuclear waste sits in dry storage, but the Samuel Lawrence foundation suit argues that Edison should keep the pools in place in case the canisters ever get damaged or degrade over time. As it stands. Now, when the pools are gone, Southern California will be held hostage by the radioactive waste, buried on the beach, 73 canisters, each carrying a worth of radiation. And if anything goes wrong, there will be no recourse and no way to step back from a possible radiological disaster to which I add the old adage hope for the best, but plan for the worst in Georgia, Georgia power's nuclear expansion of plant Vogel is even further behind schedule than the company recently acknowledged and has faced an unexpected array of quality issues.
Libbe HaLevy 
00:06:31
This according to testimony from independent state monitors and staff of Georgia regulators, the first of the two new reactors likely won't be an operation until at least the summer of 2022. The facility is now six years behind schedule and it's cost estimates for the plant were off by a shocking 100%. The original cost estimate for the two new nuclear reactors was $14 billion. And 2021 costs are near or at 30 billion. This is federal money spent in one state on one power plant and comes at a time when renewables are at record low prices and natural gas is four times cheaper than nuclear. And though the new Vogel units have yet to produce any electricity, Georgia power customers bills have for years included financing costs and profits on the project for the state's largest electric monopoly and allowance approved by the state legislature. And then governor Sonny Perdue.
Libbe HaLevy 
00:07:33
By the time the construction work is completed. The average Georgia power residential customer will have paid $854 towards Vogel's expansion. And they are expected to pay even more. As construction costs are rolled into their bills. Just think what $30 billion worth of solar panels could have done as for two other nuclear reactors that were proposed, but never built VC summer near Columbia, South Carolina, a former Westinghouse executive who oversaw construction on scanners doomed $10 billion nuclear project admitted, lying about the project in an effort to fool people into thinking the doomed project would be a success. The former Westinghouse official Carol churchman pled guilty to one count of lying to an FBI agent. That's it churchman was the third person so far to plead guilty in an ongoing four year FBI investigation of criminal act connected to the 2017 failure of scanners effort to build two nuclear plants at the BC summer facility, about 25 miles Northwest of Columbia.
Libbe HaLevy 
00:08:45
It was the biggest business failure in South Carolina history. And through more than 4,000 people out of work at first, the July, 2017 failure of the nuclear project was attributed to cost overruns and mismanagement. But the FBI investigation established that top SCANA officials engaged in a criminal conspiracy to hide the looming business failure from the public and investors who owned scan of stock. Churchmen faces five years in prison for lying to the FBI agent and sentences are pending in two other cases, connected with the scandal regarding the fermion nuclear reactor in Monroe county, Michigan in March at a press conference, radiation and public health. Joe Mangano released a study of cancer mortality rates in Monroe county, in the period from the mid 1960s to the mid 1980s, the county's cancer death rate was slightly below the rate for all of Michigan after fair me too. The nuclear reactor began operating in 1985.
Libbe HaLevy 
00:09:52
The low rates disappeared. And in the most recent years, Monroe counties cancer death rate has climbed to 14% above the state. And the growing gap shows no sign of ending. In addition Monroe's cancer death rate among children who are the most susceptible to radiation was 38% above the state. The highest of any Michigan county. Now RPH PS tooth fairy project is asking local parents to donate their children's baby teeth to help answer. The question is the ferry to nuclear power reactor, a threat to local health we'll link to the story which was written by epidemiologist Joe Mangano and Christie Brinkley. Yes, bath Christie Brinkley. And now for your weekly dose of nuclear bone headedness,
Libbe HaLevy 
01:10:52
Fukushima with it's three melted down reactors, overflowing tanks of radioactive water, radiation, hotspots, and so much more desperately needs an image overhaul to attract tourists. So why not make it into a UFO research center? Yep. Those brainiacs and Fukushima prefecture have decided that's just what they need. And so a research facility on UFO's will open this week in the city of Fukushima in the hopes that the facility will become a new tourist hotspot, a wrong languaging, there, a tourist attraction located inside UFO for Rhea con the center will analyze witness reports, create a network of researchers in Japan and abroad and planning events to lure UFO's to Fukushima prefecture. I wonder what those will look like, but that begs the question to what end to use advanced ITI technology to fix the melted down reactors, neutralize the radiation siphon off the tritium laced, radioactive water stored onsite to use as well. I don't know the extra terrestrial equivalent of lemonade. The project has been funded by focus, Shima prefecture, which obviously has more money than sense and is desperate to recast itself as something other than the hot mess that it is. And so, yeah, the truth may be out there, but you're not going to find it in focus Shema. And that's why, and the Foria con center on unidentified flying objects. You are this week's no.
Announcer
01:12:33
Okay. Your hot seat
Libbe HaLevy 
01:12:37
In China, a bit more news about the Tyson nuclear reactors, which were reported in the last weeks to be leaking radiation with the question being, whether it leaked out into the environment or remain trapped inside the units themselves, the fault in the fuel duct to seals inside the Tai Shan EPR, which is the style of nuclear reactor, that it is a new style dates back to October, 2020. That is to say it had already been going on for more than eight months. The operator of the reactor, both the Chinese and the French company from a tome were perfectly well aware of the gravity of the situation and had jointly decided to hide the existence of the problem from not only the surrounding population, but also from the international atomic energy agency. Since word of this problem seeped out on June 8th, based on an email sent by from autumn to us, government agencies, China has admitted that several of the reactors more than 60,000 fuel rods have been damaged prompting regulators to reassess the levels of radioactive gases around them.
Libbe HaLevy 
01:13:51
Interesting that in the New York times article about this, while they say some uranium fuel rods had been damaged quote, which is not uncommon in reactors. Oh great. Always good to know that highly radio active fuel rods in nuclear reactors are often damaged this problem at the Brad new Tai Shaun nuclear reactors, which went online in 2018 and 2019 calls into question. Identical reactor design builds currently underway in Finland, France and the UK and in the UK, the nuclear free local authorities have called on nuclear regulators to carefully investigate possible radioactive leaks and the implications for kinky sea, which is already under construction and Sizewell sea, which is under consideration. Iran's only nuclear power plant underwent an emergency shutdown on Sunday, June 20th. The unexplained said to last for three to four days came as top diplomats said that further progress had mid made at talks on Sunday between Iran and global plowers to try to restore a landmark 2015 agreement to contain Iranian nuclear development.
Libbe HaLevy 
01:15:08
That was abandoned by the Trump administration. We'll have this week's featured interview in just a moment, but first, last week was nuclear hot seats, 10th anniversary of weekly programs. And here we are starting this week on year 11 with quite frankly, no end in sight because Hey, it fills a need. This show is regularly researched has been cited in more than 80 academic books and articles. And there are more than 10,000 back links to specific episodes from websites around the world. In its first 10 years, nuclear hot seat has grown to become an important resource for people wanting to know the truth about the nuclear juggernaut. But now the online world is evolving and it is not in our favor. Google is changing its algorithms to favor websites that load fastest. And if you don't do the necessary upgrading and reconfiguring of your site, even if people put in the proper search terms, the ones that worked before you, we, and our important message will not be found.
Libbe HaLevy 
01:16:15
That's why nuclear hot seat is going through a total website rebuild. This is not a cosmetic moving around of the pieces into a pretty new template. It is a back end, rebuild and upgrade to bring the website into alignment with how the internet works. Now it's a massive job. And as you can imagine, it is not inexpensive to get this work done. It's going to require a big chunk of money, and that's where I need your help. We need to raise the funds. So please right now, go to the website, nuclear hot seat.com and click on the big red donate button. You can make a one-time donation of any amount or set up a monthly donation of $5. The same as a cup of coffee and a tip here in the U S there will be bonuses for donations of $100 or more. And if you have the ability to donate $500 or more, we can discuss a specific bonus tailored to you or your group's needs a private webinar consultation, radiation protection advice.
Libbe HaLevy 
01:17:17
We'll figure out something that will work specifically for you. If you value nuclear, hot seat and want to see us continue to be found online, now's the time to support us with the donation. So please go to nuclear hot seat.com, click on the big red donate button and do what you can. And if you would like to make a larger donation, contact [email protected]. And we'll set a time to talk, please do what you can now and know that however much you can help you have got my gratitude. Here's this week's featured interview less than one year after the United States dropped the atomic bombs on Hiroshima and Nagasaki. We were bombarding a friendly nonaggressive unmilitary country in the south Pacific, the Marshall Islands, the damage we did in the name of this research or testing of the weapons, the damage we did to people and the environment has to this day, not been acknowledged, completely calculated and constitutes what I would not wish on our worst enemies to this day.
Libbe HaLevy 
01:18:30
People in the Marshall Islands seek nuclear justice, whatever that might look like. And they are still having a hard time getting their message heard by the rest of the world to learn more. I spoke with Desmond now rang Dala Trump. He is co-founder of the nonprofit organization reach M I, which stands for radiation exposure, awareness crusaders for humanity Marshall Islands. He serves as research director and advisor for reach M I, the group provides information and explores ways to address unresolved nuclear issues to improve community conditions people's lives and achieve nuclear justice. Desmond is an in-kind researcher for the Republic of the Marshall Islands, national nuclear commission, and has presented in anti-nuclear related conferences, workshops, trainings, and seminars at the university of Basel in Switzerland, Oregon state university, the university of San Francisco Melbourne university, university of Tokyo Toronto's Humber college and college of the Marshall Islands, where he is currently a social science instructor, teaching issues in Pacific studies and contemporary social values in Micronesia, which is where the nuclear legacy of the Marshall Islands and the greater Pacific region continue to be hotly debated issues among its people. We spoke on Sunday, June 6th, 2021, Desmond NurAin Dala Trump. Thank you so much for being with us today on nuclear hot seat.
Desmond Doulatram
02:20:04
Oh, thank you, Libby. It's a pleasure to be here. Finally,
Libbe HaLevy 
02:20:08
Start out with a little bit about you. What is your background and were you alive when the testing was still going on in the Marshall Islands of the U S nuclear?
Desmond Doulatram
02:20:20
I'm a social science instructor right now, but I co-founded a nuclear NGO called reach me radiation exposure, awareness crusaders for humanity of the Marshall Islands. And I wasn't actually alive, but my grandma and my grandpa was, and my grandpa was the first president of the Marshall Islands. They call them the founding father. I'm not a cowboy and his grandfather was the original paramount chief for bikini atoll. So that's my connection to the nuclear legacy through them, aside from my nuclear work here, of course.
Libbe HaLevy 
02:20:52
So you have quite a legacy and we're born into a family of people who have been fighting against this from the beginning. How did the bombings directly affect your family and the community?
Desmond Doulatram
02:21:05
I think because there are chiefs, particularly for those communities in the Northwestern region of the Marshall Islands, it's basically the duty of the chief and their families to take care of their people. And because of, you know, the existing structural violence, there are unable to do that because it seems like the colonial narrative is impeding on their ability to get some form of justice. When you're a small island developing state in the middle of the Pacific ocean, it's hard to showcase your claim against super powers that have all the evidence that at their disposal at overseas archives, even, and just recently, a lot of the evidence here have been declassified. Like we just found out that the ruined it dome, it's basically a nuclear storage facilities, housing, you know, a plutonium and like nuclear pollution that wasn't even from the nuclear testing program, they were brought in from the United States.
Desmond Doulatram
02:21:59
And the only reason why we found this out was because, you know, the people that were cleaning it, these nuclear veterans were coming up with these evidence and documents and showcasing it to be in a WhatsApp communities. So there has been a lot of erasure and false information out there. And we're just in the process of trying to educate ourselves because most of us are finding out more and more things that we weren't told because you know, these are God-fearing people. So they're very trusting and naive. So when a country that has been taking care of them for so-and-so years, like the United States tells them like, this is what it is. You know, you don't want to doubt that truth because you think like, you know, they're your benefactors, they help you. So we're just like simple people living in the Pacific trying to make it by. So when people tell us these things in evidence pops up, it just makes it current population, particularly to the younger generation that have been very educated, the American way more angry,
Libbe HaLevy 
02:22:55
Fill us in on the magnitude of the nuclear bombing that took place in the Marshall Islands after world war II.
Desmond Doulatram
02:23:04
Okay. Just to give you the magnitude, it was like 108 mega megatons, like 67 nuclear bombs were detonated here. So that's the equivalent of about 1.6 Hiroshima bombs being detonated every day for the duration of those 12 years. So every day was like a Hiroshima bomb being dropped. And if you really want to know the magnitude of that problem, that four, I told myth that the compact of free association has codified. Like, you know, that's a myth. It wasn't just for animals that were affected. Because even if you look at islands in ILO, there were people that were affected by fallout. That was just as equivalent to the communities in Woodrow. Look at all that the United States recognizes, but because it was deemed been convenient to evacuated probably 400 to 500 people from that at-home, they weren't codified into that relationship. And even now cancer's cases are popping up.
Desmond Doulatram
02:23:57
So there are intergenerational effects and this is even new for me. Cause I thought like, you know, for me, somebody like me that hasn't been really into this nuclear science. It's not something that was taught into our school or pushed into our curriculum until recently because new evidence keeps popping up that there was a grave injustice that was being done. So if you want to know the magnitude of that problem, even people in Guam are seeing that all the way, the Guama U S territory claiming that, you know, that fallout reached squam and even in Palau, they said it reached there. So that's how big it was. I mean, 108 mega tons is no joke.
Libbe HaLevy 
02:24:32
And 1.6 Hiroshima bombs every day for that extensive, a period of time is also a horrifying thought. There was a quote I came across in one of the papers that you have published that floored me. Is it true that former secretary of state Henry Kissinger who served as national security advisor actually said of the Marshall Islands, there were only 90,000 people out there who gives a damn
Desmond Doulatram
02:25:03
Yeah. That's a infamous code. Like that has been, everyone knows about that. Yeah, that's true. It's sad. But you know, that's just, you know, the way international politics works when you're a global superpower and these are people that are in the middle of the Pacific. So I escalated. Nobody knows about them. Like even when I was going to school in Hawaii, nobody even knew where the Marshall Islands was or whether it was a real country to begin with. And I remember when I told them, do you guys know what bikini is? The first thing that came up to their mind was the bikini swimsuit. And it's no, the irony of it is like that, that swimsuit was named after the asshole and not the other way around. And they have shows like SpongeBob square pants that are modeled after the bikini asshole situation, you know, SpongeBob in his name is nuclear related friends. Like it's funny, it it's become like a comic for Americans, just so removed from that issue that they don't know what's really going on here.
Libbe HaLevy 
02:25:59
There's a film that I watched several years ago. And I, again, rewatch because it was part of the international uranium film festival and that is nuclear Savage by Adam Jonah's Horowitz. And that was the one that showed the us attitude towards and behaviors towards medically speaking towards the people of the Marshall Islands. Once the bombs started falling, you're obviously aware of that film. Does that information still hold up? And what is it that you know about how the U S medically quote unquote treated or examined Marshall Islanders after the bombs were dropped?
Desmond Doulatram
02:26:40
If I were to really say it in the most honest way, without any filter from speaking to these problem victims from rollout, they were actually there. They felt treated like lab breaths. I'm not trying to be mean or saying I hate America, but this, these are just their stories. And there was real. And one of the people I interviewed a while back, she shared me, her story was now to get Joseph who lost her hair because she thought she was playing with snow. She thought it was like powder detergent. And she put it in her hair thinking it was soap. She was saying something around the lines that she just wish she had a tape recorder, a video recorders, just so that she could accurately capture what was really going on because they were just being thrown in the water as it, you know, when they do the Geiger counter and then they'd click like,, they'd be, oh, go back in the water.
Desmond Doulatram
02:27:28
And these were like women, children, and some of them would have to strip naked in front of their brothers, their uncles. And there was no like humane treatment or no cultural consideration of the unethical processes of actually stripping women in front of their sons and uncles and fathers. They didn't care. And for her, she says, that's the reality of how we were treated, just like lab rats. That's the way I understood it and knew it was, it's just really sad because, you know, you grew up very pro-American and then these nuclear victims showcase what really happened here with project 4.1 and what they really went through and they speak so eloquently in their own native tongue as to what really happened, because it was so real for them. You can't fake that kind of story. So that's how I knew what project 4.1 was from a personal standpoint, just from hearing the stories of these victims who went through it. And it was really inhumane from what I I've been hearing from them so far,
Libbe HaLevy 
02:28:25
Right. Project 4.1 was the code name or the diagnostic name that the U S gave to this examination of the effects of radiation on survivors. And initially it was supposed to be done on mice and rats. And only when it came very close to the program beginning, was it extended and made specific to human beings as well? Was there any medical treatment that was provided along with the examinations and the gathering of data?
Desmond Doulatram
02:28:59
What's that thing that they take for thyroid medicine, they are central or something. They always take that man, Synthroid, Synthroid, that's the only medic. I always hear them Synthroid center. And then they always say that it was like, there was, it was a real medical treatment. Even over here, we have a DOE whatever that thing is, and they just do the whole check where you lay down and then they do the whole body count or something. But I don't think there is any, like, for example, there is no oncologist here in the Marshall Islands. You know, you would think that for a place that was like bomb bed rate of 108 mega tons, you would think that the us would guarantee you that kind of healthcare. And under the trust territory, a trusteeship agreement, when the us took over under the United nations mandate, they were given, there was supposed to protect the people's lives, their livelihood, their health, their land and resources.
Desmond Doulatram
02:29:47
And, you know, we look at the nuclear testing period, and it's just like the complete contradictory to their obligations. As far as medical care. I don't think there's any adequate medical care that was given to them immediately, because if you look up even project 4.1, there was also a control group, people that weren't on Romala and we'll go look at the time they were brought in. And then they were given like, you know, radioactive substances to drink, just so that they could compare the difference between people who were directly affected by the follow-up versus, you know, nuclear radiation affecting you via the mouth that you drank. Some of them were also injected with radioactive substances so that they could see the difference between those two effects like, oh, people that were here with Bravo versus people that were, so these things that, you know, I'm a former anthropologist that is now with the national nuclear commission here.
Desmond Doulatram
03:30:40
I don't know if you're familiar with their work, Dr. Holly Barker. She was really good at collecting all these stories from all these victims. And these, this is what they were saying. And the saddest part over here is because everything's oral, like not everyone had the technology to record. These are stories that are still kept to them, the cultural memories of the victims, and that trauma is still there. It still exists, particularly for the woman who gave birth to like jelly babies. And they were ashamed thinking that it was their fault as if they were sinners and whatnot, and their communities. Weren't very helpful because we were completely ignorant of nuclear radiation, because this is something that we didn't even have. We don't even know. We don't even have a word for nuclear victims. We call them the real bomb, literally means people of the bombs. So we don't have like those kinds of terminologies to describe that world. So it's very new to us, even for us. Now,
Libbe HaLevy 
03:31:34
Is there any tracking currently going on now of the generational impact of radiation on the people of the Marshall Islands?
Desmond Doulatram
03:31:44
There is a health committee that handles it, like in the ministry of health, but again, it's not, I wouldn't say that's like professionally done in a way that, you know, it's not by us standards. That's my humble opinion, but we do get cancer cases and then they go, and of course the assumption is that it's, it is nuclear related, but not as accurately diagnosis, I would want it to be because we lack the medical facilities and the professionals to do it for us.
Libbe HaLevy 
03:32:14
I would think that there are oncologists, there are universities, there are some institutions somewhere that would want to develop a department of oncology just to study the people from your nation to see what the impact has been. And yet you're telling me that there is nothing of the sort
Desmond Doulatram
03:32:34
There has been doctor. I mean, scientists from like Ivy league schools. I think Columbia that have come here, but they're mostly studying the environment and from the environment, they, they make studies and connections to the people. But as far as like actually taking people in and like doing studies that hasn't been done, I think also part of the reason why that's, I think very controversial is because of the history of bad research with people being taken in and no informed consent. So it just makes it it's very controversial. That's all I'm going to say.
Libbe HaLevy 
03:33:08
What is the situation at, Enova talk with the dome that is there that covers the nuclear waste that has been lifted.
Desmond Doulatram
03:33:17
And I think that people have anyone took her angry because it's bad enough that they're storing, like, you know, like the nuclear pollution that was dropped here, but it's another hassle for them to recently find out that several Olympic pool sizes of nuclear waste was brought in from the us mainland, from the nuclear testing there. So this is things that these are things that they just found out just recently and not on top of that, that dome is, you know, it lacks structural integrity. A UN repertoire report basically said that it lacks structural integrity and it's leaking, but you know, the us doesn't want to acknowledge that truth. They did a report during the Trump administration saying that it's fine, but those reports are faulty. Like for people here that are living with the issue firsthand. And if you go to that dome there, it's not like, you know, you go to the nuclear storage facilities or nuclear power plants in the U S where there's so many safety measures with walls, or like fences and electric fences over here.
Desmond Doulatram
03:34:15
It's just like a side thing. Stay away, keep away danger zone. And, you know, birds and young kids, they don't read signs like that all the time. So birds might eat it. People might eat the birds. And not only that, but you know, when high tide come stuff seeps out, it just goes in line. What many people say it's basically like environmental racism. Like it's okay for Marshalese people to deal with stuff like this, because you know, they're isolated, they're over here. Whereas, you know, you go to America and there was like so many safety precautions because they know they're going to get sued or whatnot. If they're, they don't go by the regular precautions of safety. But over here, it's very different. So that's all I can say. I mean, it's really sad to hear and it's depressing, but it's basically the reality of anyway, people just recently given the national nuclear victims day, the Senator from Mineola took delivered a very powerful statement, addressing the United States.
Desmond Doulatram
03:35:11
And he was angry because they just found out just recently that some of the waste that they're storing on their island in runic dome, we're actually from the bombings here in the Marshall Islands, they were brought in from the us mainland. So they're very angry about that. And they've teamed up with, you know, the nuclear veterans and they're helping them also piece of their history. The reason why some of these documents were recovered was because people that were working onsite, that when they saw these documents that they were supposed to throw in with, along with the nuclear waste into this nuclear storage facility, they just thought, oh my goodness, this is wrong. I'm just going to keep this evidence. It might help us in the future. And here we are with that story. And that truth being revealed
Libbe HaLevy 
03:35:55
Here we are in the future with the understanding that such horrors were perpetrated the people of the Marshall Islands, what has the Marshall Islands as a nation been able to do to fight back for whatever might possibly look like justice and compensation.
Desmond Doulatram
03:36:14
We have this thing called a change circumstance petition, and under the team circumstance petition that came with the compact of free association, 1 77 agreement. They said that the Marshall Islands have the ability to go back to Congress and ask for reparations that could not have been reasonably identified because there was lack of evidence. But you know, that changed circumstance. Petition has been sitting with us Congress for awhile. It was given to during the Bush administration, but they didn't acknowledge it. They didn't believe it Bush Jr. Of course. So it's been sitting there for a while and just right now, it, I feel like, you know, there's more serious about it because compact three is coming up negotiations for combat fee that are earmarked for 2023. And they've specifically added a nuclear committee into that negotiation committee, into that negotiation team for the compact renegotiations. So I guess they're really serious about it, but it gets very political.
Desmond Doulatram
03:37:15
There's so many diverse stories amongst the communities and the infighting between like local leadership that it becomes very, very hard to manage at times, even within the Marshall Islands in nuclear issue gets very political because people are fighting for agency to, you know, speak the narrative because every experience for all the assholes are different in certain respects, like bikini has their own story you will get with has their own story. Anna tuck has their own story from a, has their own story and even people within the Marshall Islands. But I believe the main reason why they did the chain circumstance petition is to take into consideration that there is a high possibility. We know it's true, but you know, they will never acknowledge it, that it was not just the four atolls. There were other communities affected and that 1 77 agreement codified that there was only four atolls and it just left a huge population of people with no voice to say like, yeah, I was wrong and stuff like, so that's where we're at at the conversation. They're basically changing that colonial narrative, seeing there's only four actuals and saying, no, there was more than that. And our change circumstance petition after working with the nuclear claims know is telling us through research from all these individuals that it was not just for assholes, that there are also intergenerational effects
Libbe HaLevy 
03:38:34
In 2014, the Marshalese climate change ambassador, Tony labram, who has since passed away, sued the United States and the Asian nations of India, Pakistan and North Korea. Is that lawsuit still active. And if so, how has it framed? And what is the current status?
Desmond Doulatram
03:38:54
Yeah, lost, you'd already lost. It was thrown out of the U S courts was dismissed. And then at the, I think, was it the Netherlands that they have that international court of justice, which, yeah. Okay. It was, it also lost by technicality, I believe, but what the whole point of the lawsuit, I don't think it was just to these big nations look bad. I think if you really look at the positive side of that lawsuit, it really revived a nuclear legacy. That was very censored because it brought a lot of press attention and a broad, a lot of issues that, or like science that we, weren't not the average public didn't have access to. So it really kind of like, cause a media frenzy and it made waves in a way that was positive in certain respects because it revived a nuclear legacy that we ourselves in the Marshall Islands felt so very fatalistic to bring up. Like we were kind of like, oh, like it's a lost battle, you know? But then when it brought that issue back up and people were talking about, and the conversation was revived, it just felt like there was some hope left in bringing this nuclear issue and getting some form of justice.
Libbe HaLevy 
04:40:01
Now in 2017, the national nuclear commission was established and has as its core mandate to develop a national strategy for nuclear justice. Is there such a thing as nuclear justice possible here? And if so, what might that look like?
Desmond Doulatram
04:40:18
I believe a for them a nuclear justice would probably start with acknowledging the promise that the American people made to them a Marshalese nuclear victims and addressing the chain circumstance petition because, you know, they obviously they left that option there because they knew that the Marshall Islands would be coming back to them and say, no, this, no, this is really how the situation is. So for just justice for them is I believe is acknowledging, you know, that a wrong was committed and making that, writing that wrong. We that's what, how I understand nuclear justice, they're tired of waiting. They want their reparations so that they could rebuild their communities in a way that's we can't go back to how it was obviously, but at least give them the necessary means to develop their human capacity and their own livelihoods in a way that's good for them.
Libbe HaLevy 
04:41:11
The national nuclear commission listed five points that I have written down here to go through. That is the goals. And that is to address the ongoing impacts and account for those impacts on fundamental human rights of the Marshalese people, full payment of all past and future awards, quality healthcare, reducing the of exposure to radiation, building national capacity, to monitor and understand radiation and education and awareness of the nuclear legacy. How much progress or how far as your country been able to go towards achieving any of those?
Desmond Doulatram
04:41:51
I think the most progress I would say is education. We have a national nuclear waste Institute at our local curriculum and I'm the national nuclear commission is also working with NGOs, such as reach me along with the public school system here to develop a nuclear curriculum. But I would say that's where the progress is mainly because, you know, we're finding out things and we're trying to educate ourselves before we educate the world. And a lot of those entails that we did not have we're now finally getting access to and allowing other people to learn about it. And most of these people that are so into this nuclear issue, our children and young college students and youths, and that's very promising for me because I didn't grow up with those kinds of opportunity to learn about my own nuclear history because everything was concealed. I think that's where the main progress is.
Desmond Doulatram
04:42:42
As far as healthcare, they did establish a committee that deals with that nuclear legacy and they are actually working with lawyers to try and work their way around pushing this chain circumstance, petition to get some remedy for that, those reparations in one of those goals. But I think the main progress to date has to be that information, you know, like education and awareness, because a lot of stuff are now being shared in light of social media and technology. Also, it's just the timing, I guess. I wouldn't say that it's anything other than timing, like with technology, we're just lucky that things have spread so fast
Libbe HaLevy 
04:43:24
To this day, the United States has not issued a formal apology or taken responsibility for what it did to the lands and the people of the Marshall Islands with that being part of the push for nuclear justice. If the United States would step up and say, yes, what we did was wrong. And we would like to take responsibility and move ahead from that position, what would that do for you and your people?
Desmond Doulatram
04:43:50
I think it will help out with peeling. A lot of the generational trauma wasn't just physical. It was also mental. There was like a lot of psychological trauma that is still exists within these communities, particularly when you're telling them that they're lying and there was no wrong committed, they get so hurt. And it's really, really sad. You, you just have to think about them going through that experience of being treated like lab riots and then their own Marshalese community tells them like, no, you didn't go through that. And America says, you didn't go through that. There's no proof, but we were there looking at our bodies. A lot of them have had their bodies cut. So for biopsies to test how much radiation is in their body. So they're living proof of that legacy. And just to have an apology be given by the United States, I believe that will start the healing process.
Libbe HaLevy 
04:44:41
There are listeners to nuclear, hot seat all over the world. If they were to take step or steps to help support you and your people, what might that look like?
Desmond Doulatram
04:44:52
I think the first step, to be honest, it's like sharing this story. Like for me personally, I think that the reason why we're here, here in the Marshall Islands, you know, with this sense of pride, with the sense to continue is because people around the world are sharing our stories. And there's that sense of hope that there are people that care. And most importantly, there are Americans that care, you know, that's something that, you know, we would think like, you know, they don't care because blah, blah, blah. When you talk to people that in America that didn't even know about this lid, they're like saying, oh my gosh, that's very, very wrong. We did not know about that. Like even going in New York when I was interning in the United nations and I was going with the Manhattan project for a nuclear free world, they were telling me like, wow, we did not know about that.
Desmond Doulatram
04:45:33
That is so wrong. And these are average Americans that did not even know like what was going on, what their governments were doing here and from the 1940s to the 1950s. So I believe the best way they can help is to share this story as much as they can. Something as simple as sharing stories goes a long way, because for people like us, we just want the world to know what happens, what happened here and, you know, going to the United States and being told like where the heck is the Marshall Islands? You know, that's like where it start conversations like that, you know, it really helps us like, you know, rebuild that real rebuild backer did dignity.
Libbe HaLevy 
04:46:10
Is there anything that we haven't covered yet that you would like to add at this time
Desmond Doulatram
04:46:15
When it comes to the nuclear issue? It really is diverse. I'm not gonna lie. Like even within our own local communities, it gets very, very political, like, you know, the, for instance, leadership of anywhere, top, like within their own communities, there's some infighting like who wants to control how they approach the negotiations. And even here there's trouble with the government because some of the nuclear communities, they don't see eye to eye. And I remember talking with the former speaker who is the Senator of Romola where the Bravo like landed. And he'd be saying like, you know, there was this one time they went to DOI. And for the first time they actually got together and the United States was just like, wow, that's really nice that you guys actually came together. We we've been meeting individually with the individual actual communities for a very long time.
Desmond Doulatram
04:47:03
And to see you guys come together, that's where I think people need to understand. I think here in the Marshall Islands, part of the reason why this issue hasn't gone forth in a way that's more positive and progressive is because of the political fighting's between the communities here. And I think if there's a more of an initiative to organize and come together, then there will be more like progress. I know we can use our voice. Marshalese can use their voice in many ways. It's not necessarily how you approach it. It's like the position, the case, the argument, and if they could unify and present their case, that position and that argument in a way that's beneficial for all. I think that will take us a long way.
Libbe HaLevy 
04:47:52
No, that however you unify, however you move forward. We here at nuclear hot seat. Want to know what is going on in the Marshall Islands so that we can be part of continuing to spread your story and your truth to the rest of the world so that people can know. And on that note, I want to thank you, Desmond. No rain, Dala Trump for being my guest this week on nuclear hot seat.
Desmond Doulatram
04:48:17
Thank you, Libby. Thank you so much for giving me this opportunity.
Libbe HaLevy 
04:48:22
That was Desmond Narain, dollar tromp. He is co-founder of the nonprofit organization. Reach EMI, radiation exposure, awareness crusaders for humanity, Marshall Islands, and continues to work towards nuclear justice goals for the people of the Marshall Islands. We will have a link up to his organization and some of his contact people on the website, nuclear hot seat.com under this episode, number 5 22, there is a brilliantly well-done documentary that tells the story of the Marshall Islands in uncompromising terms is entitled nuclear savages by Adam Jonas Horowitz. And this film is how I first learned that the United States through what was labeled secret project 4.1 acted like Nazi medical experimenter, Josef, Mengele. It intentionally expose the Marshalese people to 67 atomic and hydrogen bomb explosions and resulting radiation, but withheld medical treatment. And instead just examined the effected population to collect data on the effects of radiation exposure on human beings. The film was featured in this year's international uranium film festival, and we'll have a link up to [email protected] on our website. Well worth watching. I must admit that I've never paid much attention to SpongeBob square pants, but now that I know that there's a nuclear connection, I just might have to check it out. Okay.
Announcer
04:49:51
Is
Libbe HaLevy 
04:49:58
We got a message from Lily Adams, who is the outreach consultant with union of concerned scientists. She was writing here on behalf of Trisha Pritikin, who is a lawyer advocate and Hanford downwinders. Trisha is also the director of core, which stands for consequences of radiation exposure and author of the Hanford plaintiff's voices from the fight for atomic justice. You may or may not be aware. The national park service has a series of museums at nuclear sites called the Manhattan project, historic national park. There's one at Hanford in Washington, state, Oak Ridge in Tennessee and Los Alamos in New Mexico. If you've been to any of these parks, you know, that they gloss over or completely ignore the serious health and environmental harms to impacted communities, as well as the tragedy of the use of nuclear weapons in Japan. Now the nuclear park service has a mandate to work with impacted community members to work on, including their perspective on the harms of the nuclear weapons complex.
Libbe HaLevy 
05:51:07
However, the park service is soon running out of funding and core is very concerned that the department of energy following decades of similar behavior will ultimately block the actual inclusion of these perspectives. Core has been advised to seek support and conflict resolution services from the Udall foundation and the national center for environmental conflict resolution. So here's the question. Do you, does anyone in the nuclear hot seat listening audience or anyone, you know, have any contacts with either the Udall foundation or the national center for environmental conflict resolution? If so, we would like you to send that information at the earliest possibility to Lily Adams at the union of concerned scientists. Her email is Lily, L I L L Y dot U C [email protected]. We'll also have a link up on the website. This is a chance to stop these nuclear propaganda machines disguised as museums into covering a wider and more honest truth about the impact of nuclear weapons.
Libbe HaLevy 
05:52:17
If you can help, please do. So this has been nuclear hot seat for Tuesday, June 22nd, 2021 material for this week's show has been researched and compiled from nuclear-news.net to own renard.wordpress.com beyond nuclear international.com the international campaign to abolish nuclear weapons, or I C a N w.org. The union of concerned scientists, San Diego tribune.com a J c.com. Marianne wildcard.wordpress.com. Sapporo report.com. The state.com Monroe news.com, Japan times.co.jp New York times.com fairwinds.org, AP news.com high north news.com and the captured and compromised by the industry. They're supposed to be regulating nuclear regulatory commission. Thanks to all of you for listening in 123 countries on six continents and counting. If you would like to get nuclear, hot seat delivered to your email every week so that you never miss out on a single issue, it's easy and it's free. Just go to nuclear hot seat.com, scroll down for the yellow box and sign up for the weekly email link to the latest show.
Libbe HaLevy 
05:53:38
We don't sell the list. We won't bug you. We just want to make sure you get the information for those of you who would like to know more about our upcoming website upgrade necessary so that nuclear hot seat is not intentionally excluded from Google searches. You can learn how you can help by sending me an [email protected]. I'd love to talk with you as for the content of the show. You are invited to help me follow the stories. If you know of a story, lead a hot tip or a suggestion of someone to interview, send an email to [email protected]. And if you appreciate weekly verifiable news updates about nuclear issues around the world, take a moment and go to nuclear hot seat.com. Look for that big red button, click on it, follow the prompts and know that anything you can do to help is deeply appreciated.
Libbe HaLevy 
05:54:33
This episode of nuclear hot seat is copyright 2021 Leiby Halevi and hardest street communications, all rights reserved, but fair use allowed. As long as proper attribution is provided. This is Leiby Halevi of hardest street communications. The heart of the art of communicating, reminding you that as Hiroshima survivors SESCO Thurlow said upon accepting the 2018 Nobel peace prize on behalf of the international campaign to abolish nuclear weapons, the nuclear arsenal represents a self-destruct button for the human race. Boy, isn't that the truth. Now we're going out a little bit differently this week with a song that was sent to me by longtime listener and musician, Laura Sue will landscape. It's one of her own compositions, no nukes swing. So there you go. This is your nuclear wake-up call calling. You've just had it. Now don't go back to sleep because we are all in the nuclear hot.
Laura 
05:55:34
They want to build a nuclear reactor. They pick the spot that just don't cross the street. They say we won't have any trouble parking. And they say, don't keep the lawn so nice and neat. Wow. I don't want no nuclear reactor staring through my window at me. I told them no news and my coffee too close for me. They started with that first time a weapon peaceful. Adam is your friend. They'd say, just let us have another billion dollars. And we'll be building new bombs every day as if they didn't have enough already.
Laura 
05:57:42
This nuclear devices. It's up to us to stop them while we can. There's people all around the world to save their homes and countries from that plan, all of us have got to work together.