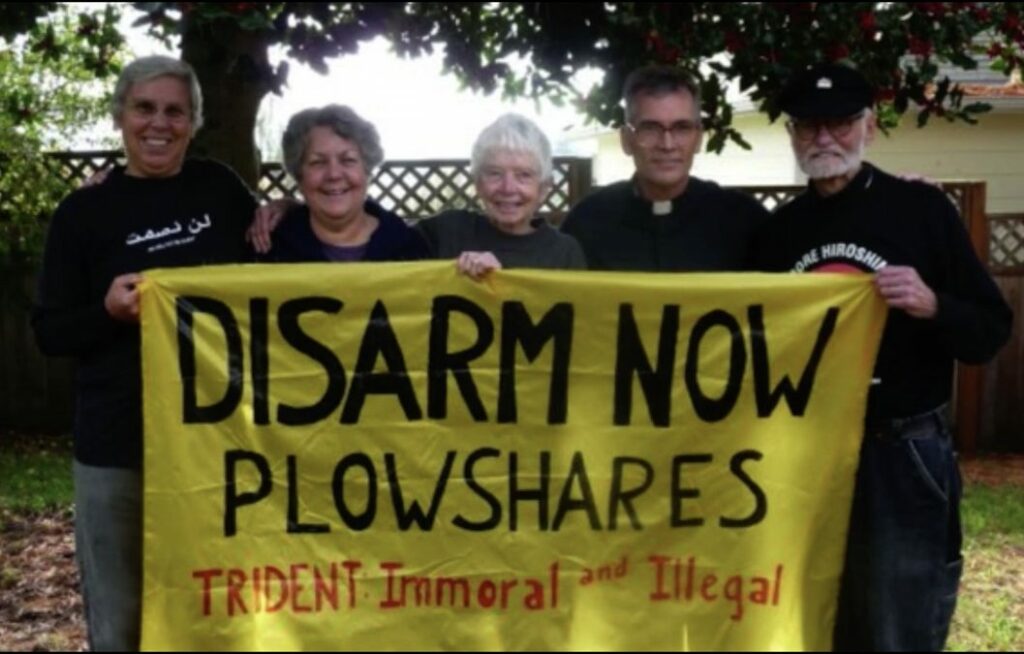 This Week's Featured Interview:
Nuclear Disarmament: Helen Young is an Emmy award-winning broadcast journalist who has forged a career as a filmmaker and writer by blending a passion for investigative reporting with a commitment to illuminating critical issues of the day. She was a staff writer and producer for CBS News and NBC News for twenty years and has also produced for MSNBC and Al Roker Productions. Helen has won one National Emmy news award and three New York Emmys for her work, as well as awards from the Society of Professional Journalists, United Press International, the National Commission on Working Women, and the Red Cross.
LINKS:
WEBSITE: nunspriestsbombsthefilm.com
FACEBOOK: www.facebook.com/nunspriestsbombs/
MARY OLSON WORK cited in the interview: GenderAndRadition.org.

Numnutz of the Week (for Outstanding Nuclear Boneheadedness):
Tokyo Electric Power Company (TEPCO) needs to "repair" corroded tanks containing radioactive materials at Fukushima… and they can't even pop for duct tape???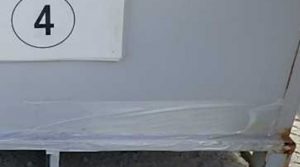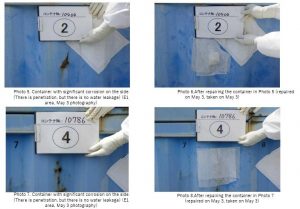 Links:
Libbe HaLevy
00:00:01
Nuclear war, mushroom clouds and fireballs and radiation, laced, rain, and nuclear, winter as a legacy for our planet and our people. That's the fear, isn't it. But when the issues surrounding nuclear weapons come up, it's hard to get and hold people's attention. Many, especially in the younger generations, don't understand the total destruction created by the atomic bombs dropped on Hiroshima and Nagasaki, let alone the devastating power of today's nuclear bombs, which are up to 30 times more powerful than what we dropped in Japan. So when a veteran award-winning news woman with major network credentials makes a film about the plow, shares actions, protesting nuclear weapons, and she puts the power of those weapons in perspective, by telling us
Helen Young
00:00:57
International committee of the red cross has come out and said that if there's ever a nuclear confrontation, they would not have the ability to respond to the humanitarian catastrophe that would occur.
Libbe HaLevy
00:01:09
You mean the red cross couldn't help us if the nukes should fall? Well, when writer, producer, director, Helen Young shares, just that one aspect of this much larger nuclear weapons issue. There's a chance that even the most nuclear li naive among us will wake up to the fact that they are also stuck in that seat. We all share
Announcer
00:01:34
Clear hot seat. What are those people thinking? Nuclear hot seat. What have those boys been breaking their hot seat? Ms. Sinking, our time to act is shrinking, but nuclear Hotsy. It's the bomb.
Libbe HaLevy
00:02:05
Welcome to nuclear hot seat. The weekly international news magazine, keeping you up to date on all things nuclear from a different perspective. My name is Leiby Halevi. I am the producer and host as well as a survivor of the nuclear accident at three mile island from just one mile away. So I know what can happen when those nuclear so-called experts get it wrong. This week, we talk with veteran news, woman, Helen Young, the writer producer, director of the 2017 film, the priest, the nuns, and the bomb. It features the actions of the late sister, Meagan rice, and focuses on the plow, shares actions to raise awareness of nuclear weapons and the need to do away with them. We'll also avail ourselves of Helen's decades of work for mainstream media to gain guidance on how any of us might sharpen our messaging to make what we have to say more effective.
Libbe HaLevy
00:03:06
We will also have nuclear news from around the world, numb nuts of the week for outstanding nuclear bone headedness, and more honest nuclear information than was used to determine the 62 billion us dollars in the build back better infrastructure legislation that will be used to shore up aging in brittle nuclear reactor facilities and invest in unbuilt unproven, small modular nuclear reactor designs, our tax dollars at non-work. All of it coming up in just a few moments. Today is Tuesday, November 16th, 2021. And here is this week's nuclear news from a different perspective, starting off in the U S here in California, where just days before the Santa Susana field lab documentary in the dark of the valley aired on MSNBC. A building on that former rocket dine site was demolished using explosives. It was done by the U S department of energy on October 1st and sent clouds of dust into the sky near residential neighborhoods of what some experts say were radioactive materials.
Libbe HaLevy
00:04:19
Just last month, a peer reviewed study found radioactive dust and Ash from Santa Susanna, which were generated by the 2018 Woolsey fire migrated as far as nine miles away to cities like thousand Oaks, Dan Hirsch, former director of the program on environmental and nuclear policy at UC Santa Cruz said there was absolutely no rationale for blowing it up. You would then be tossing that potentially radioactive material into the air. Us EPA documents discovered by NBC Los Angeles showed that the agency categorize the demolished building as class one, meaning it has the highest possibility of radioactive contamination. If you wish to support MSNBC for their airing of this important documentary in the dark of the valley, send an email letter or message to them. And we will have the link up on our website as to how to do that. In Ohio. A federal judge has ruled that Ohio rate payers who claim they were wrongfully charged on their electricity bills to bail out, failing nuclear power plants in the state can Sue electric utility first energy Corp in a class action suit, former Ohio house speaker, Larry householder, a Republican who championed the law, which allowed this charge to be added to the bills was federally charged last year with conspiring to secure its passage in exchange for $60 million in bribes in Japan, the agency spearheading rebuilding efforts stemming from the Fukushima nuclear disaster is now in talks with local authorities about phasing out assistance programs that evacuees meet their medical and nursing care costs.
Libbe HaLevy
00:06:01
This threatens to impact more than 150,000 residents of 13 municipalities in Fukushima prefecture and the reconstruction agency plans to begin scaling back the size of the aid as early as in fiscal 2023. Also in Japan, the math challenged writers have an article on the radiation in lake, oh, Numa said that it might be polluted with radioactive cesium 1 37 for up to 30 years and admits that cesium 1 37 has a half-life of 30 years, but that's only how long it takes for it to become half as polluted as it started out as being. And it will take a total of 10 half life cycles or 300 years before that radioactive concentration is gone. And now for even more nuclear bone headedness,
Libbe HaLevy
00:07:01
Like in Japan, Tokyo electric power company has released new information about solid radioactive waste containers. 5,338 containers were inspected. And of those 304 had significant corrosion and 342 had significant dents. So how did TEPCO repair put that word in quotes? These radioactive waste containers by applying large adhesive back plastic sheets to the areas of the metal containers that had suffered corrosion damage and leaks, no other ceiling work appears to have been done to these containers. They didn't even use duct tape and no word was offered on this plastic sticker material or the expected durability of the adhesive used. Maybe that's because TEPCO is still, is kept co-planning on disposing of this solid waste, along with the radioactive water into the Pacific ocean in 2023. Well, shoot, we're just going to have to wait to find out. And that's why once again, Tokyo electric power company KEPCO, you are this week's
Libbe HaLevy
00:08:17
I think internationally, a new report released by the international campaign to abolish nuclear weapons and PACS found that the number of banks, pension funds, asset managers and insurance companies investing in the production of nuclear weapons has gone down in 2021 representing a $63 billion drop in investments in nuclear weapons. The report entitled perilous profiteering is available on the ICANN website. I C a N w.org. And we will have a link. Now here's this week's featured interview. Nuclear issues are a tough to the mainstream media, which is why when one of their own makes a film about these issues. It's both well done and significant, which is why we are so happy to bring you this week's guest Helen Young is an Emmy award winning broadcast journalist who has forged a career as a filmmaker and writer by blending a passion for investigative reporting, with a commitment to illuminating critical issues of the day.
Libbe HaLevy
00:09:25
Over the course of a career spanning some 30 years, Helen has directed and produced documentary films on subjects ranging from the childhood obesity crisis in America, illegal gun trafficking and the U S space program. She was a staff writer and producer for CBS news and NBC news for 20 years, and also produced for MSNBC and L Roker productions. Helen has won one national Emmy news award and three New York Emmys for her work, as well as awards from the society of professional journalists, United press international, the national commission on working women and the red cross. Today, we talk about her film, the priests, the nuns, and the bombs. It presents the story of the Ploughshares nuclear disarmament activists who challenged the security and legality of America's nuclear weapons and their break-ins to two top secret facilities. The Fort Knox of uranium in Tennessee, and a us Navy Trident nuclear submarine base in Washington state. I spoke with Helen Young on Thursday, November 11th, 2021 telling young, so good to have you with us here today on nuclear hot seat
Helen Young
01:10:43
Levy. Thank you so much for inviting me. I really appreciated. I think you do fantastic job. Your work is just really top notch. So I feel very honored to be with you today.
Libbe HaLevy
01:10:55
What is your background as a journalist?
Helen Young
01:10:58
My background as a journalist, actually, I started in local news here in New York city where, where I am now. And I ended up working for both the local ABC station early on during there was a subway strike here in New York city back in 1979. And I went on to work at CBS news during the, when I was hired when Carter and Reagan were running against each other. And I ended up working at CBS for 20 years. I then went on to and worked at various shows at CBS, including the morning news at the time the anchors were Harry Smith and Paul is on. And following that I did work on the Dan rather evening news for a couple of years. I did a segment called eye on America, where we would travel around the country and do wonderful stories. So that, that was a fantastic experience.
Helen Young
01:11:55
I then went on to NBC news, where I worked at Dateline for a couple of years, because I wanted to get into more of long form journalism. And then following that, I did a lot of freelance work. The last couple of years, I worked at MSNBC. I've also worked at for Al Roker entertainment, Al Roker, the weatherman had a production company, and now I am working independently. I am at a point in my career where I really do want to work on projects that interest me for many years. I was assigned projects. So now I get to choose them. And I, I learned the hard way, the difficulties and the challenges of being an independent contractor. And oftentimes, you know, in our current environment, having to raise money for the projects that you really want to do. So that's where I'm at
Libbe HaLevy
01:12:47
Clarity. When you were working for all of these various news organizations, were you on air talent? Was this writing, was this producing?
Helen Young
01:12:57
I was not on air. When I worked for the large television networks. I was a writer and a producer. So I worked with correspondence. I did do some on air work actually for some local stations kind of on the weekends at times. But my main job really was to come up with story ideas and to figure out how we were going to tell them, and then to work with the correspondent and decide how we were going to tell the story, which I will tell you kind of bleeds into my approach to when I do my work now, because I'm a storyteller and what attracts me are great stories. The giant of journalism at CBS news was Don Hewitt and Don Hewitt created 60 minutes and Don, she would had a mantra and his mantra was, tell me a story. Don't talk to me about an issue. Tell me a story. Because as you know, Leiby people do not react to issues very much. They react to because issues can be, you know, they can just be in one ear and out the other. But if there's a way for you to package the issue by telling a personal story, or to have a personal story interwoven in the issue, that's what really gets people's attention. So I, you know, I'm always on the lookout for a great story.
Libbe HaLevy
01:14:19
Speaking of great stories, where does your concern for nuclear weapons come from and how has it grown or changed over the years?
Helen Young
01:14:28
In addition to my work and the news media I did spend in my academic background or my educational background, I studied international affairs and actually Russian studies. So I do have a background in that area. So it was something that I was always interested in. I actually, at one time was able to speak Russian pretty well. So I wasn't interested in the area, but I have to tell you my concept of nuclear weapons really, before I got involved in making my film, it had not really come up to the present time or to what nuclear weapons are about right now. You know, my frame of reference was Hiroshima and Nagasaki, you know, 15 kiloton bombs back in 2007, I happened to read an op-ed in the wall street journal by the so-called four horsemen. And they were former secretary of state, George Schultz, former secretary of defense under Clinton, William Perry, Sam Nunn, who a Senator from Georgia and Henry Kissinger.
Helen Young
01:15:32
And they wrote this op-ed calling for the elimination of nuclear weapons. I was completely flabbergasted because these were four so-called cold war warriors, and they had been advocates and proponents of nuclear weapons. And here they were doing a complete 360 saying we needed to get rid of that subsequent to that 2007 op ed, they wrote for more, op-eds calling for the elimination of nuclear weapons. That first op ed really got me thinking, it kind of planted a seed. Like why would these gentlemen who have been advocating for these weapons, do a complete about face. And so that really set me on a journey to kind of study it a little bit more and see what had really happened. And what had happened really is that we have weapons today that are magnitudes of times more powerful than the bombs dropped on Hiroshima and Nagasaki. We have, you know, one warhead today is 30 times one war had carried on our submarines is 30 times the power of the Hiroshima bomb. And there are as many as, you know, 192 warheads on a submarine. So this was really an education that I undertook on my own to kind of understand why there'd been this change. And that really led me to my story.
Libbe HaLevy
01:17:00
Were you allowed to cover these issues at all in the news broadcasts that you were either writing or producing
Helen Young
01:17:07
Actually no levy. I w I it's not that I was not allowed, but my sort of focus when I was working in the television news business was on investigative and consumer type stories. You know, I did stories, for example, it was department of agriculture that was not inspecting me to appropriately. I did stories about security guards in New York who were not appropriately licensed to do the work. Some had preliminary backgrounds. So I did those types of stories. I did not travel internationally, and I did mostly domestic stories, but not on this area.
Libbe HaLevy
01:17:46
Now it's about your film and how you were inspired, moved to take this on as a project
Helen Young
01:17:53
Because of the interest that I had, the general interest in nuclear weapons, and because of my other requirement, that there'd be a great story. I said about seeing, how was I going to tell this story about the change that had occurred in the whole nuclear weapons in that whole environment? You know, we have many, many more weapons now we're spending millions and trillions of dollars on them. And so I, I was looking for a story and I had thought maybe I would go in one direction and profiling someone. And I wasn't really that happy. And, and the set by serendipity one day I was having lunch with a fellow named Stephen leaper, who at the time was the head of the Hiroshima peace culture foundation. He was in New York and we had lunch and he just offhandedly said, oh, by the way, I just came back from Tacoma, Washington, where I was called as an expert witness to this trial, where five activists, including an 84 year old Catholic nun and two priests, two Jesuit priests, one of whom was 82 and two grandmothers had trespassed onto a nuclear submarine base.
Helen Young
01:19:06
And I almost dropped my fork because I thought, wow, you know, how come I know nothing about this? And I'd been doing all this research. And he said, yes, I was called as an expert witness. I went with photographs of the victims of Hiroshima and Nagasaki. I was not allowed to show them in the courtroom because the judge said these photos might flame the jury. And so that was really kind of the impetus, I guess, you know, I said to Steve, oh, this is really fascinating. And I'm surprised that I know nothing about it. Would you connect me with these people? And he did. And so that, you know, the rest is history, as they say, it started off as a great idea, which I'd like to say turns into an Odyssey because it was an Odyssey.
Libbe HaLevy
01:19:53
It seems that everything that we do against nuclear always turns into an Odyssey. I was just going to do a podcast one Tuesday, and that was 10 and a half years ago, right? The film is called the nuns, the priest, and the bum. Talk to us about the journey that it took for you to actually make this as a film.
Helen Young
02:20:14
When I decided to bite the bullet. So to speak. After I heard about this story of the five activists who had trespassed onto this nuclear submarine base on the west coast, I flew out to Tacoma, Washington to meet them because I wanted to know who they were and what would motivate them to do something like this. Really? When you think about it, five people using a map, they had downloaded from Google to go on to the most allegedly secure nuclear submarine. That is the headquarters for the Pacific fleet of the United States, where eight so-called boomer submarines, they're called boomers because they're huge. And they carry, this is the most powerful nuclear weapon in the American arsenal is a Trident nuclear submarine. So this is a very daunting thing. And to think that these five elderly activists could actually pull something like this off was, was truly unbelievable.
Helen Young
02:21:15
And so I really needed to find out more about them and with a religious zealots, you know, who were they really? And so I did go and I met with them and I was just so pleasantly surprised by what I met. I mean, these were highly intelligent, highly involved, highly educated people who were very conversant with the nuclear issue had spent a lot of time thinking about it and deciding w you know, to do this, what they engaged in was a Ploughshares action. And the Ploughshares movement started back in 1980 with the Catholic priests, Dan and Phil Berrigan. And people will remember that those two Catholic priests were very much opposed to the Vietnam war. They burned a draft cards and so forth. Then starting in 1980, they did the first plowshares action, which is they trespassed onto a GE plant in king of Prussia, Pennsylvania.
Helen Young
02:22:15
This is a symbolic action where they go into these nuclear facilities and they do certain actions. They take little carpenter hammers, and they symbolically hammer on the weapons. They take blood, which is symbolic of human life, and they shed it on the weapons. And so this is what happened out on the west coast, in this incident that I described near Seattle, when I met them Libby, I was very impressed with them. And I thought, they're great. I'm going to do this story. So I did some interviews with them and I put together a pitch reel. I thought this is a no brainer. It's definitely going to be picked up by PBS because after all, it's about our nuclear weapons. And I promoted this hitch real, pretty aggressively. I got a lot of interest. I was a finalist at the ITVF for an ITVS grant. I went up to the, I think it's the third round of, you know, examination, but ultimately we did not get the funding.
Helen Young
02:23:19
And at that point I had to make the decision, or what do I do? You know, do I just abandon this project and say, yeah, great story. But I can't get the funding. And I did something that I never thought I'd have to do. I, I, one of the priests father, bill Bixell, who's one of the main characters in the film and who is very beloved in city of Tacoma. He's considered Tacoma's Mahatma Gandhi. He said to me, Helen, we're going to do, you're going do this film. And he really helped to sort of mobilize the energy and support among the people in and around Tacoma. I have to tell you that it was kind of a double-edged sword because being a journalist, I wanted to tell the story, you know, let the chips fall where they may. So I really did want to get the other side, you know, I wanted to get the Navy's point of view, obviously, because these people had trespassed onto a nuclear facility.
Helen Young
02:24:14
So I did make efforts to get the prosecutor and the Navy to speak with me. I flew all the way out to Tacoma to do my interviews with them. And they canceled on me last minute. Yeah. I guess I obviously have their point of view in the story, but it ended up taking a longer time than I thought it would. But ultimately it did come together because everybody who worked on the film is professional professional camera people, former ABC people, professional editors. And they all worked for a really a percentage of what their actual hourly wage would be because they became believers in the film and they became just lovers of these people. They wanted their story to be told. And so I just really feel gratified, you know, not only that the film was ultimately made, but you know, for me, the biggest benefit was getting to know the people.
Helen Young
02:25:07
At what point was the saga of sister, Meagan, rice and Gregory and Michael Wally. At what point did that become part of this film? Yeah, that is a great question. And it's very pivotal to this, to the making of this film, because what happened was, as I say, I started out making a story about the five people on the west coast and about a year into the production. I get a call one morning from a friend of mine. Who's a writer, she's actually a playwright. And she said, Helen, have you seen the front page of today's New York times? And I said, no, not yet. She said, I think your nuns on the front page. And I said, what? So I ran to the paper and they're on the front page is sister Megan Rice, who I didn't even know I was dealing with a sister and Montgomery out on the west coast, little did I know they knew each other, but anyway, I started reading the story and of course, it's front page, New York times the biggest security breach in the history of America's atomic complex.
Helen Young
02:26:12
And I thought, wow, this is really something I thought, what does this do to my film now, levy, I have to tell you when the incident happened on the west coast, there was no coverage of it, zero, because really I have to say that the us Navy really kind of clammed up. However, when the incident happened at Oak Ridge, there was massive coverage of it. Media from all over the world were covering this particular story because Y 12 is where other countries that were that for example, Kazakhstan that had gotten rid of their nuclear weapons, they sent their highly enriched uranium to Y 12 for storage. So people from all over the world were, I mean, my understanding was even the secretary of the energy was contacted when this thing happened. It was a huge, huge embarrassment that sister Meagan and these two and Greg and Michael were able to get in.
Helen Young
02:27:15
So then of course there were four different congressional hearings that took place because of the sister Meagan action at Y 12. And there was just no way that I could ignore the story. It had really overpowered what had happened on the west coast, but more importantly, not only for that reason, but what I was able to do. I contacted sister Meagan and I found out that they were all connected. Basically these people, the Ploughshares activists, they are a very, very small community of people who decide among themselves when they are going to do these actions. And they keep it very prescribed because they do not want to involve other people in getting roped into a conspiracy, you know? Oh, you knew about this action. So why didn't you go to the authority so to speak? Yeah, so they were planning it while I was making my film and I knew absolutely zero about it.
Helen Young
02:28:13
However, you know, sister Meagan told me that the impetus for her doing the action at Y 12 was she had gone to the trial in Tacoma, Washington, where the five people on the west coast had broken into the facility there, the submarine facility. And she was in the trial. She was in during the court, she saw the whole court proceeding. And when those five people were convicted, she said, well, we have to do something more. We can't just, they were deemed guilty. And she said, in my opinion, they're not guilty. They're trying to uphold international humanitarian law, which says you're not supposed to use indiscriminate weapons. So that was really the conduit, the connection between the two. And I thought, oh, this is perfect. You know, I really can do kind of start with sister Meagan story. And then I went back in time and I told what the inspiration was for her.
Helen Young
02:29:09
That was kind of fortuitous. I must say that it worked out that way. What difficulties did you face in putting the film together and how long did it take? Well, levy, that's a great, another great question. I think I have about 12 different cuts of the film. I started the film in different ways, and I actually, as I say, I started with the story of the people out on the west coast and thought, then I could go to the wide 12 story, but, you know, it took a lot of thinking on my part on how to tell the story. You know, the narrative structure is very important. I have a number of different cuts and it took me a while for me to be happy with the final cut, which I'm very happy with. So overall, I would say I started the film in 2010 and I finished it in 2017, but I didn't work on it.
Helen Young
03:30:03
Full-time. So I'd say, you know, overall seven years, where has the film been shown and what is its current distribution and availability as luck would have it when I was putting the finishing touches on the film in 2017, that was when the new treaty on the prohibition of nuclear weapons was being negotiated at the United nations. Over the course of my researching nuclear weapons. I had become friendly with a number of people in this area, including for example, a woman who works for the international committee of the red cross, by the way, the international committee of the red cross has come out and said that if there's ever a nuclear confrontation, they would not have the ability to respond to the humanitarian catastrophe that would occur. There were a number of people that I became friendly with, and they invited me to the UN to basically sit in on the negotiations.
Helen Young
03:31:00
And based on that participation, then I was able to debut the film at the UN. So we had a fantastic debut of the film at the UN, which was sponsored by the permanent mission of Ireland because the Irish delegation was just phenomenal when they were speaking about why this treaty was important. The delegation from Ireland was composed predominantly of women, and they spoke about the disproportionate effect that nuclear weapons have on girls and women. And that really moved the audience. I would say so many more delegations got up and talked about the need to have a treaty that actually Outlaws nuclear weapons. Because right now, before this treaty was an acted biological and chemical weapons, cluster munitions, and those types of horrific weapons of mass destruction are banned by international treaties. And nuclear weapons was the only one that was not really bad. And so this new treaty closed that loophole.
Helen Young
03:32:08
So the film was shown there. And then I have a distributor who passion river films has distributed the film to various streaming websites. It's currently on Sundance. Now it's on Amazon, it's on iTunes. You can see it on YouTube. My major interest levy in making the film was to get young people involved in this issue because my feeling is that all of the people who are working in this area are older people. You know, there really isn't from what I can see much activism among the young, they are very engaged in the climate issue. But like, I like to say there won't be a climate if we have a nuclear confrontation. So what I have done is I have shown the film in a number of universities before COVID hit. We were on a college tour. We showed it at Notre Dame. We showed it at Wellesley brown Fordham, Seattle U many schools pace George Washington university.
Helen Young
03:33:16
And what we were doing was we had had all discussions following the film where people from various walks of life, whether it was a doctor or a person of faith or a political scientist, a lawyer would discuss the film. So yes, it has gone out to the college community. And the other thing we've done is we've had the film translated into Japanese, Korean, German, and French. So it is available in those languages as well. And you know, it's, it's a process it's being, I mean, I just, the other day I was communicating with someone in Japan, at a university who's interested. So it is getting out there. It's not the sexiest topic. Let's put it that way. It depends on which of us you're talking to. Exactly. But when you're talking about the main stream is very difficult in this country to talk about our own nuclear weapons.
Helen Young
03:34:15
We can talk about Iran, not getting them, or we can talk about North Korea, but we're not really talking about the trillions of dollars that we're going to spend to modernize our weapons and really how much of our money is going into them. And why do we need to spend so much on them and what they really do? You know, just today, I got an email from the international campaign to abolish nuclear weapons, talking about, you know, the universities that are involved in nuclear weapon production, either through their research or other aspects that they're involved in, in creating these weapons. So there's a lot to talk about and connecting back to sister Meagan, you know, we each have a role to play. We can't break into nuclear facilities. Not all of us can do that, but we each have a particular talent that we can bring to this.
Helen Young
03:35:08
If we are interested enough, like yet what you're doing with your podcast, where you are really a trailblazer on that and bringing the information to people on the nuclear energy, which I'm becoming more educated on just by listening to your podcast. So thank you. Where is the film available right now? Should people finish listening to this and going, oh, gotta do it. I'll put a link up on the website. Where would you send them? I think the cheapest way to see it is on YouTube, actually the nuns and the priests and the bombs, plural. And at the reason it's the bombs is because out on the west coast where the film really the bulk of the film takes place is where they have more nuclear warheads than any place else. So it's plural, it's the nuns, the priests, plural, the bombs, plural. And I also have a webpage nuns, plural priests, plural bombs, the film.com. As I said,
Libbe HaLevy
03:36:07
We will link up to both those places on the website. We'll continue with our interview with Emmy award winning broadcast journalist Helen Young in just a moment. But first Hiroshima, Nagasaki, Trinity, a bomb test in New Mexico years of atmospheric bomb test in Nevada and the south Pacific. That was the start of what we came to call the atomic age. And the radioactive legacy of those times continues to this day. But the list of nuclear dangers and disasters is far more extensive than just fallout from the bombs. It includes radiation releases from uranium mining reactors, highly radioactive waste with no place to store it and accidents. The dangers are as endless as the radioactivity of plutonium, which lasts for close to a quarter of a million years yet, despite the known risks and health safety, the nuclear industry perpetuates itself, making obscene amounts of money while threatening the future of the planet and of life itself.
Libbe HaLevy
03:37:14
That's why you need nuclear hot seat to help, you know, what's going on in the nuclear world and what you can do about it. We cover not only what the industry is doing, but how it got that way. How many brave activists around the world are fighting back and how any one of us can take action to try to stop nuclear madness at nuclear hot seat, we are dedicated to giving you the nuclear stories you can't find in mainstream media. And we vet the information to provide context and continuity. You can trust so that you can understand the full, ongoing picture, but in order to continue to do that, we need your help. That's why the time would be right now to support us with a donation, just go to nuclear, hot seat.com and click on the big red donate button to help us with a donation of any size.
Libbe HaLevy
03:38:06
You can also set up a monthly donation of as little as $5. That's the same as a cup of coffee and a nice tip here in the U S I don't think that's too small to make a difference because those $5 donations are what sustains the show from month to month. So if you value nuclear hot seat and want to help us continue, please do what you can now and know that however much you can help you have my gratitude, as you might expect. If you listen to nuclear hot seat with any frequency, I couldn't let an experienced mainstream media reporter come on this show without asking her for some pointers about how we can better work with the media. So with the shift in focus, here's the continuation of this week's featured interview with award-winning broadcast journalist, Helen Young, you are an Emmy award winning broadcast journalist.
Libbe HaLevy
03:38:58
You've worked for both CBS and NBC news for 20 years, as well as many other news outlets. So you have experience and heavy credits. Now, for those of us who oppose nuclear, we have a difficult time getting people to pay attention to our issues. Even when the nuclear industry is not running interference on the truth. Admittedly news organizations are greatly diminished these days in terms of size staffing and reach, but there've gotta be ways. How do you think we can gain the attention of the tattered remains of the news media to report on the issues that we find so important?
Helen Young
03:39:38
You know, you asked me the $64 million question, because this is something that I struggled with with my own film. And I think that as you know, the media has undergone tremendous change. It's very focused. Now when, when I was working in the television news media media was not a profit center, it was a public service. And now so many local news operations have gone by the wayside. The whole print industry has had to reassess and it's going digital as you know, I mean, I, I think the best way really is to form relationships with local reporters and to really pitch stories, and also writing letters to the editor, getting your story or your whatever you're trying to pitch as strongly as possible. And as often as possible as you can, to some of the people who work in local news. And I do believe it starts with local news and with local stories.
Helen Young
04:40:40
I think that again, for something like nuclear weapons, that's a little bit more difficult to do, especially the approach that I took, which is to look at the overall issue. But, you know, maybe if I had focused on just a story in a local area now with the nuclear energy, you know, I'm learning more about certain things just in listening to your own podcast of certain reactors. For example, in Michigan, that you had talked about where the cancer level among children with thyroid cancer is extremely high. Those types of local stories, I think would gain attention. That that would be the approach that I would take, make it personal, as opposed to broad. I don't know if that's an appropriate answer, but I think that this is something that we're all struggling with. Actually, the heartening part of all this. I recently read a book by professor Lawrence Whitner called confronting the, and it's about the nuclear disarmament movement.
Helen Young
04:41:38
I think sometimes those of us who are working in this area of trying to raise awareness on the danger of nuclear weapons, for example, feel wow, we're just like, you know, whistling in the wind. But the truth of the matter is that as professor Whitner points out in his book where it not for the disarmament community and citizen activism, that's really the reason why we haven't seen another nuclear bomb being used. There was tremendous pressure on Kennedy to use bombs, to use nuclear weapons during the Cuban missile crisis. And of course in general, you know, Kennedy had to push back against his military advisors who thought that he was, you know, being a little bit too complacent with the Soviets. But my point is that citizen activism has been extremely important. And I think that's really overlooked. We tend to think that, you know, we're, we're just not having an effect, but we are having an effect.
Helen Young
04:42:35
And I think, you know, even like your, a podcast that goes out into so many countries, you know, people are listening and like sister man told me in my film, I asked her like, well, what did you actually accomplish by doing this? You know, you broke into a nuclear facility, you went to prison, you've done eight of these things. Like, so what gives here? And she said, Helen, you never know, you never know what the effect is going to be. You do it. And you just let it go. You can't be looking for, okay, what did I accomplish? She said, you know, Americans were looking for accomplishments or, you know, what did you get out of this? And she said, even if one person is changed by what I did, or their thinking has changed, that is an accomplishment. And that's something that I really take to heart because yeah, we're not getting the big CNN.
Helen Young
04:43:28
You know, I pre pitched my bill to CNN and I know people there and they didn't air it, but we have to keep up the good fight. It's a matter of persistence. And it's a matter of passion because I'm sure that you wouldn't be doing what you're doing, where you're not passionate about it. There'd be, there's no way that you could ever be financially compensated for your work. Let's be honest about it. Right. I'd like to see my monthly expenses be covered. Yeah. Honestly, you know, for me, it was a labor of love. I know that's a cliche. And for many of the people who worked on the film too, you know, the editor didn't take his full salary, so to speak. So, but I learned a lot doing this and certainly going forward, everything is streaming now. So we don't really have to depend so much on the big broadcasters that's changing too. And I feel extremely fortunate that I have a distributor and that the film is getting out there in your dealings. If you've had any communication with frontline
Libbe HaLevy
04:44:31
Activists who are trying to make you aware of some aspect of the issue, or perhaps they're trying to pitch their own, take on a story as a journalist, are there any mistakes that are being made in our outreach and of, so what might we be able to do to correct?
Helen Young
04:44:50
You know, when I was working in the news business, we would get assaulted truly. We would get a flood of PR releases and people pitching stories to us. Again, I didn't do these types of stories on nuclear weapons. When I was working in the media. I can't really see any kind of problem with the way the story is being pitched. No, I mean, the refrain that you get on the nuclear issue is like you are a Pollyanna. Do you really think that nuclear weapons could ever be eliminated in this country? I mean, this is the kind of pushback that I have often gotten. Not that I'm trying to convince anybody. I am trying to tell a story. I mean, I am putting the facts before you, I don't need to convince you. All I need to do is tell you what the truth is. This is part of what I got into when I was working on the film is I was telling the prosecutor and the Navy, I'm just telling a story.
Helen Young
04:45:50
You know, I'm not taking anybody's position, but the facts speak for themselves. So I don't think I really have any point. I, I'm not really sure if there's anything that you can do that to improve your chances of getting a story accepted except to tell a great story. That's my only answer to that. A great story is a great story. No matter who you are, if the story tugs it in your heart, if there's humanity to it, if there is a compelling character, if there is, you know, separate and apart from the issue, you have to be moved by the character. That's what it's all about, really. And if the character comes with a compelling issue so much the better,
Libbe HaLevy
04:46:29
And I can certainly think of no more compelling issue than the one that we're currently dealing with in all of its many Hydra headed facets. Anything else that you can think of that might guide us?
Helen Young
04:46:42
You know, you touched on something that I've heard a lot, you know, from the nuclear weapons community, the activists, they've also talked about this issue. How can we get in our elevator speech? And I've attended a number of meetings where they talked about, what can we do, you know, to get people worked up about this. And what they decided to do is to join forces. They're joining forces now with the climate people and seeing the climate connection. There's a climate connection to nuclear weapons just today. In fact, there's a new study that shows, you know, what would happen to the climate. For example, if the U S and Russia did go to war with each other. So you've got to find the cook into, like, if you're not living near a nuclear reactor, like I don't care, right. Let's be honest, right. But if you can make it important to me who is not living in Utah or Nevada or wherever, that's how you get people interested, it has to be personally important to you putting out a lot of numbers and graphs and things like that.
Helen Young
04:47:47
People's eyes glaze over there is a trick to it in finding the catch of what is going to, as you said, interest someone in an elevator pitch, you know, did you know, you may think that nuclear energy is, is actually clean and the solution, but actually nuclear energy creates just as much carbon as other types of energy. So it has to be made personal. It has to be made relevant to that person. That's what I faced with my, like, if I did a feel about we're going to spend a trillion dollars on nuclear weapons, there are 30 times more powerful than the bombs dropped in Hiroshima. You know, if we dropped bomb in New York, a hundred, 1.6 million people are going to die. Okay, fine. But this none goes into a nuclear facility and, you know, she's able to use a bolt cutter. Wow. That's pretty interesting.
Helen Young
04:48:38
Now I want to know why now I get into the issue of nuclear weapon. I mean, that's the kind of conduit now with nuclear energy. It's interesting that you mentioned, cause I was just listening to something else the other day about this very issue. That's very fact that people are not engaged in the nuclear radiation problem because then many of them don't live near these reactors. They don't think that it's affecting them really. And so I would think that the people who are living in and around that Michigan reactor that Joe Mangano talked about would be having lots of stories and local media about those children. That's a big story. And he said, even the information was on the CDC website. So as I said before, this is the trickiest question, you know, to try to, because there's so much information that people are flooded with.
Helen Young
04:49:32
And especially now, how do you break through that? It is a challenge. I mean, I go back to the mantra, which is, it has to be personal to get people. It ha it has to impact. And it has to be a story that people like, wow, that gets the attention. That's my own opinion. Because there have been, for example, there was a, there was a film called countdown to zero about nuclear weapons when they had all of these great people on it, Colin Powell and the four horsemen that I spoke about before. And they were all talking about how bad it is and oh, if the terrorists get it, the film was a bomb. They spent over a million dollars on the film. It was a bomb. And they got all this money. I mean, at that time, that million dollars was a lot of money.
Helen Young
05:50:17
It was like, oh, nuclear weapons. I really scary. You know? And if, yeah, all right, I knew that, but it's so scary that I can't even, I can't even think about it. It's too scary. And what has happened in the nuclear weapons issue is that there is a nuclear priesthood. The people who know about this and everybody else is like, you don't know enough about this. Don't worry your pretty little head about it. We'll take care of it. We know we'll take care of it for you. And this is another problem because if there's a nuclear confrontation, we all need to be experts because we're all going to be affected by it. That is the truth. But there is this, they call them the nuclear priesthood, but it's changing now. It's changing levy. There are more women going into it. There's a big push for diversity.
Helen Young
05:51:08
Now getting more people of color involved. So there is momentum on that. And that's good because we need to look at this from different perspectives. Because when I was researching my film, everything I came across was the military aspect, the strategic aspect of nuclear weapons. It was nothing about the ethical, the moral, the humanitarian part of it. They don't talk about that. So if you can appeal to the heart, not to the brain so much, but to the heart, that's what really moves people. I believe it's a struggle for all of us who are engaged in this issue to really raise awareness on it. Thank you
Libbe HaLevy
05:51:46
For bad answer, because I think there are many nuggets of advice that we can follow through on. And at least it's nice to have some commiseration on what the problems are. One of my favorite phrases about the nuclear industry, trying to talk us off the deserving panic that we have so often as to their actions, I refer to that as their, their Missy, don't worry your pretty little head about it. It's that degree of condescension and lack of attention to the human aspects of what they're doing. They talk about military, they talk about strategy. They talk about security. They don't talk about what's happening on the ground and what the aftermath is. That's what my play is about and how that restriction was hardwired in immediately after Hiroshima and Nagasaki. So I want to thank you for this injection of journalistic and communications, guidance, and awareness and perspective, what it is that we're all continuing to do. And again, thank you for joining me here on nuclear hot seat.
Helen Young
05:52:58
Thank you very much for having me levy. It's really been a pleasure to speak with you. I appreciate it.
Libbe HaLevy
05:53:03
Award-winning broadcast journalist as well as writer, producer, director, Helen, young, her film, the priests, the nuns, and the bomb is available through her website, nuns, priests bombs, the film.com. You can follow the film also on Facebook, under nuns priests bombs. We will link to these sites on our website, nuclear hotseat.com under this episode, number 5 43, by the way, in the interview, Helen spoke of the Irish delegation at the United nations, talking about the disproportionate impact of radiation on girls and women. This important, crucial work is done by Mary Olson and her work can be [email protected]. We will link to that as well, because it's so important. And so worth your time for a visit
Announcer
05:54:00
Activists,
Libbe HaLevy
05:54:08
The award-winning film in the dark of the valley about the radioactive legacy of the Santa Susana field lab in Los Angeles and Simi valley has sent shock waves through the area impacted by radioactive contamination. The film is airing again on Sunday, November 21st at 5:00 PM Pacific time on MSNBC. You can also watch it on demand on MSNBC. If you haven't seen it, it is well worth your time to watch. And if you know anybody in west Los Angeles, the Western part of the San Fernando valley, all the way over to malleable, because these are impacted areas do let them know about the film nuclear wake up call.earth has been presenting a series of zoom-in ours every month with terrific participants speaking at length uncompelling aspects of the nuclear issue. The most recent one is women transforming our nuclear legacy, indigenous wisdom, the nuclear ban treaty and activism we'll have a link to the full panel on our website, nuclear hot seat.com under this episode, number 5 43.
Libbe HaLevy
05:55:22
And once you're on the site, sign up because you'll get notifications of their webinars, their zoom in ours every month. And Cynthia Lazaroff who produces these events always does a fantastic job with them and peace action, maine.org that's peace action. M e.org is presenting a review of cop 26 featuring reports by the Reverend Richard Kilmer, who was an official observer at cop 26 and Lisa Savage who participated in the people's summit for climate justice. That took place outside of the official events. This will be held on Monday, November 22nd, seven to 8:00 PM. Eastern four to 5:00 PM Pacific time. And you can sign up at peace action, M e.org. This has been nuclear hot seat for Tuesday, November 16th, 2021 material for this week show has been researched and compiled from nuclear-news.net don't renard.wordpress.com beyond nuclear.org, nearest.org, the international campaign to abolish nuclear weapons, or I can w.org nuclear wake up.
Libbe HaLevy
05:56:36
call.earth peace action. M e.org w S j.com. NBC Los angeles.com urban dictionary.com msnbc.com. reuters.com. Harold standard.com Seattle times.com dw.com. asahi.com nuclear world news.com daily star.co.uk. Your're active.com the soul Ned cubical drones who write propaganda for world nuclear news and the captured and compromised by the industry. They're supposed to be regulating nuclear regulatory commission. If you'd like to make certain you don't miss a single episode of nuclear hot seat, you can get it delivered by email every week, just as freshly as it posts online, go to nuclear hot seat.com. Look for the yellow box and sign up for a weekly email link to the latest show. Now, if you've got a story lead, a hot tip or a suggestion of someone to interview, send an email to [email protected]. And if you appreciate weekly verifiable news updates about nuclear issues around the world, take a moment to go to nuclear, hot seat.com and look for that big red button.
Libbe HaLevy
05:57:51
Click on it, follow the prompts. Anything you can do will help. And we really appreciate your support. This episode of nuclear hot seat is copyright 2021 Leiby Halevi and hardest street communications, all rights reserved, but fair use allowed. As long as proper attribution is provided. This is Leiby Halevi of heart history, communications, the heart of the art of communicating, reminding you that as sister Meagan, rice said, none of us is out of prison. As long as one nuclear bomb exists. That's it. Your nuclear wake-up call. So don't go back to sleep because we are all in the nuclear hot seat.
Announcer
05:58:37
Leah Hotsy it's the bomb