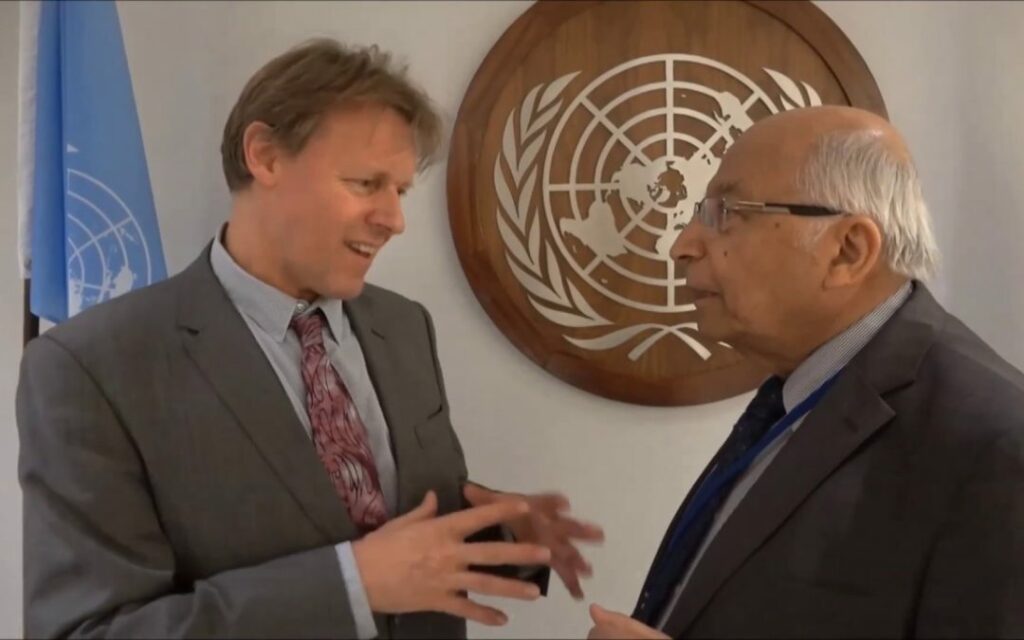 This Week's Featured Interview:
Nuclear Biden – a primer for the new president. Alyn Ware is a New Zealand peace educator and campaigner in the areas of peace, non-violence, nuclear abolition, international law, women's rights, children's rights, indigenous rights, and the environment. He has served as the Global Coordinator for Parliamentarians for Nuclear Nonproliferation and Disarmament since it was founded in 2002. His previous positions include Director of Aotearoa Lawyers for Peace, Executive Director of the Lawyers Committee on Nuclear Policy

(USA), Director of the Peace Foundation Schools Outreach Programme for the UN Decade for a Culture of Peace, and Founding Director of the Mobile Peace Van. He also has a long list of awards recognizing his work on behalf of people, the environment, and the planet.


Here, we talk about the Nuclear Biden alternatives for the new U.S. president to work towards disarmament and genuine peace, based on conflict resolution. We spoke on February 12, 2021.

LINKS from the interview:

Youth Fusion

– a world-wide networking platform for young individuals and organizations in the field of nuclear disarmament, risk-reduction and non-proliferation.

Unfold Zero –

a platform for United Nations (UN) focused initiatives and actions for the achievement of a nuclear weapons-free world
NUMNUTZ OF THE WEEK (for Outstanding Nuclear Boneheadedness):
How can one trust the Nuclear Regulatory Commission to regulate our nuclear reactors when they can't even set up a webinar that works?  "Technical difficulties?"  Wouldn't that best describe nuclear reactors?
Libbe HaLevy 
00:00:02
Piece. That's what we say. We want, isn't it peace on earth, but how do we get beyond the cliche of those holiday associated words and actually implement peace as a practical means of living before we blow ourselves and the planet into an asteroid belt, what is peace anyway, and then you hear from a genuine expert, someone who is dedicated to teaching conflict resolution as the means of achieving peace. And he tells you
Alan Ware
00:00:34
If you're working for environmental awareness and peace with the planet, and also helps to work on the conflict resolution. And if you're working on resolving conflicts, part of that is those over resources and the planet. If we can ensure that we're not investing our time and resources into a military approach to problems, which the world is currently spending $1.9 trillion a year on. If we wouldn't invest in so much in that we would have more human resources, financial resources to invest in renewable energies, climate protection, biodiversity protection piece, COVID 19, a public health plans and economic recovery.
Libbe HaLevy 
00:01:14
Well, sign me up for that because when you hear an international expert on teaching sound practical actions, one can take to achieve and promote and maintain peace. You get the tiniest glimpse that there may just be a way to get up and away from that awful seat that everyone on this planet is currently sharing
Announcer
00:01:38
Clear hot seat. What are those people thinking? Nuclear hot seat. What have those boys been? Braking, nuclear hot. See the Ms. Sinking our time to act is shrinking, but Hotsy, it's a bomb.
Libbe HaLevy 
00:02:11
Welcome to nuclear hot seat. The weekly international news magazine, keeping you up to date on all things nuclear from a different perspective. My name is Leiby Halevi. I am the producer and host as well as a survivor of the nuclear accident at three mile island from just one mile away. So I know what can happen when those nuclear so-called experts get it wrong. This week. One of the most hopeful interviews I've ever conducted for this show. I speak with Alan Ware, who is global coordinator for parliamentarians, for nuclear non-proliferation and disarmament, and a veteran of decades of teaching peace, AKA conflict resolution, to everyone from national political leaders to children. It is truly a different perspective on the mess that our entrenched war saturated violence thinking has gotten us into with a message that will resonate long after you've given it a listen. We will also have nuclear news from around the world numnuts of the week for outstanding nuclear bone headedness, and more honest nuclear information than would be admitted by the Texas bureaucrats and politicians who are trying to blame the deadly lack of electricity in their state.
Libbe HaLevy 
00:03:31
During the current cold snap on functioning wind turbines, when it was a nuclear reactor that stopped working all of this coming up in just a few moments today is Tuesday, February 16th, 2021. And here is this week's nuclear news from a different perspective in Japan on February 13, a 7.3 earthquake hit off the coast of Fukushima. It was an aftershock to the 2011 earthquake, which caused a triple meltdown at Fukushima Daiichi and created a tsunami that killed over 16,000 people. Interestingly, within two hours of the quake Tokyo electric power company, which is still in charge of the facilities at Fukushima and the cleanup reported that there was quote unquote, no damage. How could they know that after only two hours? Well, they didn't look closely enough. It is now been discovered that radioactive water leaked from three separate tank farms on the property and TEPCO has not yet disclosed how many tanks have been inspected on site and how many remain to be inspected for damage more for mother nature here in the U S where a powerful winter storm blasted Texas with Arctic temperatures that triggered widespread blackouts leading up to one third of the state without electricity, among the failures, the south Texas nuclear generating station, which tripped into shutdown on Sunday, February 14, yet south Texas delayed reporting their outage for five hours, guaranteeing that when the nuclear regulatory commission reactor status report posted on Monday morning, it would falsely show south Texas running at 100%.
Libbe HaLevy 
00:05:18
When the Tuesday NRC reactor status report caught up with the shutdown at south Texas, it was blamed on quote, loss of feed, water pumps, cause unknown might the cause of that been pipes that have frozen. The timing on this is important because in the future, when the energy situation during this time is researched by reporters and policy walks, the nuclear industry will be able to falsely claim that on Sunday and Monday, it was reliable when it was not. And we still don't know whether those water pipes might be frozen, meaning unable to provide cooling water, to operate the reactor. Meanwhile, the state's politicians and bureaucrats are trying to fall asleep. Blame the energy failure on genuinely reliable wind generation, which actually surpassed daily production forecasts. We've learned that military officials were unaware of potential danger to vice president. Mike Pence's nuclear football during the Capitol riot, the vice-president is always accompanied by a backup of the football, which carries the nuclear launch strike codes and is identical to the one that the president carries.
Libbe HaLevy 
00:06:29
They came to within 100 feet of where Pence his family and the aid with the football were sheltering while the insurrectionist chanted hang Mike Pence. If they'd gotten their hands on Pence's football, they couldn't have launched an unauthorized nuclear attack, but had they acquired its contents, which include pre-planned nuclear strike options. They could have shared the contents with the world as Kingston, rife, and expert on nuclear weapons policy at the non-partisan arms control association told CNN, such an outcome would have been a security breach of almost incomprehensible proportions. And it ought to raise further questions about the rationale for the in Akron ism. That is the nuclear football and a Turkey point in Florida. Last August three, unplanned shutdowns during a four day period have been blamed on nuclear equipment. Failures. Turkey point is licensed to run for 80 years or through 2050. And now
Libbe HaLevy 
00:07:42
The nuclear regulatory commission was trying to hold a webinar, but had to cancel because of bad audio and video claiming it was technical difficulties. This particular legal called the Santa and Oprah activist. Dozens of whom got up at the crack of Dawn in order to make the 9:00 AM Eastern time for the call. The NRC recently moved to the WebEx platform instead of zoom, because it turns out the Chinese own a controlling interest in zoom though. I don't know what information would be lost by using zoom because Hey, it's a public meeting. Anybody can get in. It makes you wonder how they regulate power plants. A and that's why as is so often the case nuclear regulatory commission. You are this week's
Libbe HaLevy 
00:08:35
I think we'll have this week's featured interview in just a moment, but first, have you noticed how nuclear just keeps inventing new ways to malfunction? Like what just happened in Texas during the current deadly cold snap where the south Texas nuclear reactor stopped functioning, this is only latest in a long line of nuclear problems that range from uranium mining to radiation, leaking reactors, to still not having any way to safely store deadly radioactive waste, that results and is produced by all their endeavors. Nuclear is government and business, not caring how they contaminate the world as long as they can lie long enough and well enough to keep making obscene profits and fool themselves into thinking they are immune to the consequences of their actions. How's that working out for you this week, Texas. Meanwhile, the rest of us have to deal with the dangers of radioactive contamination that will not go away on its own ever.
Libbe HaLevy 
00:09:36
And that is why you need nuclear hot seat. We never take our eye off the nuclear ball, getting into stories with facts, continuity and context, as well as a healthy dose of skepticism. We get behind the scenes under the skin and into the heart of nuclear matters every week with fresh information and unrelenting perspective. And even whenever possible humor. That's why right now would be a great time to support us with a donation because it's the only way we keep going. So please go to nuclear hot seat.com, click on the big red donate button and help us with a donation of any size that's where you can also set up a monthly $5, same as a cup of coffee and a tip here in the U S we should ever get beyond COVID and back into coffee shops again. So please do what you can now to help nuclear hot seat, keep going.
Libbe HaLevy 
01:10:28
And to know that however much you can assist us, I am deeply grateful that you're listening and that you care now here's this week's featured interview. One of the things I love about doing nuclear hot seat is that I get to meet and talk in depth with extraordinary people around the world who truly have a different perspective when it comes to our nuclear problems. This week's guest is one such discovery. Alan, where is a New Zealand peace educator and campaigner in the areas of peace non-violence nuclear abolition, international law women's rights, children's rights, indigenous rights, and the environment he has served as the global coordinator for parliamentarians, for nuclear non-proliferation and disarmament, since it was founded in 2002, his previous positions include director of lawyers for peace executive director of the lawyer's committee on nuclear policy in the United States director of the peace foundation schools outreach program for the United nations decade for a culture of peace and founding director of the mobile peace van. He also has a long list of awards recognizing his work on behalf of people, the environment, and the planet I spoke with Alan, where on February 12th, 2021, Alan, where it's so great to have you with us here today on nuclear Hotsy
Alan Ware
01:11:57
That's a great honor to be here. Thank you for all the wonderful work you've been doing to educate, inform, and engage people in the U S and around the world on these issues
Libbe HaLevy 
01:12:06
Back at you in researching your background, I was astounded by the work that you've done on intersecting areas of peace, non-violence nuclear abolition, international law, women's rights, children's rights, and the environment. Give us a sense of your background and what attracted you to this range of issues.
Alan Ware
01:12:29
I first started my professional career as a kindergarten teacher, and that was working with children to ensure that they are more engaged and have a better world to live in. And as soon as you're working with children, you realize that these issues and to sit with each other, you know, that in order for us to have a good life, then we need to have a sustainable world, a peaceful world. And that's where these issues intersect. Pretty soon, I was working on developing peace and conflict resolution programs and schools from kindergarten through primary, secondary, or elementary high schools, and then into community education as well. And again, as cross sector issues, when you're talking about resolving conflicts and the key thing I think for my background, and that is to understand that conflict resolution takes time. It's not easy, but it's so much more rewarding when you listen to each other, when you find out what the reasons are behind conflicts are behind these issues and you work for solutions than if you're just trying to quick fix. So that's my basic approach to these issues is to try and find sustainable solutions, quick fixes don't work
Libbe HaLevy 
01:13:41
And educating the world. I think taking the perspective of the kindergarten teachers is probably a good step to take for breaking it down. Where was it that you were working when you developed this program? Meaning the country and is the program still in operation?
Alan Ware
01:13:58
Yes, I'm from outro and New Zealand out Euro is the indigenous name. Both names are now official for the country. And as I say, I moved pretty quickly from being a kindergarten teacher to doing conflict resolution education and peace education throughout the education sector. So that wasn't just with preschool children, but with the entire sector and the education, I was doing both education out in the field, going around to schools, you know, helping teachers to put into place, conflict resolution and peace education. And I was also working with the government, the ministry of education to develop with our organization. The foundation for peace studies are to develop a piece of education as part of the New Zealand curriculum. So that is now in the curriculum at the same time, I couldn't just work with children and in the education field, if I'm not also working on making the world a better place.
Alan Ware
01:14:51
And when I was a young teacher, the big existential threat to humanity was nuclear weapons that still poses an existential threat that hasn't gone away. And we still have 13,000 nuclear weapons, you know, probably 1500 on high alert, you know, that could be fired within minutes in a conflict by accident or miscalculation. But we also have other existential threats now like the threat to the climate, the biodiversity collapse, you know, the collapse of the oceans. So the environmental issues are as important. Now, I think as the nuclear weapons issues. And we found pretty early on as these are connected, you know, if you're working for environmental awareness and peace with the planet and also helps to work on the conflict resolution. And if you're working on resolving conflicts, part of that is those over resources and the planet. If we can ensure that we're not investing our time and resources into a military approach to problems, which the world is currently spending $1.9 trillion a year on, if we weren't invested so much in that we would have more human resources, financial resources to invest in renewable energies, climate protection, biodiversity protection piece, COVID 19 public health plans and economic recovery.
Alan Ware
01:16:12
We to have those resources collectively in the planet, but we still haven't yet shifted enough from a military framework for security to a common security or human security framework.
Libbe HaLevy 
01:16:25
When you are putting forth concepts of peace, what do you find is the most general pushback against it are the most difficult hurdle to get beyond in communicating what the principles are and why they are so important?
Alan Ware
01:16:42
I don't think there is like one particular main resistance to the ideas of peace, conflict resolution and a human security or common security framework. I think there are multiple levels to this, which is one of the reasons why it's not easy. There are some who have invested interests in militarism and an arms race that could be financial interests. You know, they're making an income out of making weapons. And so it's very difficult if you're making money out of it, you know, making weapons to agree to disarmament process. There's also some who from an academic or theoretical framework have supported this approach, a militaristic approach as the one that guarantees security and to shift from that thinking is quite a leap. It's quite a leap of faith in a sense to change from the idea that we're protected by having lots of weapons, to deter someone from attacking us to say, and actually we would do better.
Alan Ware
01:17:42
If we put down the weapons opened up our fist to hands, shook hands with them and worked for conflict resolution. There's a lot of fear to peace approach. And there's, there's a lack of confidence that it can work. And one of the reasons for that is there's not enough information. I think about the peaceful resolution of conflicts, most of the times, and most of the world, we are resolving conflicts peacefully with each other, but it's not those peaceful resolution of conflicts that gets attention. It's when it fails. That's when violence breaks out. It's when armed conflict starts that suddenly the media takes a lot of attention and it sort of reinforces this myth that, oh dear, you know, violence, militarism is a natural part of humanity when I don't think it is, but it takes faith and it takes work to work for peace. As I mentioned, peace is not the easiest approach.
Alan Ware
01:18:34
You have to spend time to listen to the other side, to work out. What are the issues? A military approach is a very simple approach. You know, I feel insecure by this enemy. I'm going to take up weapons. Conceptually. It's very simple. It's a lazy approach to it. The peace approaches that is a much more complicated approach. It takes more exploration of ideas. And sometimes you find one option that doesn't work. You have to find another one. I know in the area of nonviolence, you know, a Gandy put forward, you know, some very wonderful ideas or nonviolence, but then gene sharp came along and said, actually there is 198 different types of nonviolent action. And that really opened people's minds. Ah, so peace is not just one simple approach. No, no, it's actually pretty complicated, but it's the better approach.
Libbe HaLevy 
01:19:23
How can people find out how to teach peace and teach peaceful approaches and push this forward?
Alan Ware
01:19:32
I think it operates at multiple levels of society. So in our schools, as part of the school curriculum, having peace education as in New Zealand, we have it there. And part of that is how to resolve conflicts with your brothers and sisters, with your parents, with other pupils at school, with teachers, then looking at how to resolve conflicts that happen in the community around them. And then how do you apply those principles also to resolving conflicts between countries, if school pupils feel they can't resolve their own conflicts, they're not gonna have very much confidence about conflict resolution nationally or internationally, but if they have experienced and resolving conflicts, then they have very inspired. And so that's where we started with peace education, New Zealand. We started with peer mediation programs where we would teach the pupils, how to resolve each other's conflicts. And then once they were actually doing that really well, they wanted to get involved and say, how do we get involved in the, in the bigger issues?
Alan Ware
02:20:32
And then you see some of the principles of peace education and resolving conflicts at home and school and the community are available in the international realm. We have a United nations, the United nations has a number of mechanisms, mediation using courts in the international court of justice arbitration, how diplomacy can work. It's got support for that. There are a lot of mechanisms in the United nations that countries can use and often they do, and they use it very effectively and it helps prevent war and helps resolve conflicts. It doesn't always work. As I mentioned before, we hear the bad stories. We don't hear the good stories. So what we've done is also do like a public education platform. It's called unfold zero United nations folding it's like creating. And zero is like zero nuclear weapons. And it's looking at the United nations, pretty more attention to the United nations and mechanisms that can help resolve conflicts and provide security.
Alan Ware
02:21:33
So that countries don't need to feel that they have to rely on nuclear weapons or threat or use of force. So we have that as a public platform and we do a lot of like events. We just did one last week, actually as part of the core, the piano Chung peace forum. And this was following up from the Olympic peace initiative from the 2018 winter Olympics in Pyeongchang, which opened the door to an inter Korean peace process. If you recall, they had a joint, the woman's ice hockey team in 2018 was south Korean and north Korean ice hockey team playing together. That then provided sort of like a platform for a meeting at the Olympic games in 2018, between an Envoy of North Korea and actually the two young ones, sister and the prime minister of South Korea. And then that opened up the process for summits.
Alan Ware
02:22:26
So they use sports diplomacy and there are a lot of good examples of sports diplomacy breaking down the barriers between countries. And this was one, the piano Chung, winter Olympics broke down the barriers and provided the start of the inter Korean peace process. So we had a follow-up event to that hosted by the Chung city and the Korean Olympic committee. And in that we will taking for these ideas of diplomacy, not just in Northeast Asia and how that can be possible, but also globally in the world to end war. So here are just a few examples of peace diplomacy working of resolving, quite entrenched conflicts or setting up processes to resolve quite entrenched conflicts and peaceful ways. Often people don't know about them. So we're trying to publicize those a lot more.
Libbe HaLevy 
02:23:20
You have served as global coordinator for parliamentarians, for nuclear non-proliferation and disarmament, since it was founded in 2002, what is the group? And it's pretty clear what the focus is, but let's hear it from you
Alan Ware
02:23:34
Prior to engaging with parliamentarians. I was working, working more with like a lobbyist at the United nations, trying to get the governments to agree to UN resolutions and processes and treaty based processes. And there's a key treaty called the non-proliferation treaty, which most countries in the world are parties to. And the non-nuclear countries were parties to agree not to acquire nuclear weapons. And those with nuclear weapons agreed work for disarmament. In general, it's been quite successful on the first goal, stopping low lot more countries, getting nuclear weapons, but it hasn't been very successful on the second goal, which is the disarmament goal and what we came to realize after getting more agreements at the United nations and at the treaty bodies is that we needed to have a bit more of a political push to implement the agreements that were made at the United nations.
Alan Ware
02:24:28
Not enough people know about them, and none of people are actively implementing them. And what would be a good way of doing that was to get legislators parliamentarians, to pay attention and to work together. So that's why we set up this international network of parliamentarians or legislators it's cross party to enable there'll be good conversation and communication with legislators. We have a council about 50 high-level parliamentarian. So in the United States, for example, Senator ed Markey is our co president. Other people on our council being Federica Mogherini who was the EU foreign minister. The current prime minister of South Korea is on our council as the former defense minister of Japan. So we had some high level parliamentarians on our council, but it's also open for any legislator to join. They don't have to be a high level person. And we provide a forum also for experts to Solomon and civil society to engage with these parliamentarians so that we can focus on getting good policy adopted, whether that's trying to get legislation and the U S Congress or in the French national assembly or in the United Kingdom, you know, Westminster the house of commons or some of the non-nuclear parliaments where they can also take initiatives like my own country, New Zealand, our parliament hearings have moved firstly before our organization was around legislation to ban nuclear weapons.
Alan Ware
02:25:55
But then we then say what we should do more than that. Why not stop investing public funds like pension funds, sovereign wealth funds in the nuclear weapons industry. So New Zealand now has done that with a push from now, parliamentarians Norway has done that. They have a big sovereign wealth fund, which has stopped now investing in the nuclear weapons industry. So to our power and tunes moved legislation in Switzerland that has done the same for the Swiss pension funds. And we're going to keep doing that because this is, as I mentioned before, you know, this is an important area, the nuclear weapons industry. So if we can start shifting public investments from nuclear weapons industry and to better things that will be a push upon teams also work on nuclear risk reduction measures like one of the key ones, which we'll probably talk about a little bit more, which has a possibility of getting adopted in with the Biden administration is a deal alerting of the nuclear weapons so that they're not ready to be filed within minutes and a no first use policy.
Alan Ware
02:27:00
And these are a couple of initiatives, which are parliamentarians are packing up to advance particularly now with the Biden administration, but also our parliamentarians are working on regional issues because the nuclear weapons are around. It's not just us and Russia, you know, that have them, there are nine countries with nuclear weapons and there's another 23 that rely on them. And so there is a number of security issues that our parliament hearings are addressing, trying to lower the reliance on nuclear weapons. One way of doing that is to set up a nuclear weapon, free zone, like has happened in the south Pacific and Southeast Asia and Africa and central Asia. And there's a proposal for one in Northeast Asia. Other ways are to build communication between the parliaments. And so we're working with the inter parliamentary union, which is like a network of 178 parliaments. And otherwise they're taking forward these policies of like DLOT no first use and pushing for cuts and numbers.
Alan Ware
02:28:00
So there's a range of ways that our members parliamentarians are working for nuclear risk reduction and elimination of nuclear weapons. One of the most recent calls that many of them are making is to say, okay, it's time for the new ground states to say, where are we going to get rid of these with nuclear weapons? You might not be able to do it tomorrow. You might not be able to do it next year, but let's come and put a date. You know, why not like say you'll be able to get rid of them all by 2045, which is the hundredth anniversary of the United nations, at least by then. Yeah. Maybe you could do it by 2030, but let's say, you know, no more nuclear weapons that will be a goal, you know, that could be feasible. And there's something which could gain some traction
Libbe HaLevy 
02:28:42
By having the intention and by having the vision, which we haven't had, we haven't had a peace goal. And certainly speaking for here in the United States, people don't understand what peace is. There's no education. And we are totally tricked out for guns and violence and war. And we have this obscene budget in the Pentagon thinking what that money could do. If it were applied to the needs of the country and the needs of the world, it would change things completely. We however, are very stubborn and we're very uneducated in this. So putting forth the ideas of peace and building it from the grassroots up, I think is a necessary step for us to take as well as having what you just mentioned. It's perfectly logical, but I've never heard it mentioned before to have the vision that, okay, by this day, we're going to be gone with nuclear weapons.
Libbe HaLevy 
02:29:36
And of course, then we have to deal with the waste, but that's another issue and we're just going have peace. Now what attracted me to interviewing you was the fact that according to the Carl Grossman, who is, I mean, all screes and one of my gurus, you would understand not only about the new start treaty, which we can get into, but also other means that president Biden could take to dial back on the nuclear issue. So let's start with new scar. What does it mean that it's been pulled back from the brink of being canceled and is now back for the next five years?
Alyn Ware
03:30:17
Yeah, so this is very important because the new start agreement was, I think the only remaining nuclear arms control agreement between the United States and Russia, the inf, which was the intermediate nuclear forces treaty had already been scuttled, which was the treaty to stop the development of middle range or intermediate range, nuclear forces. Also the ballistic missile defense treaty had been scuttled and open skies treaty. And these were all really important ones for putting controls on the nuclear arms race in order, just to sort of keep a bit of a fire break between the United States and Russia, to ensure that if there is a, you know, a crisis or a conflict that doesn't erupt into a nuclear exchange, which would be a horrific start, it's a start, it's not a plan for the elimination of nuclear weapons by any means, but it's a very important because it provides a process for Russia and the United States to agree to limitations on nuclear weapons and delivery systems.
Alyn Ware
03:31:24
And to have some verification about that, to check that each other is keeping to that agreement. And both of those aspects are really important, you know, agreeing to limit and then reduce numbers and having some means to check that each other's doing it. So you have confidence. If you have that, it can then help build confidence for another agreement, which will be important to lower the numbers, even further or agreements to prevent the production of new, dangerous types of weapon systems, because both Russia and the United States have got like on the development books, new de-stabilizing nuclear weapons ones that could be delivered by cruise missiles, for example, which can be very destabilizing because it's difficult to know whether such a missile would be carrying a regular warhead or a nuclear warhead. So it's a start, which is the name of it. When the new star was first negotiated during the Obama administration, president Obama had hoped that it was just the first of a series of further agreements that would be taken between the us and Russia that once the us and Russia got their numbers down low enough would then be possible to also bring in the UK, China and France and further nuclear disarmament measures that never happened during the Obama administration.
Alyn Ware
03:32:46
Things weren't taken further for a number of reasons. And one was that president Obama didn't have a Congress behind him. You know, that the Congress, when he took the new start agreement to the Congress to get ratified because international treaties have to be ratified by the Congress, the entire Republican caucus, if we're not going to ratify the new start agreement, unless you spend more money on nuclear weapons to modernize the weapons. So bomber basically had to given to the demands of the Republicans in the Congress in order to get new start. But of course that annoyed the Russians because the whole idea of new start was to stop the nuclear arms race, not to open the door to new types of weapons systems. What we have now with the Biden administration is we have a Congress that could support some of these initiatives. So there is a possibility to go further.
Alyn Ware
03:33:39
And then what happened under Obama administration to get the numbers with Russia down further to put stops on modernization or new types of nuclear weapons. And also then to start building agreements with the other nuclear arms states. And this could include policy agreements were doctrine agreements like no first use and the alerting lowering the readiness to use those weapons. This one all happened all at once, but a combination of these could work well. And we see, for example, one of the things that could happen quite soon is an affirmation, not just by the us and Russia, but by all the nuclear arms states of the Reagan Gorbachev dictum, which is really important Reagan and Gorbachev. When they met in Reykjavik, they didn't end the nuclear arms race, but they hold it us. They said that a nuclear war cannot be won and must never be fought.
Alyn Ware
03:34:39
This was really important because it shifted the planning of the countries and the nuclear weapons arsenals away from a war fighting objective. And just to the idea of deterrence, this has been dropped basically since then by Russia and the United States, which had came back into thinking of nuclear weapons systems as part of war fighting. If you get the nuclear arm, states all agree to the Reagan, Gorbachev took them a nuclear war cannot be won and must never be fought and helped set us then on the right path to work in for the elimination of nuclear weapons and a phased process
Libbe HaLevy 
03:35:18
Is the key to this, the U S and Russia, or can the other nuclear states put that kind of pressure on those Tuesdays to come into alignment? And everybody said, well, we need to back away from this.
Alyn Ware
03:35:30
I think it's a combination because the conflicts which give rise to reliance or potential lions on nuclear weapons are not just us Russia. It's also in the Northeast Asia, the north Korean context, it's also there's China and conflict. So over the China sea, there's the India Pakistan conflict. There's the issue of Iran and the possibility of Iran pursuing nuclear weapons. And there's the situation of Israel, which neither confirms or denies they have them, but we understand that they do. So there are a number of issues and areas they need to be worked on simultaneously. And so it's not just about Russia, U S it's also ensuring that the JCPA that's the joint comprehensive plan of action with Iran is reaffirmed and brought back into play, because that was one of the other agreements that the Trump administration walked away from. And that agreement with Iran is the best possibility to ensure that Iran cannot develop a nuclear weapon, because it includes controls, verified controls on the nuclear energy facilities to ensure they can't make a bomb.
Alyn Ware
03:36:41
There's also progress on a middle east zone, free of nuclear weapons and other weapons of mass destruction. And the UN has started a series of conferences on that. So that's really important also, and there's the Northeast Asia area and which is important. And that's, I mentioned the peace process, got a kickstart with the Olympics in 2018. It has sort of hiccups stop start with the Trump administration, basically, you know, prison. Trump would, let's say one day, you know, I've got a bigger button than Kim Yong on, you know, and I can blow them out of the sky. And he's a rocket man. And then the next day, oh, he's my friend. I, I work with him. It was inconsistent. And so it didn't provide for a sustainable peace process. I think with a Biden administration is a possibility for a sustainable peace process with North Korea that could provide a formal end to the war was the Korean war has never formally ended denuclearization of North Korea, but that would also require security guarantees and lowering of the role of nuclear weapons in the region. All of these things I think go together. It's a, I think a package and different aspects need to be done. And with the Biden administration, I see it's a lot more possible because Biden was there under the Obama administration when some of these things were started and he's got experienced himself and he's bringing experienced people in. And my understanding is that he does have an objective to work for Lori and the threat of nuclear weapons and working for process and nuclear disarmament.
Libbe HaLevy 
03:38:12
One can only hope. One thing we haven't discussed yet is the fact that we now have the treaty on the prohibition of nuclear weapons that entered into force this past January and it's international law. What impact has that treaty and its existence had so far in the world and where do you think that might be going in terms of its influence?
Alyn Ware
03:38:38
So I think this has to be put into the broader context of the international law applicable to nuclear weapons, because the treaty did not come out of a vacuum. There had already been a number of initiatives dealing with the legality of nuclear weapons, including the international court of justice advisory opinion of 1996, which affirmed that the threat we use of nuclear weapons is generally illegal. And it is an obligation to eliminate nuclear weapons is the non-proliferation treaty, which non-nuclear states are obliged not to acquire nuclear weapons. And the nuclear arms states are obliged to work for their elimination. There was the UN human rights committee affirmation in 2018 that the threat or use of nuclear weapons is a violation of the right to life. So this treaty, now it comes along as a way of implementing some of this already existing law and providing more commitment by those who sign on to the treaty to take action for its implementation.
Alyn Ware
03:39:35
If you don't put it in that context, then it would look as though that treaty couldn't do very much. Of course, none of the nuclear arms states and none of the allied states has said that they will support it. And if they don't join a treaty, they're not bound by it, but they are bound by the existing customer international law and treaty law that was already existing prior to the treaty. So it's a really important reminder that there are these legal obligations that are already there and a commitment by states who have signing onto that treaty to take them forward.
Libbe HaLevy 
04:40:05
What is the O S C E N? How does that play into what we have been discussing?
Alyn Ware
04:40:12
The OSC is the organization for security and cooperation in Europe. That was a very important initiative that was actually established during the cold war, but as a really important mechanism for detente to ensure application of human rights and to build common security. And what I mean by common security is the addressing security through using legal mechanisms and international war, as opposed to the threat or use of force. So a common security approach is an inclusive approach. So for this, for the to be an inclusive approach, then it had to include all of the Soviet country so that you, and now all the former Soviet countries, as well as the U S and Canada and all the European countries. So it's broader than NATO. And it comes in a different framework. The idea of the OSC is that you actually bring those countries together to discuss the problems and find solutions to the problems, as opposed to sitting up a military block, to counter the military actions of the other side, which is what the NATO security framework is at the end of the cold war and Mikhail Gorbachev put forward a vision that the military blocks should fade away and that the OECE will take over as the predominant security framework, because it included Russia.
Alyn Ware
04:41:33
It included the former Soviet countries included all the Europeans included America. We had Canada and a provided a conflict resolution approach, but unfortunately the west didn't really see it that way. And instead sort of put more resources into NATO and OTC was sort of like the poor second cousin. It doesn't mean that it doesn't do good work. It actually does. If it wasn't for the O S C E then the whole Ukraine conflict would have spiraled out of control and would have a full scale war there because it was through the OSC that the Minsk agreements were negotiated, you know, between Russia, Ukraine, and NATO, and the United States to put an end to the high, high conflict and work for the management of that. And the OSC has done many other things, including verification of elections. And we've seen what happened with the election, the United States, when you don't have confidence in elections, you have civil unrest, of course.
Alyn Ware
04:42:30
So having an independent observer of elections in the former Soviet countries, as well as in some of the other European countries has been very, very helpful and having a relatively smooth transition from the cold war to a more democratic relationships between countries. It hasn't been perfected. It hasn't resolved everything, but it's provided some theory important process. And if we put more emphasis on the, we have more of a solutions approach to these issues. I think we could then reduce the amount of funding that we're putting into the military, but of course, we could have confidence that we can resolve those conflicts and those issues in otherwise,
Libbe HaLevy 
04:43:14
There is also the UN secretary General's disarmament agenda. What is that agenda? And how has it going?
Alyn Ware
04:43:21
The United nations was set up with the idea of ending war that has that in the charter. You know, that the threes two use of force is prohibited, but with an exception self-defense of your country, but it also has a disarmament agenda and that's article 26 as part of the charter and the very first resolution of the United nations put forward. And it was adopted by consensus, the very first resolution calling for the elimination of all weapons of mass destruction. And there'll be many other United nations initiatives. The problem has been implementation again, you know, there's a lot of nice resolutions adopted, but when it comes to actually implement it, it's difficult. And that's because there are security issues to deal with. There's also economic interests. What the secretary general PSAs armed agenda of 2018 does was to provide more of a rounded, conceptual idea of how the disarmament fits in with security issues and how it fits in with sustainable development and human rights.
Alyn Ware
04:44:24
And I think it gave people more idea of this is how we could move things forward. The difficulty with it is it's quite, I mean, he's a complicated issues. And the report itself has I think, 56 pages long and really difficult to like, get the gist of it, you know, unless you're an academic or someone who's really in the field. So what we did to help parliamentarians get engaged with us is that we have produced a parliamentary handbook, which picks up on the key issues that are in the UN secretary general Sussan, but gender simplified them down. So they're understandable to your average legislator or your city councilor, or even your average citizen, and then highlighted some examples of effective policies, whether it's legislative action or parliamentary initiatives or government policies to take forward those different aspects in the December agenda. And that includes all sorts of dishonor, nuclear weapons, biological weapons, chemical weapons, space warfare, cyber warfare, small arms, and light weapons. It's trade it's these different issues like costume emissions, landmines, they're all in there. And what we highlight is here are policies that have worked in various countries on various regions, so that you can learn from those policies that have been working to then take them forward in your community or in your country or your region. So that's the poetry handbook, which we just released last year. And we're doing a lot of now follow up workshops and with parliamentarians in different countries and on different issues to take forward on some of those policies
Libbe HaLevy 
04:46:02
Is that parliamentary handbook generally available. And if so, could we link to a way that people might be able to get it for themselves?
Alyn Ware
04:46:11
Yes, it's online. So we have it online in both, you know, web version and PDF version as divided into the different chapters. So it's very easy, you know, if you're more interested in say cyber warfare, then you just click on that chapter and it's got, you know, the UN resolutions, it's got poetry, examples, and action. Or if you're more interested in cluster munitions, you can click on that part on small arms and light weapons. You can click on that part. So yeah, so we can provide the URL, the website, or there is basically just disarmament handbook.org, disarmament handbook.org.
Libbe HaLevy 
04:46:46
We will get that out. And that leads me to my final, big question, which is if we could get this parliamentary handbook into the hands of Joe Biden to help guide his next steps towards dialing back and getting rid of nuclear weapons as best he can during his administration, what would you suggest that his next steps be?
Alyn Ware
04:47:10
So, as I mentioned before, we have a number of us legislators who are members of our network and the lead one would be similar to market. He's wonderful. He's co president of our network parliamentarians for nuclear nonproliferation and disarmament. And he's initiated on a number of initiatives in the Senate and is also companions in the house. One of these is very broad. It's called the sign act smarter approach to nuclear expenditure. And it's looking at the nuclear budget as a whole looking at weapons systems, which the United States doesn't need. Even while they maintain a nuclear deterrence posture, they could eliminate certain numbers of nuclear weapons and save a lot of money in the budget. And that money then could be used to help with the economic recovery from COVID-19, you know, for example, public health measures or support renewable energy or the green deal, which Senator market is also one of the leaders of, so that's one aspect.
Alyn Ware
04:48:08
Another one I mentioned before is no first use. And it's actually seen as sort of Warren and the CNET who's advancing that one and Adam Smith in the house as advanced, you know, first use, but that's one that Senator Markey supports. And that's one that I think, you know, Biden wants to work on, but in order, I think for Biden to be able to adopt, you know, first use as a us policy, we also need to convince the NATO countries, South Korea and Japan, to agree to no first use because the U S has providing nuclear deterrence protection for those countries. And if they say all that, we need the option of first use of nuclear weapons to counter North Korea, or we need the option of first use of nuclear weapons to counter Russia. It's going to be difficult for president Biden to move. So that's why it's important, not just for our legislators and for civil society to work in the United States. We all have to work in the allied countries and we're doing that. And we're getting quite a lot of support. We already have the parliamentary assembly of the OECE, which we mentioned before, organization for security and cooperation in Europe, which supports the idea of no first use. And that includes parliamentary representatives from France, UK, Russia, and the United States, as well as to the NATO countries. So I think no first use is something which really has a possibility of moving ahead.
Libbe HaLevy 
04:49:31
This has been such a hopeful interview. I'm wondering if there's anything that we haven't covered yet that you'd like to mention at this time,
Alyn Ware
04:49:39
I would just reaffirm again, the connection between nuclear disarmament and other key issues like the green deal, public health, economic recovery from COVID-19 and the whole dealing with these issues, which are so important for our security. The nuclear weapons will tell us to stop the spread of the COVID virus and invest in a nuclear weapons can contribute anything to dealing with the impacts of this virus, nuclear weapons can't protect us from the climate change and invest in them. It does nothing to help us lower carbon emissions and move from a fossil fuel based economy to one that's renewable economy, nuclear waste, do nothing to deal with the threats to biodiversity that we've got. So the connection of the issues I think is very important. Nuclear weapons can't resolve the civil conflicts that are happening or the misinformation that's been spread, or the issues of racism and structural violence relevant to the likes, some of the real security issues.
Alyn Ware
05:50:41
So we need to emphasize addressing the real security issues and focusing our collective attention and resources, taking the funding away from the nuclear weapons, taking the investments away from the corporations. The corporations are going to fight back. I mean, that powerful corporations may build in these nuclear weapons are lobbying Congress to say, oh no, no, we still have to hold on to them. You know, we, we, we can't be certain, you can't have confidence. You'll be, there were many reasons why we can't move forward, which we promoted by those who have vested financial interests. So we have to try and shift that financial Plainfield as well. So I think making the connections and we're building corporation with climate change movement all the time, our divestment campaign, we're calling on banks and pension funds and sovereign wealth funds and city funds, and to stop investing, not just a nuclear weapons, but stop investing in fossil fuels. We need to leave fossil fuels in the ground. Those investments that are going into fossil fuels should be going into renewable energy. So it's actually quite good that we're working together. Now, you know, these, these campaigns and I'd encourage that whether it's in the United States or anywhere else in the world, work with those who are on other issues, these issues are important to us. Don't just focus solely on nuclear disarmament or just solely on climate to see the connections and work together.
Libbe HaLevy 
05:52:07
If people wish to find out more about your work and the work of parliamentarians for nuclear non-proliferation and disarmament, where can they go and how can they get in touch with you?
Alyn Ware
05:52:20
Yeah. So the website is www P N in the.org. So that's the parliamentary initiative. And then I mentioned unfold zero about the United nations, which is really important because people don't know enough about the United nations. And the fact that the core budget of the United nations is $6 billion per year. That's the, everything, you know, the United nations does around the world. That's about the same as the budget for the New York police force, small amount committed. It's a minuscule part of like the military budget of 10 United States has over 600 billion a year. We need to invest more in the UN, but we need to know more about it. Not enough people know the good things that you in is doing so that's unfold, zero dot or U N O L D zero.org.
Libbe HaLevy 
05:53:09
Alan, where I have to say, this is one of the most hopeful interviews I have conducted in nine and a half years, over 500 episodes of nuclear hot seat. And I'm very excited to be sharing this with my listeners all best to you on your continued work on behalf of people and the planet and the environment, and especially thank you for being my guest this week on nuclear hot seat.
Alan Ware
05:53:35
Thank you so much. It was a great pleasure.
Libbe HaLevy 
05:53:37
That was Alan, where global coordinator for parliamentarians for nuclear non-proliferation and disarmament. We have a whole list of links for Alan and his work. The first one being for parliamentarians for nuclear non-proliferation and disarmament, or P N N d.org, as well as the parliamentary handbook information on unfold. Zero move the nuclear weapons money that's related to don't bank on the bomb, and much more that will be on our website. Nuclear hot seat.com under this episode. Number 5 0 4. Okay.
Libbe HaLevy 
05:54:22
The youth fusion elders initiative mentioned by Alan, where in our interview, we'll launch with a world future day nuclear remembrance day on Monday, March 1st from 12 noon to 1:30 PM Eastern time. It will be an intergenerational dialogue with nuclear activist elders from Germany, the UK, Denmark, and Mexico. We'll have a link up to that so that you can sign up for it. San Louis Obispo, mothers for peace in honor of the Fukushima anniversary has put together a webinar featuring biologist, Mary Olson, talking about her work on the gender and radiation project and why radiation is so much more dangerous for women and children and especially little girls. There will also be a presentation by Eugene Beverly lake. Kaneko my voices from Japan producers on the current situation in Fukushima. This will be Thursday, March 11, from six to 7:30 PM. Pacific time link to sign up will be on the website.
Libbe HaLevy 
05:55:29
And if you're looking for a job, WPS R is hiring that's Washington state physicians for social responsibility. They're looking for a nuclear weapons, abolition organizer, someone who is a storyteller community builder activist event, planner, communicator, and leader who can help chart a course through the new administration and beyond, as we imagine, and build a world free from the threat of nuclear warfare and weapons development and testing of course, link will be on the website. And I got to tell you if I were 30 years younger, I would be running flat out after this one. This has been nuclear hot seat for Tuesday, February 16th, 2021 material for this show has been researched and compiled from nuclear-news.net and renard.wordpress.com beyond nuclear, the international campaign to abolish nuclear weapons, bloomberg.com, NHK dot O R D JP simply info.org, daily star.co.uk, Japan times.co.jp. The assistance of Erika gray, Charles Langley and public watchdogs, cnn.com Miami new times.com mint press news.com.
Libbe HaLevy 
05:56:43
Space news.com. Carl Grossman on counterpunch.org, Helen air.com, Texas tribune.com. Power mag.com. The star.com CBC that CA Emma netra.co dot ZBA Tribune, india.com and the captured and compromised by the industry. They're supposed to be regulating nuclear regulatory commission. Hey, want to help out our numbers in our algorithm, go to nuclear hot seat.com and sign up for our email. That's one a week where you get the link to each week show and a brief precis on exactly what is inside. It. It's an easy way to make certain that you don't miss a single episode. If you have a story lead, a hot tip or a suggestion of someone to interview, send an email to [email protected]. And if you appreciate weekly verifiable news updates about nuclear issues around the world, take a moment to go to nuclear, hot seat.com. Look for that big red button, click on it, follow the prompts and know that anything you can do to help. And we will really appreciate your support. This episode of nuclear hot seat is copyright 2021 Libbe HaLevy and hardest street communications, all rights reserved, but fair use allowed. As long as proper attribution is provided. This is Libby Halevi of heart history, communications, but heart of the art of communicating, reminding you that as president Ronald Reagan and premier Mikhail, Gorbachev of Russia, both said a nuclear war cannot be won and must never be fought. There you go. That is your nuclear wake-up call. So don't go back to sleep because we're all in the nuclear hot seat.
Announcer
05:58:31
Ooh, Claire hot seat. What are those people thinking Claire? Hotsy what have those boys been braking clear, hot. See the Ms. Sinking our time to act is shrinking, but the visceral Hotsy it's the bomb.