WRONG! IAEA BLIND SPOTS in "Safety" Tests of Fukushima Radioactive Water Release – What's Missing? Marine Biologist Tim Deere-Jones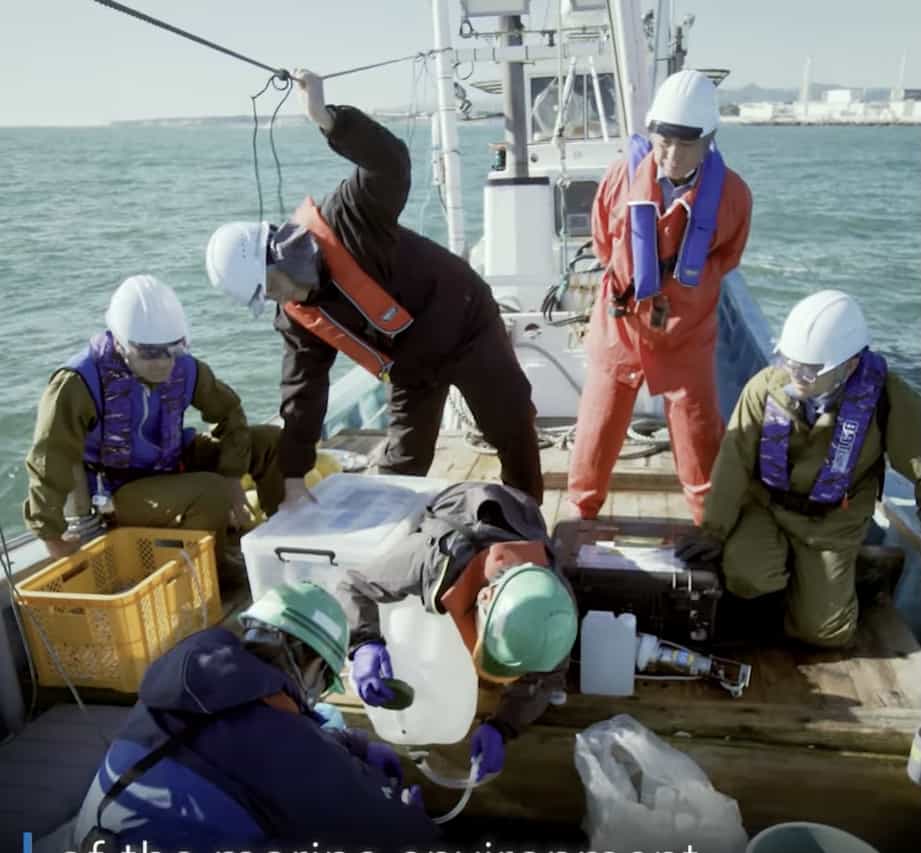 LOL! – IAEA working hard to make their monitoring of the radioactive Tritium-contaminated water being released from Fukushima into the Pacific Ocean is actually accurate. (Screen shot from IAEA self-promotion video)
This Week's Featured Interview:
Tim Deere-Jones is a UK-based marine biologist, researcher and consultant. He specializes in analysis of the radiation threats to our planet's waters from a wide range of nuclear sources. Here, he takes on TEPCO, Japan, and most specifically the International Atomic Energy Agency on what they are failing to do or just plain doing wrong in their "safety" tests of the radioactive Tritium-contaminated water being released from the triple meltdown Fukushima nuclear disaster site.
IAEA self-congratulatory PR/Propaganda video re: their testing of the water release for "safety."
Wilmington College's Nuclear Archive: the Peace Resource Center – Director Dr. Tanya Maus
Dr. Tanya Maus is director of the Peace Resource Center at Wilmington College in Wilmington, Ohio, which holds the largest archive of materials in the United States relating to the Hiroshima and Nagasaki bombings and hibakusha issues, and is second only to the Hiroshima Peace Institute in Japan in its size and scope.

Tanya holds a PhD in modern Japanese history from the University of Chicago. Over the past decade, she has taught numerous history courses on the atomic bombings of Hiroshima and Nagasaki as well as Japanese imperialism in East Asia. She has served as the director of the PRC since January 2015, where she tends to the care and preservation of its Barbara Reynolds Memorial Archives, making its diverse contents widely accessible to researchers, humanities scholars, journalists, artists, undergraduate/high school students and the public. Through the Peace Resource Center and its archives, Dr. Maus seeks to expand the local, regional, national and international awareness of the experience and danger of nuclear war.

We spoke on October 27, 2023.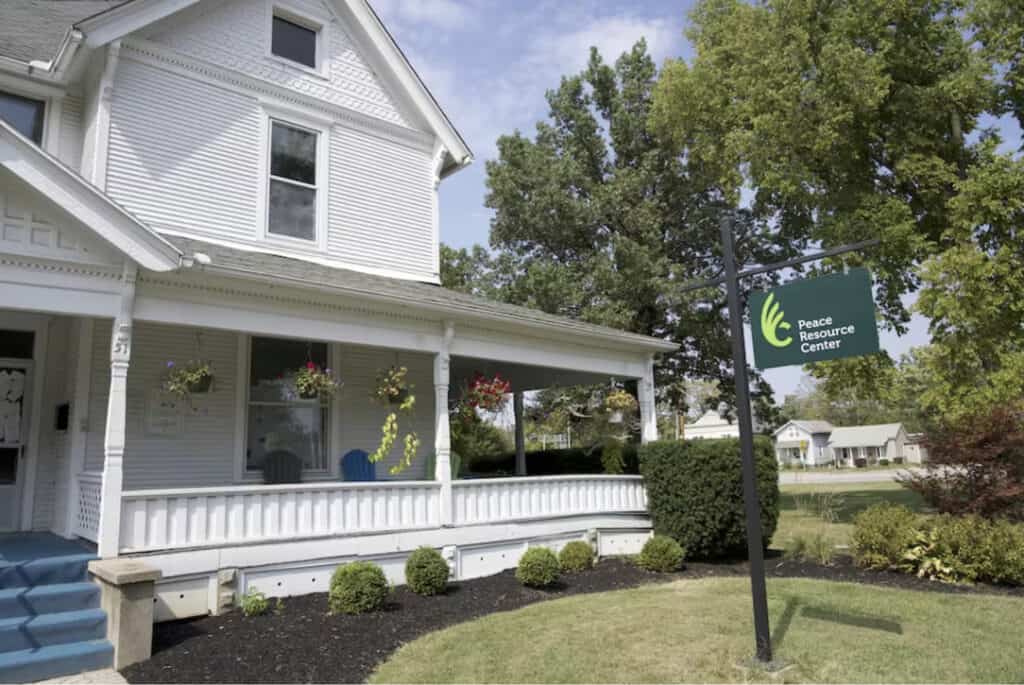 The Peace Resource Center's non-violence, social justice, and global peace programming, as well as a priceless archive and collection of historical documents, makes it a unique "Hands On" space that promotes and affirms peace as a core value of the Wilmington College mission.
Numnutz of the Week (for Outstanding Nuclear Boneheadedness):
What – Another type of U.S. nuclear bomb? Bigger? 24 times more powerful than Hiroshima or Nagasaki? WHY????????? Which leads us to…
Wanna see what one of these new bombs would do to your neighborhood? NUKEMAP!
NUKEMAP is a web-based nuclear weapons effects simulator, created in 2012 by Alex Wellerstein. Since then it has had many updates to its effects model and capabilities. It has been used by over 20 million people globally and has been featured in both academic and general-audience publications and television shows for depicting nuclear weapons effects.
"The scariest site on the Internet isn't lurking on the dark web, but hiding in plain sight at nuclearsecrecy.com," says The Washington Post.
To see what the proposed B-61-13 nuclear gravity bomb would do to Manhattan and surrounding area, Nukemap – CLICK on the LINKS or the map below to see what a bomb akin to the proposed B-61-13 nuclear gravity bomb would do to Manhattan and surrounding areas.

THEN, IF YOU WANT TO CHECK OUT WHAT A NUCLEAR BOMB WOULD DO TO YOUR AREA, SCROLL DOWN FOR INSTRUCTIONS: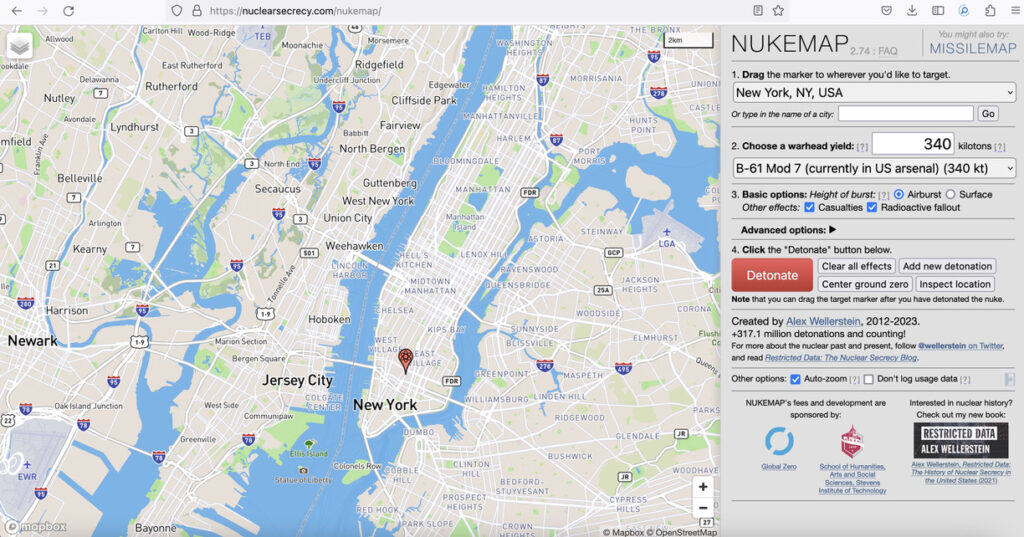 To use NUKEMAP to see what one of these nuclear bombs would do in your neighborhood – or anyplace on earth:
Change item #1 in the set-up (on the right) to your region, city, or neighborhood .
For item #2, choose the bomb closest to the proposed new B-61 -13, the B-61-Mod 7.
Make sure you check the boxes for Casualties and Radioactive Fallout.
Then hit the red DETONATE button and let the games begin! Lots of fun for all ages! (…presuming you get to ANY age with these monsters available to destroy the Earth and every living thing on it.)
Then share this link with your senators and congresspeople. Maybe one of their aides will be open enough to consider it.
Nukemap Credit: OPENSTREETMAP/MAPBOX/NUKEMAP/ALEX WELLERSTEIN
Links: