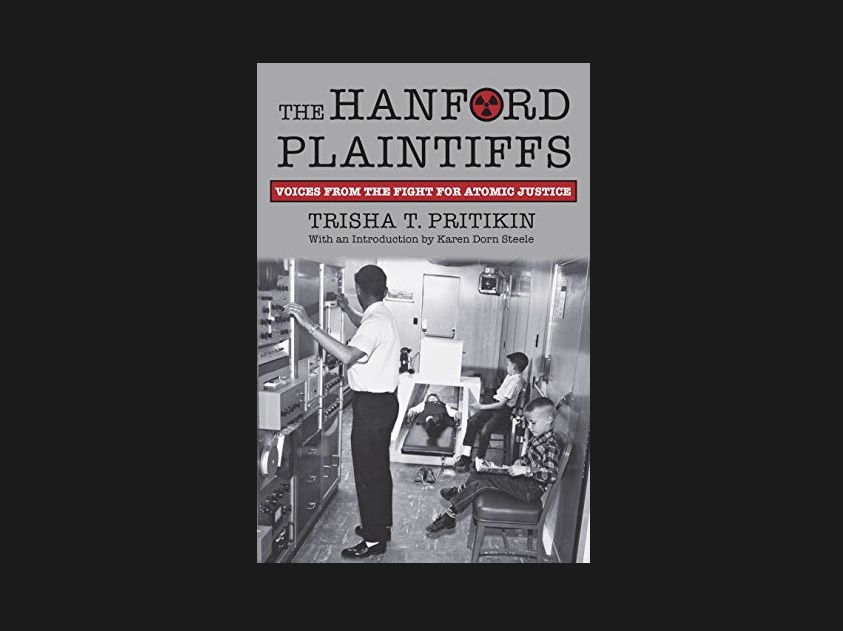 This Week's Featured Interview:
Hanford Downwinders stories preserved – The Hanford Plaintiffs: Voices from the Fight for Atomic Justice, written by Trisha Pritikin, was published in 2020. She is an attorney and a Hanford downwinder who felt compelled to preserve the stories of Hanford downwinders who tried to take part in the law suit. Joining her for the interview is Karen Dorn Steele, a former investigative journalist with the Spokesman Review who broke the story of cancers and other diseases in farmlands downwind of Hanford. She also wrote the introduction for the book. We spoke on Friday, January 22, 2021.
Numnutz of the Week (for Outstanding Nuclear Boneheadedness):
In Fukushima Prefecture, the Prefectural Health Survey Review Committee discovered thyroid cancer in two infant survivors of the Fukushima Daiichi triple meltdown… and proceeded to try to blame "overdiagnosis" for "finding thyroid cancer that they do not have to find." Say WHAT?????

Links:
To celebrate the entry into law of the Treaty to Prohibit Nuclear Weapons, the International Campaign to Abolish Nuclear Weapons (ICAN) produced a celebratory international livestream that featured activists from around the world.  Here's the link:   https://vimeo.com/504951055
Libbe HaLevy 
00:00:01
Here in the U S we like to feel confident that our state and federal agencies are dedicated to protecting our health from problems like radioactivity in our food and water. But then you consider that there have been more than 75 years of radioactivity problems at the Hanford nuclear reservation in Southeastern Washington state. And you hear from an investigative reporter who covered these problems, and she tells you
Karen Dorn Steele
00:00:28
Washington state officials, at least in the early days in the fifties, sixties, seventies were almost completely stymied. They couldn't even go on the nuclear reservation without signing a release. The scientists of the public health service, who studied releases in the Columbia river were muzzled. When radioactive oysters showed up at Willapa bay on the Olympic peninsula, they were censored from letting the public know at every level of the health agencies. We like to think of as protecting our health and our environment. We're stymied from telling the real story about what was going on at Hanford.
Libbe HaLevy 
00:01:05
Well, when you hear about that, being the kind of obstructionism faced by those agencies that are trying to protect us from nuclear or dangers, it's no wonder that here we are. Every last one of us still stuck in that deadly seat that we all share
Announcer
00:01:23
To clear hot seat. What are those people thinking? Nuclear hot. Hotsy what have those boys been breaking their hot seat? The Ms. Sinking our time to act is shrinking, but nuclear Hotsy, it's the bomb.
Libbe HaLevy 
00:01:54
Welcome to nuclear hot seat, the weekly international news magazine, keeping you up to date on all things, nuclear from a different perspective. My name is Leiby Halevi. I am the producer and host as well as a survivor of the nuclear accident at three mile island from just one mile away. So I know what can happen when those nuclear so-called experts get it wrong. This week, we talk with the author of a book on the human damage created by the Hanford nuclear reservation, where plutonium for the Trinity test in New Mexico and the Nagasaki atomic bomb were manufactured. This polluted the area downwind and created calamitous health problems for people who lived in that area. Downwind, the bits releases into the air land and water. We'll talk with Trisha Pritikin, a Hanford down winder and attorney who collected the stories of others who faced the devastation of Hanford and journalists.
Libbe HaLevy 
00:02:54
Karen Dorn steel, whose reporting led Trisha to discover the terrible truth about what happened to her. And so many others. We will also have nuclear news from around the world numnuts of the week for outstanding nuclear bone headedness, and more honest nuclear information than was even considered by Congress in the past week. All of it coming up in just a few moments today is Tuesday, January 26th, 2021. And here is this week's nuclear news from a different perspective, as we were completing post-production today, this late breaking story members of the bulletin of the atomic scientists have unveiled this year's deliberation on the symbolic doomsday clock. It was again set to 100 seconds to midnight unchanged from the 2020 finding, which marked the highest level and the latest time ever since the clock was devised in 1947, the groups experts found that the threat to humanity survival is considered to be just as bad now as it was last year in us news, New York state has sued the nuclear regulatory commission for refusing to listen to the state's concerns before approving the sale of the Indian point nuclear power plant to Holtec.
Libbe HaLevy 
00:04:17
A New Jersey decommissioning from the lawsuit filed in Washington DC appeals court challenges. The federal agencies denial of the state's request for a public hearing before it approved Entergy's agreement to sell Indian point to Holtec. The lawsuit also challenges the NRCS decision to allow Holtec to use some $630 million of the more than $2 billion accumulated in decommissioning trust funds to manage the canisters of spent fuel, which will remain on the 240 acre site after the shutdown and into the foreseeable future state officials say spent fuel management is the responsibility of the federal government, which has failed to find a repository for the nation's nuclear waste. Despite promises dating back to the 1980s. The nuclear regulatory commission is considering extension of operating licenses for nuclear reactors to 100 years, realize that when nuclear reactors were first built, they were only licensed for 40 years because in the estimation of the engineers who designed and to build them, that was the limit of how long they could be safely operated.
Libbe HaLevy 
00:05:31
And that's because the constant bombardment of the containment structure by neutrons and split atoms would weaken or in brittle as the term is used the containment structure, making deadly leaks of radiation and accidents progressively more possible. When I first began nuclear hot seat in 2011, the industry was propagandizing for license extensions of 20 years with the slogan. Is there life after 60, they'd already gotten the 20 years in addition to the 40, but now they're asking, is there life after 80? The answer by all same people should be a resounding no, not only because of the advanced age and embrittlement of the reactors, but the fact that they have been in recent years, jury rigged or upgraded as they call it in the industry to generate more electricity, meaning that they burn hotter and harder, further flirting with disaster to follow this issue, we will link to Carl Grossman's ever excellent reporting on it.
Libbe HaLevy 
00:06:30
With the suggestion that you sign up for his email updates, our link will be on the website, nuclear hot seat.com under this episode. Number 5 0 1 in upstate New York, the army Corps of engineers has disclosed the discovery of plutonium and other radioactive materials in samples of soil and groundwater in Niagara county, near Niagara falls, Buffalo and near the shores of lake Ontario. The Niagara county field, where the samples were taken is believed to have been the site of open air burning of radioactive materials in the 1950s, although the latest samples were taken in late 2018, the agency is still working on a report about how serious the fines are and what to do about them. In addition to plutonium, uranium, radium, thorn Liam, Caesium and strontium have been discovered in the soil samples and groundwater samples showed both radium and uranium, as well as a small quote unquote amount of plutonium.
Libbe HaLevy 
00:07:36
This was a world war II explosives manufacturing site that later became an unofficial nuclear waste disposal site and NHK. The Japanese public broadcasting network has learned that the United States conducted a subcritical nuclear test in November of 2020 at a nuclear test site in the state of Nevada subcritical nuclear test do not produce explosions, but is a term used to describe the process of testing component pieces of a nuclear bomb in Japan, to children who were infants at the time of the Fukushima Daiichi nuclear disaster in 2011 have been diagnosed with thyroid cancer. They were two years old and the other was under one year old at the time of the accident. Following a fourth round of thyroid examinations, the number of children diagnosed with suspected thyroid cancer increased by six from the previous time to 27. And the number of children who underwent thyroidectomy increased by three from the previous time, two 16 children up to now 252 patients have been diagnosed with thyroid cancer or suspected thyroid cancer from previous examinations of which 203 have undergone thyroid surgery and all, but one were confirmed to have thyroid cancer.
Libbe HaLevy 
00:09:01
Now these are the official numbers and they are very depressed. They've been put forth by Japan and by their medical establishment from information that has been manipulated, diminish the numbers and thus diminish public concern and awareness to learn the specifics of how this was done. Listen to nuclear hot seat, number 4 98 from three weeks ago, January 5th, 2021. And the interview with Dr. Alex Rosen, a pediatrician, and one of the heads of the international physicians for the prevention of nuclear war IPP, N w based in Germany, his report on this manipulation of studies was an unexpected opener, but still, that's not the end of this story because
Announcer
00:09:58
like
Libbe HaLevy 
01:10:00
The review committee for this thyroid test, which has found more than 200 people with thyroid cancer raises the theory of what's being called. Over-diagnosis put that in quotes. And this is what is being said among the so called experts who deny the effects of radiation exposure. They say that they are finding thyroid cancer, that they do not have to find. And there is growing opinion that the mass examination of school should be reviewed. In other words, canceled showy chiro to gunny. A member of the national cancer center said the discovery of thyroid cancer has little benefit in avoiding death or poor quality of life, especially when you are diagnosed with thyroid cancer. I think it will be a huge disadvantage for those who do thyroid examination in a group of asymptomatic, healthy people is not desirable what you've not heard of diagnostic testing. And it gets worse because members of the prefectural health investigation committee, especially members who reside outside of Fukushima prefecture are calling for the cancellation or reduction of examinations because, Hey, when you have a radiation induced public health crisis, the last thing you want is verifiable data as evidence that confirms that the problem is just as bad as people thought, if not worse, in truth, thyroid cancer has recurrence and metastasis and early detection and early treatment are beneficial for the child.
Libbe HaLevy 
01:11:38
And that's why you miserable duplicitous members of the prefectural health investigation committee in Japan. You are this week's
Libbe HaLevy 
01:11:53
In Fukushima prefecture. Residents of Tomioka have demanded stricter decontamination levels to enable them to safely return. If such a thing as possible in surveys conducted by the reconstruction agency of Japan last fall, Tomioka residents listed important conditions in deciding whether they would return to their hometown or not such as reopening and construction of new medical welfare and elder care facilities, as well as the resumption and improvement of shopping complexes. But outweighing, all of them is the condition that a further reduction in the amount of radiation is necessary. The government has set the annual radiation exposure limit to 20 millisieverts as one of the standards to lift the evacuation order. But residents have been raising concerns about this condition and are demanding a higher standard and more decontamination. The government is working to attract about 1600 people to live in the town, which is only 40% of the population before the accident.
Libbe HaLevy 
01:12:58
The former residents are asking for decontamination with the aim of lowering the annual radiation exposure to one millisievert or less on Monday, January 21st, the Tokyo high court ordered Tokyo electric power company, the operators of the crippled Fukushima power plant to pay damages to evacuated residents, but it overturned an earlier ruling that had also acknowledged the central government's responsibility over the 2011 nuclear crisis among the approximately 30 such lawsuits around the country. The decision of the Tokyo high court was the first high court ruling absolving the state of responsibilities in the ruling. It stated the government's failure to instruct TEPCO to take measures against tsunamis quote is not found to be significantly unreasonable instead of having the Japanese government pay damages to the evacuees. The high court ordered TEPCO to pay a total of just under 120 million Japanese yen, the equivalent of around 1 million, 157,000 us dollars, two 90 plaintiffs, more than triple the amount awarded in the lower court ruling regarding tech CO's oft announced an oft delayed and then announced again, intention to release the radioactive water stored at Fukushima Daiichi into the Pacific ocean.
Libbe HaLevy 
01:14:27
There is now a petition put forth by no nukes Asia forum, Japan. The subject is the international signature campaign against the discharge of contaminated water and calling for the discontinuation of nuclear power plants. Now, we will have a link up to this petition, which the signature drives starts as of February 1st, but we'll have it up on the website, nuclear hot seat.com under this episode. Number 5 0 1 in France, according to the newspaper, Lamond the stock of EDF. The largest nuclear operator in Europe has collapsed. The French group is engaged in a vast reorganization project contested by the companies unions for months, France has been pleading with the European commission for a reform of the complex system, which requires EDF to resell part of its production to its competitors called regulated access to historic nuclear electricity. It forces the energy company to resell a quarter of its nuclear production at a fixed price, which he claims is causing it to lose money.
Libbe HaLevy 
01:15:37
Apparently it stockholders agreed and have been dumping the stock in Germany, a call for Berlin to renew its commitment to NATO's nuclear defense in a gesture of solidarity with the United States has prompted a heated backlash among Germany's greens. The party scene is the likely kingmaker in the country's next government, a high profile group of German and American academics and strategy advisors delivered the NATO call and a more than 8,000 word paper entitled more ambition, please. It read in part without this Alliance, meaning NATO, a stable and United Europe cannot be sustained and neither can the international order be renewed. However, these conclusions are particularly contentious in the green party, which has never abandoned its pacifist antiwar roots support for the transatlantic declaration by moderate forces in the party triggered a fierce reaction by leading members of the greens left wing underscoring. The difficulty that lies ahead for the Biden administration, as it seeks to repair and renew America's strategic bonds in Europe, following the divisive Trump years in Turkey and explosion took place on the evening of January 19 at the Akula nuclear power plant, which is under construction that broke windows in the houses and cars and the surrounding areas details of the incident have not been shared.
Libbe HaLevy 
01:17:05
And the question remains as to whether the explosion had damaged the ground, where the reactors are intended to be placed the plant construction or had harmed employees, according to Pienaar Demir cam coordinator for nuclear says.org. According to Pienaar Demir con coordinator for nuclear says.org and anti-nuclear group in a Coolio information is not shared transparently and is itself a source of safety hazard cracks had been formed at the base of the reactor constructions. And there has been water leakage in the construction area. In recent days, the explosion was recorded as a 1.2 magnitude earthquake, and at least 86 houses were damaged. Demir Khan stated that it was expected to cause an effect of 1.2 magnitude earthquake. They should tell why the people in the region were not warned in advance. And if this was planned, she said, we want to know what is unplanned. We'll have this week's featured interview in just a moment, but first the doomsday clock nailed it.
Libbe HaLevy 
01:18:14
We, as a planetary society are in no better shape to survive ultimate annihilation now than we were one year ago. And whatever happens this year in government or science, nuclear problems are going to continue to be with us forever. The entire nuclear fuel chain is being supported by a nuclear fool chain. Those individuals in government and business who don't care, how they contaminate the world. As long as they make enough money, money, money to buy $4.1 million cars and other diversions. That would be the son of the head of Holtec who has that car. Meanwhile, we all have to deal with the dangers of radioactive contamination from uranium mining, manufacturer of fuel rods and plutonium pits, transport reactor operation forever radioactive waste with no way to safely store it, the environmental racism, plus the overriding planetary life ending big bang threat of weapons. Quite frankly, nuclear is a mess and that's why you need a nuclear hot seat.
Libbe HaLevy 
01:19:19
While mainstream media has other agendas. We know where to look for the nuclear story and the questions to ask every week. So we can report the ongoing, evolving nuclear truth that the industry would rather we not hear about let alone understand. And that's why the time would be right now for you to support us with a donation, just go to nuclear, hot seat.com and click on the big red donate button to help us with a donation of any size. We just hit episode number 500 last week. So a penny, an episode, a diamond episode, a dollar an episode choose what's right for you. And please do what you can now, knowing that however much you can help, I'm deeply grateful that you're listening and that you care. Now here's this week's featured interview voices in protest of nuclear transgressions are often hard to find or to hear.
Libbe HaLevy 
02:20:15
And once raised, they can easily be hidden or ignored as they fade from awareness. That's why books that compile these stories and make them available to the public are of such crucial importance. As we continue to investigate and educate ourselves about our shared nuclear history and future. That's why we're happy to bring to your awareness, a relatively new book of importance to anyone who lives downwind of any nuclear facility. Actually we're all downwinders these days, but especially the site in Washington state, the Hanford plaintiffs, voices from the fight for atomic justice was published in 2020 written by Trisha Pritikin. She is an attorney and a Hanford downwinders Trisha Pritikin and Karen Dorn steel. Welcome to nuclear hot seat.
Trisha Pritikin
02:21:27
Thank you for having me.
Libbe HaLevy 
02:21:29
I'm so excited to be talking with you because this is about your book Tricia called the Hanford plaintiff's voices from the fight for atomic justice. Tricia, start out by telling us what is the Hanford reservation? Where is it? And what was it intended to do?
Trisha Pritikin
02:21:48
The Hanford is located in south central Washington state, and it was a nuclear weapons production facility. It's located on the Columbia river. It's where the plutonium was produced for the very first, the world's first test of an atomic bomb. The Trinity test that native July 16th, 1945. And for the bomb, the fat man bomb that decimated Nagasaki Hanford's plutonium was also used in many of the tests, both at the Nevada test site and in the Pacific proving grounds. And as we know, showered, downwinders with fallout. It's not any longer a nuclear weapons production facility, but it's one of the most toxic sites in the country. As you know,
Libbe HaLevy 
02:22:34
We've covered it many times on nuclear, hot seat from different angles, but this is a very personal story. Tell us about your background and how you grew up in proximity to Hanford.
Trisha Pritikin
02:22:46
Both my parents were workers at Hanford. My father was a nuclear engineer who oversaw the reactors in the 100 area, which is where all their eight to nine reactors were located. My mother worked in something called stores. She was a secretary for a while until she got pregnant with me and then she quit. So I was born at Cadillac hospital in Richland in late 1950. And the reason I tell you the year is that that is really important because the levels of radiation being secretly released from him for were much higher in the beginning from its start-up in late 1944, through the fifties and into the early sixties, there were much higher than they were later. So I was born during a period where there was a lot of secretly released radiation in the air water, on the food, in the milk. We later later found out. So I lived in Richland and I loved it. A lot of the kids have really fun memories of Richland because the atomic energy commission in Hanford operators put a lot of money into making sure its employees in Richland were happy that they had cultural events, that their kids were happy with the schools. And we had quite a few teachers who came in from Oak Ridge. So I kind of picked up a bit of a Tennessee accent, but I have really fun memories of Richland and my friends there.
Libbe HaLevy 
02:24:07
So on the surface, everything seemed to be fine and going well. And it was the American dream of middle-class life and raising your kids. Yes. You have stated that you believe that your family's time in Richland next to Hanford resulted in health damage to them. What were or are the kind of problems that they and you have faced?
Trisha Pritikin
02:24:27
My dad died of aggressive fibroid cancer, which has been associated with radiation exposure under the us nuclear worker compensation act. And I bring that up because I think it's very pertinent to the downwinders experience. My mother died of malignant melanoma, which is also associated with radiation exposure, but requires a dose reconstruction by the employee when claiming for damages under the nuclear worker compensation act. My mother also developed auto-immune thyroiditis, hyper parathyroid, as in which means way too much calcium in the blood everywhere, but she did die. A malignant melanoma. I have girdle sales were detected in a nodular developed on my thyroid hurdle. Cell thyroid cancer is one of the types of cancer that has been found in downwinders. So my thyroid was removed and I lost three of four parathyroid glands during the surgery because I had such an inflamed fibroid. It was autoimmune thyroiditis.
Trisha Pritikin
02:25:28
So I had an inflamed fly, right? They lost three or four. So now I have something called hyperparathyroidism, which causes me paralysis and kidney failure. If you're not extremely careful, I mean, I have to be very careful what I eat. That'd be monitored all the time. And my brother died in 1947. He's part of a spike of neonatal deaths and the dominant area that still needs to be investigated. There are baby graves at the historic cemetery Richland. There are baby graves in Pascoe and the historic cemetery and a lot of baby graves of Walla Walla, which was known to be a hotspot.
Libbe HaLevy 
02:26:02
So sorry, you and your family went through all of that. And you attribute this to the proximity to Hanford.
Trisha Pritikin
02:26:07
I do because over 750,000 curious of radio iodine were released from Hanford and there've been many epidemiologic studies of similar populations that showed fly right out some sly ride cancer outcomes, hyper or hypo thyroid as to the other disease, malignant melanoma, it's been associated with radiation exposure in the nuclear worker compensation act. So that's why I believe that these diseases were caused by Hanford. Karen,
Libbe HaLevy 
02:26:38
Are you from the Hanford area? And did you grow up there? And if not, how did you get to
Karen Dorn Steele
02:26:43
Hanford? I was born in Portland, Oregon. My father was a us diplomat. So I lived in north Africa and Europe as a child. But the way I got to the Hanford story was through a job I'd taken recently in the early eighties at the spokesman review, which is original newspaper in Spokane, where I live before that I'd worked in Congress, I'd had my own public affairs show on PBS in Spokane, but they recruited me to do investigative reporting basically. And this was the early eighties. It was the Reagan administration and Ronald Reagan had recently announced a major nuclear arms buildup to counter the Soviet union. So he reopened a 1956 mothballed plutonium plant at Hanford called pure ex. And one of my first experiences with covering Hanford was from a whistleblower who called me and was very concerned about safety in this plant. She said plutonium was missing.
Karen Dorn Steele
02:27:40
It was, might've been backing up in the corners of the plant, which could have caused an explosion. And so that was my first task to try to verify her story. And it turned out to be completely accurate. They were having problems. She gave me the roadmap to report the story. She told me the documents I should look for. And, you know, I did freedom of information act request. I found out that they had been having problems they were very concerned about, but had not told the public that prompted an FBI visit to my editor's office. And lots of concerns about why was this paper and Spokane Washington suddenly so interested in plutonium production. So that was my start in covering Hanford. And it led to my meeting and a whole group of farmers who lived right across the river from Hanford and who were extremely concerned about possible exposure to radiation from Hanford, although they had no documents or no, nothing to back it up at that time, which was in the mid 1980s. When you say,
Libbe HaLevy 
02:28:40
Were they growing crops? Did they have animals? Did they have dairy cows? What was the nature of the farming? And,
Karen Dorn Steele
02:28:47
Yeah, so it was an area called the wall looky slope, right across from Hanford on the Eastern side of the Columbia river, they're growing all kinds of crops, corn wheat, they had cattle, they had sheep and they were people who have been brought in, in the fifties to populate this area. They're given government land. This land was opened up. And so they had been living right across from Hanford and they had some vivid tales about things they had observed in their own neighborhoods, like people in dressed and moonsuits coming through and picking up things from their fields who were from the atomic energy commission, but didn't ever tell the farmers just what they were doing there. They were there to collect samples, but the farmers never learned what the samples were for. And so I met a farmer named Tom Bailey. Who's become kind of the voice, the face of this whole downwinders story in the mid 1980s and Tokyo from there.
Libbe HaLevy 
02:29:43
So the farmers were given free land or very inexpensive land in exchange for being Guinea pigs for what the impact was from any of the radiation that got off the reservation. What information challenges did you have initially when trying to verify the stories of the down winter farmers?
Karen Dorn Steele
03:30:02
Initially, they had told me about having massive sheep die-offs in the early sixties where the lambs were born mummified and there had to be a paper trail on that. So there was one of them. The other big question was how the farmers themselves and their family has been affected. And when I started looking for documents, I was shocked to discover that most of the documents that would have detailed any releases from the forties and fifties, especially were still classified. This is 40 years after the end of world war two. And so I used the leverage of the freedom of information act to obtain documents on exposure to the farming communities down wind. And as it turned out, this was in 1985. And other reporters in the region were also working the story by then and a group in Spokane called the Hanford education act internally, which was a citizen activist group.
Karen Dorn Steele
03:30:55
And we prepared fairly massive freedom of information acts to the department of energy. And in February, 1986, where some was some pressure from our congressional delegation, as well as a series of stories, my stories, and some others, us department of energy released its first batch of 19,000 pages of documents. And the half there being, having told the region for years that Hanford had been completely safe and there had been minimal releases. It turned out that they had been massive releases as Tricia noted, a 750,000 curious radiation of radioactive iodine. Plus other process upsets where Ruthenian flakes and rain down on the farmer's fields. And so this completely changed the narrative as to what Hanford's history had been, especially in the cold war. One of the most shocking documents in that first batch was something called the green run. I stumbled on these documents. I was first to break the story of the green one, which was a deliberate experiment at Hanford in 1949, in which the operators were told by the military to take all the filters off one of the plutonium plants at Hanford and release very hot radioactive particles into the atmosphere, which the air force secretly tracked in airplanes.
Karen Dorn Steele
03:32:17
And the reason they wanted to do this, this was December of 1941. And Joseph Stalin had just detonated one of the first nuclear weapons in the Soviet union. And they thought if they assumed that the Soviets were using hot or green fuel, that's why they called this the green run to a rush to catch up with us in their plutonium enterprise. And so they thought they could devise a measuring device using Hanford and the inland Northwest as an experiment as an experimental lab, but without telling anybody in the region, this was an area which some of it down by Walla wall, there were cows on grass, even in December. And the weather was very bad. The day they did the green run December 2nd, 1949. And so there was a big rain out or snow out in the region where a lot of the radiation came down to the ground. And this really shocked people, shocked our readers, our Congressman, who was quite prominent, Tom Foley, he went on later to become speaker of the house of representatives. He had a classified briefing in on it and the public wanted more answers. Why did this happen? Why were they never told
Libbe HaLevy 
03:33:20
Karen, you were writing for admittedly, a small newspaper, the Spokane review in Spokane Washington, when these stories started coming out and being of such magnitude, were they supportive of your work?
Karen Dorn Steele
03:33:36
Well, initially before I met the, a down wonder farmers, they were rather skeptical. They said, well, you know, Hamburg has always told us that everything is safe. There where's the story. And so it wasn't until I started getting documents first for the pure ex you know, the dangers of the pure X plant and later for the direct exposures in the area where the, where the farmers suspect that they've been exposed. And then the green run, the green run story, I think, changed everything because it was nobody even knew that there had been a direct human experiment conducted in 1949 on the, on the citizens of the Northwest. And so gradually my editors said, just go for it. You know, and it was odd though. It was hard for them initially because our paper, which had a circulation of about 130,000 at the time had never really covered Hanford.
Karen Dorn Steele
03:34:26
They just, you know, published, associated press stories on openings, the plants and closing the plants at Hanford. So it was a whole new role for our newspaper. And we really had good support. Our editorials were very strong on calling for openness and telling the whole story of what happened. They were supportive of the downwinders telling their stories. We had a wonderful cartoonist Milt who did some sensational work on the Hanford story. And so the newspaper really stepped up and became a force in the region for, for telling the story. And we had this very, as I say, this very prominent Congressman who helped to Tom Foley, who pressed the government to have classified hearings for them. And to get to the bottom of some of this, you know, Congress had been pretty passed throughout the nuclear age and challenging the atomic energy commission or the nuclear establishment. So it helped to have at least one Congressman who was prominent and who was interested
Libbe HaLevy 
03:35:22
With all this information coming out, as shocking as it was. How were people reacting to it? And specifically, what reaction did your newspaper get to all this negative reporting on Hanford?
Karen Dorn Steele
03:35:35
Well, I got some death threats at home, just, you know, I mean, you know, threats both to me and my children. There was criticism on my newspaper by the newspaper in the Tri-Cities, the Richland Kennewick and Pascoe where Hanford is located, it's called the Tri-City Herald. It's been very, very pro-nuclear its entire time really never did any kind of critical reporting on Hanford. And they kind of tried to portray us and me as unpatriotic, you know, here's Ronald Reagan starting a new nuclear arms race, and you are not being patriotic. You're not getting with the program. So that was the message that came out of the Tri-Cities. But watching the state is very complex. I mean, Seattle is a very liberal city and was calling like we were in Spokane for more openness, more accountability for the complete story of the documents to come out and for the downwinders to be able to tell their stories, but the story was not popular in the Tri-Cities. So we're Hanford is
Libbe HaLevy 
03:36:37
Krisha. At what point did you get the idea to write a book and how did you proceed to move forward on it?
Trisha Pritikin
03:36:44
Well, first I wanted to mention something that I hadn't mentioned before, which was the reviews and I learned about Hanford's radiation releases was that I was visiting my grandmother in Spokane in 1988 and read one of Karen's articles on the spokesman review. I feel that had it not been for her reporting, this whole story about the releases may have never come out. And so I feel that the amateurs and all of us, oh, Karen, a lot, you know, that's, I'll always feel that way. She's my hero. She's very brave. And she's really a good writer and gets right to the point. So I wanted to put that in there real quickly. So I didn't forget.
Libbe HaLevy 
03:37:20
Thank you for that because that's a key piece and the importance of reporters is never to be underestimated. You're like the fourth branch of the government.
Trisha Pritikin
03:37:28
Yes. And I felt whenever Karen was at a meeting that I was attending with like government officials flying over from CDC or from ATS or whatever, if Karen was there, I knew the truth was going to come out about this meeting and she would help me figure out what the heck was going on. Cause a lot of times it was very confusing. You had so many scientists giving us various lectures on things and showing us PowerPoints and then leaving. So I was always thankful when I saw Karen there in the front row with her red hair, beautiful red hair sitting in the, I did not want our stories, the damages stories to be forgotten. And when the litigation concluded with settlements, for some people, this is in re Hanford nuclear reservation and litigation, which was massive, toxic tort, personal injury litigation. The last settlements came out in 2015.
Trisha Pritikin
03:38:17
There were only one set of bellwether trials at 2205 positive jury verdicts for two plaintiffs with fibroid cancer. But that the rest of the people, anybody else who got anything, it was a settlement, very meager settlements. They're so small that people were crying on the phone with her attorneys. It was that bad. So I just decided, okay, litigation's over. This is 2015. Our stories are going to be forgotten. And the department of energy will have succeeded in sweeping everything under the rug. There were 5,000 original plaintiffs and of those, two of them got to tell their stories during the litigation I've that's it. And so all these other stories were still out there. And if the public had heard our stories all at once, or even a small, you know, a partial portion of them, they would be shocked. And it dignity at what had happened to the people of the Pacific Northwest.
Trisha Pritikin
03:39:10
So I decided I would quickly contact two of the plaintiff's attorneys. That's Tom folds in Seattle and Dick I'm an inspo can and ask whether I could send a letter to the final people that were receiving settlements to ask if they'd like to participate in this project. That's how I located these people. Otherwise I had lost contact with almost everybody, except I knew where Tom Bailey was, but everybody else had been so long since the beginning of the litigation, 25 years that people had either died or they weren't available. So that's how I found people. Okay.
Libbe HaLevy 
03:39:45
What were the commonalities in the stories that you were getting from these people?
Trisha Pritikin
03:39:50
First thing I learned was none of them were rich. They were all semi impoverished and including myself it's because if you're that disabled and sick, you have a hard time earning an income. These are people who are not rich. All of them wanted our stories told, and they were very enthusiastic about us putting our stories together because with multiple stories, you gained power. Whereas with one story, it's interesting, but not as powerful because a lot of these people had thyroid cancer or thyroid disease. I saw that all over the place. I want to say there were river cancer plaintiffs as well. People who had been exposed to the river pathway that had other types of cancers. A few of them got settlements, not a lot. So back to the people I saw, almost everyone had more than one problem. They had thyroid cancer, plus auto-immune thyroiditis plus chronic fatigue, plus a fibromyalgia type of problem. It was more of a cluster than it was one disease. And I know Kate brown has mentioned this in her book for Topia as a, like a radiation syndrome. You know, if you're exposed as a child, it can do multiple harms to you. Some of the people have children with issues as well. One of the people I interviewed Bob McCormick is the first story in the book. Keith had so many cancers in his family and the children of the downwinders original people that were exposed also have issues. So I noticed that as well.
Libbe HaLevy 
04:41:20
It's devastating to think of the impact and that it's been ongoing. Do you still get stories from more people now who perhaps weren't involved in the litigation, but are having these problems that are coming to the awareness of a possible source?
Trisha Pritikin
04:41:38
Yes. You know, that's a great question. And it focuses on latency periods. Like if you're exposed to low dose ionizing, radiation decades can pass before the symptoms of your resulting disease show up. I've had people contact me after this book was out there saying, I think I'm a down winder. I just realized, you know, I lived here in the downtown area and I have this cancer and I feel terrible for them because there aren't going to be any attorneys who are going to represent these people. Now it was so hard for our attorneys to support our litigation for 24 years out of personal funds against the power of the federal government. Because the contractors that we sued were indemnified under price Anderson and they had free flowing federal money, our own tax dollars to defend against our actions. So what attorney in his or her right mind would want to take on one of these cases? So it's really hard for me to have to say that to people cause they just didn't learn. For some reason they didn't hear about Hanford. Maybe they were living somewhere else. I don't know. Maybe they didn't have any health problems until right now, but yeah, you're right. That people are still developing these problems.
Libbe HaLevy 
04:42:52
How do you think Hanford officials were able to keep most information about accidents and routine releases secret or confidential for as long as they did, which looks like it's at least 40 years that they were able to keep it under wraps.
Trisha Pritikin
04:43:06
I will give that one to Karen.
Karen Dorn Steele
04:43:08
Thanks Tricia. Well, first of all, in the forties and fifties, there was almost complete secrecy about the nuclear weapons program. The atomic energy commission basically had a policy with anybody that claimed exposures of never admit and never pay. It happened with the UN at the Nevada test site. It happened in the Marshall Islands. It happened at Hanford. It happened everywhere in the country where there was a nuclear facility or where there was fallout. And that was the attitude. And this battle over openness versus secrecy was, was really playing out in the 1980s. I recall that energy secretary James Watkins, who was the energy secretary to Ronald Reagan said that if we ever really tell they were, they were trying to decide, should they, because there was public pressure now, should we released some of these documents? And he was saying, if we do that, that will mean the end of nuclear weapons production.
Karen Dorn Steele
04:44:05
If the public really finds out what happened, that was a very telling remark. We got his memo, one published it when he said that, because this was just at the time on, we were trying to get more information about Hanford. And so these were powerful, powerful institutions, judges in Nevada that Trisha has written about, who tried to get some level of justice for both sheepherders who'd lost their sheeps and people who got cancer were overruled by appellate courts and stymied by acts and Congress that protected the contractors. So this is a very, very difficult arena to get accountability and the truth
Libbe HaLevy 
04:44:43
In your view, what is Congress's role in overseeing the nuclear weapons makers at Hanford and why couldn't Washington state officials do more to interject and oversee what was going on
Karen Dorn Steele
04:44:59
Washington state officials, at least in the early days in the fifties, sixties, seventies were almost completely stymied. They couldn't even go on the nuclear reservation without signing a release. The scientists of the public health service who studied releases in the Columbia river were muzzled. When radioactive oysters showed up at Willapa bay on the Olympic peninsula, they were censored from letting the public know one of the first downwinders I met in Tom Bailey's area was a man who worked for the Pascoe, what our district, he had a PhD and he found out that there was radioactive phosphorus that the fish that he was feeding, his children were eating. There was radioactive phosphorus in the river that was moving through the food chain, but he could not tell him. He told me he stopped feeding his children fish immediately when he read the confidential memo, but he couldn't tell his neighbors because he would have been fired from his job. And so there were at every level of the health agencies, we like to think of as protecting our health and our environment. We're stymied from telling the real story about what was going on at Hanford. What about
Libbe HaLevy 
04:46:07
Today? Certainly we know that plutonium has got a half-life of 24,000 years. So it's not disappearing from the environment. What are, or what is known about the ongoing dangers that still exists in the Hanford area
Karen Dorn Steele
04:46:23
Quite a bit by now is known. I mean, we know that chromium and radioactive substances leaked into the Columbia river. There's been a massive cleanup program going on for about the last 15 years. It was initially supposed to cost $50 billion and last 50 years. And now it's over a hundred billion dollar estimate and it's going to last much longer than 50 years. So they have quantified the problems, but some of the solutions are still just not effective. They're still wasting money at Hanford. They are not achieving in my opinion, a full cleanup. And in fact, there never will be a full cleanup. It's impossible, but they can protect the river and they no longer have airborne releases because there are no plants operating, except there's still danger to workers who are working on the cleanup. And occasionally we'll run across plutonium or some other volatile chemical substances that causes injuries. So two workers in the cleanup, there's still a big problem there. I wanted to mention also that
Trisha Pritikin
04:47:29
The plutonium finishing plant was being demolished recently without a containment though over it. And they were starting to find tiny particles of plutonium in the air filters in cars, in Richland. So, you know, that was a kind of an exceptional what Karen was saying. I mean, we all were there at the time doing a project with the group. I work with core consequences of radiation exposure. We brought my Suji, Maura Gucci over from Nagasaki and we were all wearing C 100 masks to protect us from the foot Tony I'm flakes. Whereas the people in the city were like, ah, there's no problem. What you worried about there once in a while, something like that happens to
Libbe HaLevy 
04:48:13
Do either of you have any thoughts on what alternatives might exist to litigation for people who have been exposed downwind of nuclear weapons, production, or testing sites.
Trisha Pritikin
04:48:24
I have an idea which I am proposing whenever anyone asks, I'm trying to spread it broadly. It rather than having communities that were exposed to low dose ionizing radiation, or who were involved in uranium mining or were downloaded the Trinity test site or the Madison fighting over the expansion of radiation exposure compensation act, I would like to see a national approach to this problem modeled on the EEO ICPA energy employee's illness, occupational compensation program, yet the nuclear workers' compensation act because it contains a list of diseases identified as radiogenic, for which people nuclear workers at many sites don't even have to have dose reconstruction. They live in, they have special exposure cohorts like at Hanford, where if you file a claim for a certain cancer like thyroid cancer, like my dad's cancer, no dose reconstruction is required. You give him the benefit of the doubt.
Trisha Pritikin
04:49:24
There's a very broad probability of causation. It's just really easier for the nuclear workers than it is for the downwinders. We were children. When we were exposed, we had no choice. We didn't enter into an employment agreement as a nuclear worker. You know, it's like, it seems like the children should be given more benefit of the doubt than the adult workers. So I would like to see people who are civilians, who live next to any of the waste sites, the production sites and testing sites, including the Marshall Islands, where the us tested to be eligible for compensation and healthcare, if they don't have adequate health care for diseases that are identified under that ICP as radiation related, if those people live for a minimum period of time, when radiation was documented to have been released. So the same standards as for workers, I'm just so tired of hearing port communities fighting with each other over whether Rica will be expanded to them. I would also like to see more recognition
Karen Dorn Steele
05:50:27
Of the fact that so many people were exposed nationwide, actually worldwide. Kate brown has, has expressed this in her book. Platobia that in a way, all of us were downwinders or many of us are downwinders and have this incorporated into the history of the nuclear age. For instance, when you visit now, now B reactor at Hanford, which was the first full-scale nuclear reactor in the world. Now it's part of the national park service and its tours are open. You can go through it. And the story there, they're very good explanations of how they made the first Flatonia, but it's presented as this really nifty engineering project, you know, but this facility produced the bomb that was dropped on civilians and Nagasaki. And the other part of the story is not being told what the downwind, not only the victims in Nagasaki, but downwinders throughout the world sacrificed for the nuclear weapons program. I think it's a very cautionary tale if we ever tried this venture again. And once again, start to make nuclear weapons.
Libbe HaLevy 
05:51:36
I think it's ironic and hopeful that today is the day that we are talking is the same day that the treaty to prohibit nuclear weapons, the nuclear weapons ban takes force of law internationally. There've been several celebrations in the course of the day. So this hopefully is a marker day where we can pivot and turn everything around so that the necessary changes take place. And we never faced this kind of difficulty. Again,
Trisha Pritikin
05:52:05
Our stories, stories of health damage, actual health damage, or the strongest evidence for why nuclear weapons have no place in this world,
Libbe HaLevy 
05:52:14
Right? It's not just the big bang fireball. Ooh, my bangs bigger than your bang kind of a thing, but it is the lasting legacy of anything nuclear, which is the radiation and the damage that it does down through generations forever, virtually forever 24,000 years is a long time. One last thing, Tricia, you mentioned this once and I noticed from the back cover of your book, that net proceeds from the book will go to a nonprofit called consequences of radiation, exposure or core. Tell us a little bit about that group, which you did mention before and where we can find their website
Trisha Pritikin
05:52:49
Group is a non-profit in Washington state. It's also an IRS 5 0 1 C3 tax exempt organization. So any donations to at our taxes or, you know, it was formed in 2015 at the conclusion of the litigation to educate the public about the consequences of exposure to low-dose ionizing radiation, whether from nuclear weapons, production testing, uranium mining, milling, or transport use of nuclear weapons. More time. There are so many sites where people are suffering. And so we are just art. It's an educational nonprofit. And as I said, we did have the project where I brought over the very first tobacco shift from Nagasaki to Hanford after so many years and official mission. So we try to do things like that. But thanks for asking. And that website is www dot core Hanford, one word.org.
Libbe HaLevy 
05:53:42
We will have a link to that up on the website, nuclear hotseat.com. Under this episode, one final thing. Your book has already received a number of acknowledgements. It placed first for history at the 2020 San Francisco book festival. And first in non-fiction at the 2020 new England book festival. So the book is the Hanford plaintiff's voices from the fight for atomic justice. Where can people find it?
Trisha Pritikin
05:54:09
I love to support local bookstores. And so if you can alert your local bookstore that it exists and that you would like to order a copy. We've had book, launch events and aunties and Spokane it's available from there. You double your bookstore in Seattle, it's on Amazon, but I just love supporting local bookstores. So that's where I would go.
Libbe HaLevy 
05:54:28
I would suggest if anybody goes to order it at a local bookstore, you ask that they ordered two. So there's one on the shelf for the next person to Griff Trisha Pritikin and Karen Dorn steal your wards have made a tremendous impact on the world. And you've now left a legacy of knowledge for others to learn from and build upon. And I really want to thank you for being my guest this week on nuclear hot seat.
Trisha Pritikin
05:54:56
Thank you. Thank you.
Libbe HaLevy 
05:54:59
That was Trisha Pritikin, the author of the Hanford plaintiff's voices from the fight for atomic justice and investigative journalist, Karen Dorn Steele, who wrote the introduction to the book
Libbe HaLevy 
05:55:19
Wednesday, January 27 marks both the national downwinders day of remembrance and the international Holocaust survivors day of remembrance. Somebody really needs to compile a calendar so that these important commemorations don't step on each other's toes. But as regarding downwinders Utah, PBS has a new documentary entitled downwinders and the radioactive west. It premieres on Wednesday, January 27 on Utah, PBS check your local PBS station to see if it's scheduled and if not, feel free to call their program department and request that they carry it. This has been nuclear hot seat for Tuesday, January 26th, 2021 material for this week show has been researched and compiled from nuclear-news.net dune renard.wordpress.com beyond nuclear, the international campaign for the evolution of nuclear weapons heal utah.org bulletin of the atomic scientists and HK dot O r.jp Buffalo news.com low hud.com. Op-ed news.com. Our planet-tv.org, Japan times.co.jp Knox news.com. asahi.com, no nukes Asia forum, Japan Kyoto news.net, politico.edu.
Libbe HaLevy 
05:56:45
Yes, seal gazette.org. Any I magazine.com white heaven, news.co.uk, and the ever co-opted regulatory captured really inefficient nuclear regulatory commission. Hey, we really appreciated the outpouring of support that came following last week's episode number 500, thanks to all of you who helped us out. And to know that if you appreciate weekly verifiable news updates about nuclear issues around the world, anytime is the right time, including right now, to take a moment to go to nuclear hotseat.com. Look for that big red button, click on it, follow the prompts and help us out. No, that the intention is to keep the show running for as long as it's needed, which with plutonium, having a half-life of 24,000 years is going to be for at least a couple more weeks or months or years or millennia. And if you want to make certain you get each week's episode, as soon as it is hot off the digital presses, go to the website and sign up for one email a week, which will have the link, a brief precis of what's in there.
Libbe HaLevy 
05:57:53
And this is a feature you may not know about. There is a tweet length post that you can copy and paste that will work on Twitter, Facebook, any place else you can possibly put it on the internet. That's nuclear hot seat.com. Look for the yellow opt in box and just fill in your first name and email address. We won't bug you. We don't send you lots of stuff. We don't do marketing. We just send you the show because it's important that you be kept up to date. This is Leiby Halevi of hardest three communications. The heart of the art of communicating, reminding you that since last Friday, January 22nd, nuclear weapons are illegal everywhere in the world. And now we have to get rid of the ones that we've got. There you go. You have just had your nuclear wake-up call. So don't go back to sleep because we're all in that nuclear hot seat. Now,
Announcer
05:58:49
Nuclear Hotseat it's the bomb!