Nat'l Monument Loophole Still Allows Grand Canyon Uranium Mining! Leona Morgan of Haul No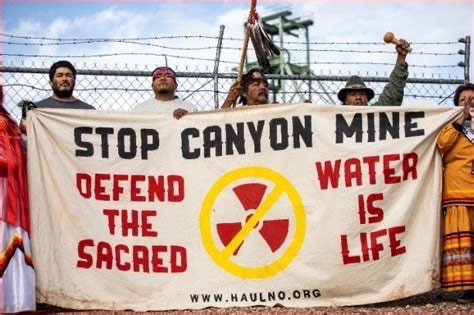 This Week's Featured Interview:
Leona Morgan is Diné and an indigenous community organizer and activist who has been fighting nuclear colonialism since 2007. She helped to successfully prevent a new uranium mining and processing project in Churchrock and Crownpoint, New Mexico. Leona co-founded and did much work under Diné No Nukes, which helped to establish the Haul No! Initiative and Radiation Monitoring Project. Here she talks about the work of the group Haul No!

I spoke with Leona Morgan on October 20, 2023.
Numnutz of the Week for Outstanding Nuclear Boneheadedness:
Why do people continue to think that being a tourist on a radioactive nuclear explosion site is a good idea? Selfies at the Trinity site
Links:
Keynote conversation with Christopher Nolan
Bulletin of the Atomic Scientists Annual Gathering 2023
November 6, 2023 | 5:00 – 7:00 p.m. Central Time
REGISTER HERE