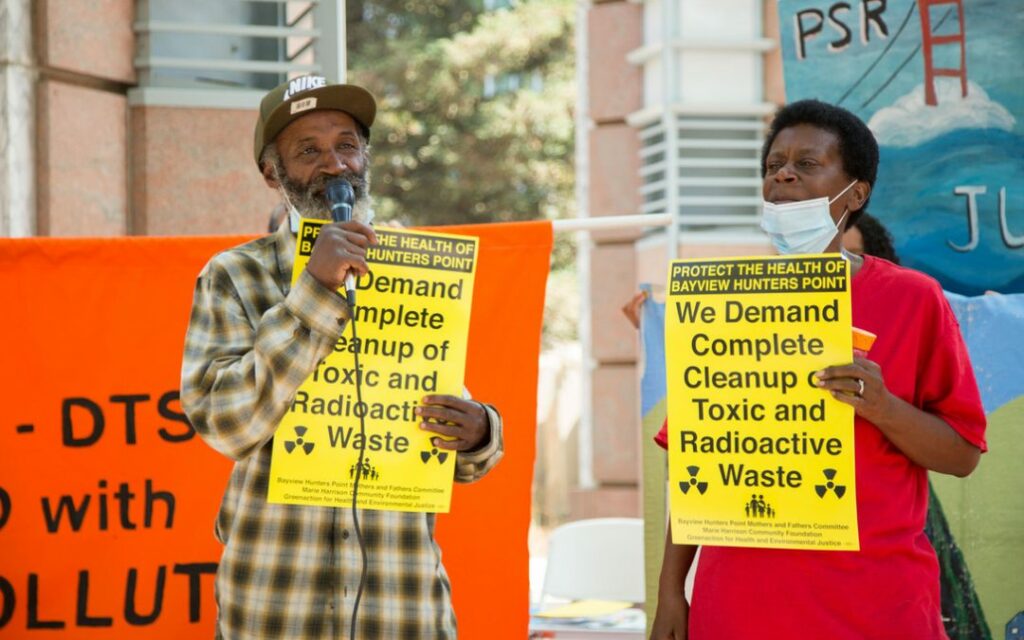 This Week's Featured Interviews:
International Campaign to Abolish Nuclear Weapons and Don't Bank on the Bomb's short video on how much the nine nuclear weapons countries spend on their arsenals… in one year!
Melissa Bumstead of Parents Against the Santa Susana Field Lab, the group that has been fighting for a complete clean-up of the radiologically and chemically polluted site of the Rocketdyne site in Simi Valley, only 30 miles from downtown Los Angeles. Here, she provides an UPDATE on the recent state-wide demo of environmental justice groups, including the anti-nuclear groups Tri-Valley Cares (focused on the Lawrence Livermore Lab) and Greenaction (working on Hunter's Point San Francisco Bay ).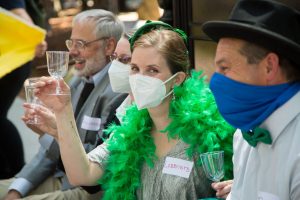 Activist Melissa Bumstead (in green boa), cleverly disguised as a rich lobbyist.
Picture taken at the Sacramento demonstration by Environmental Justice groups.
Numnutz of the Week (for Outstanding Nuclear Boneheadedness):
Radiation not killing off the animals fast enough?  Hey, let's just let the hunters at 'em at Rocky Flats National Nuclear Waste Site, uhr, Wildlife Preserve!  They're so hot, they cook themselves from the inside out!
Libbe HaLevy 
00:00:01
Nuclear weapons. Didn't we deal with those in the fifties and sixties. Sadly, they're still with us arsenals of 15,000 world shattering nuclear or atomic. If you prefer that languaging bombs on hair, trigger alert, ready to be launched with guaranteed destruction of not only whatever they're targeting, but of life on earth itself. And getting rid of nuclear weapons may seem too enormous a task for any one person to make a difference. But that's when you need to hear from a genuine international expert from don't bank on the bomb, telling you about what they do. And then she explained,
Susie Synder
00:00:48
We examine the impact of the financial sector on companies that produce nuclear weapons. We named those companies named them and shamed them. And we encourage people to get in touch with their financial institutions so that they develop policies so that they don't have any exposure to these companies that do produce the key components for nuclear bombs.
Libbe HaLevy 
00:01:11
Well, that sounds easy enough, and it is, and it's effective, empowering. It's working around the world and it shows us that maybe just, maybe there might be a way to ease out of that uncomfortable seat that we all share
Announcer
00:01:31
Clear hot seat. What are those people thinking? Nuclear? Hotsy what have those boys been breaking their hot? See the Ms. Sinking our time to act is shrinking, but the visceral Hotsy, it's the bomb.
Libbe HaLevy 
00:02:02
Welcome to nuclear hot seat, the weekly international news magazine, keeping you up to date on all things nuclear from a different perspective. My name is Leiby Halevi. I am the producer and host as well as a survivor of the nuclear accident at three mile island from just one mile away. So I know what can happen when those nuclear so-called experts get it wrong. This week, we talk with Susie Snyder of PACS, Netherlands, the group behind the international don't bank on the bomb campaign that is rapidly taking the financial props out from under the nuclear weapons industry. You'll learn not only what they are doing, but what you can do and why you must later. We'll hear from Melissa Bumstead parents against Santa Susana field lab in Simi valley, 30 miles from downtown Los Angeles with an update on that group's recent activities to force a full cleanup of that radiologically contaminated site.
Libbe HaLevy 
00:03:04
We will also have nuclear news from around the world, none of that's of the week for outstanding nuclear bone headedness, and more honest nuclear information. Then as being shared by all those kids on Tik TOK, who are busy, crashing the abortion whistleblower websites in Texas and good for them, all of this coming up in just a few moments today is Tuesday, September 7th, 2021. And here is this week's nuclear news from a different perspective. First, a follow-up on last week special program on hurricane Ida and the impact on the Waterford nuclear reactor. This is from Arnie Gunderson, who was one of our guests on last week show. He wrote when hurricane Ida approach new Orleans on August 29th, 2021 Entergy's Waterford nuclear plant deliberately reduced its power level to zero as required by its plant technical specifications. However, even when a nuclear reactor produces zero power, it still relies upon electricity from the power grid to operate its cooling water pumps and plant electrical systems on August 29, high winds broke numerous transmission lines, which caused the electric grid to fail as a result, Waterford lost its electric grid connection and switch to emergency power from its two diesel generators.
Libbe HaLevy 
00:04:28
Offsite power was restored as of September 2nd, but as of September four, Waterford remained shut down and produced zero power until it started up again on Tuesday, September seven, and is now reported to be at only 16% power to quote Arnie Gunderson, who is a nuclear engineer on licensed nuclear plant operator. Fairwinds believes something strange is happening at Entergy's water for nuke, and it appears that energy and the NRC are colluding by not disclosing the extent of the damage at Waterford. If you would like to hear the nuclear hot seat interview, which Arnie labeled precedent in explaining why Waterford was shut down and remained closed for so long, you can listen to it. Nuclear hot seat, number 5 32 from last week, August 31st, 2021 in Illinois, the Illinois nuclear bailout labeled the nuclear hostage crisis by Dave craft. The head of nuclear energy information service in Chicago is limping forward, but still in limbo, the legislation provides for a $694 million bailout for Exelon's Byron Dresden and Braidwood nuclear power plants to be paid by Illinois rate payers over a five-year period.
Libbe HaLevy 
00:05:48
By comparison, during this period of time, renewables get only $600 million in the recently passed Senate bill, the nuclear bailout amount was nearly twice. The amount that an independent audit commissioned by the state suggested was needed in April sinaps energy economics stated that most excellent should receive a maximum of $350 million over five years, possibly less. If energy prices changed in favor of excellence, unprofitable, nuclear plants, no justification was ever publicly made to account for doubling this rate. Payer financed bailout as NIS points out, every dollar spent no wasted on bailing out aging degrading nuclear plants is a dollar not spent on brand new proven, renewable energy, resources, efficiency, storage, and transmission improvements, which will be the backbone of the 21st century energy infrastructure in South Carolina, the ill faded construction of new nuclear reactors in that state. One of two such troubled Westinghouse reactor construction projects in the United States was abruptly terminated on July 31st, 2017, but the effort to determine legal accountability for the projects colossal failure is only now hitting its stride on August 18 of this year, former senior vice-president of new plants and major projects.
Libbe HaLevy 
00:07:17
Jeffrey Benjamin was charged with 16 felony counts, including conspiracy wire fraud, securities fraud, and causing a publicly traded company to keep a false record. He was arraigned on August 31st. This boondoggle at the VC summer site costs taxpayers $9 billion on construction and the project delivered nothing to consumers who are also potential jury members, but a series of nine rate hikes in February, Kevin March, former CEO of SCANA the publicly held utility that was in charge of these. He summer entered a guilty plea in federal court for conspiracy to commit felony fraud and Stephen Byrne, former SCANA chief operating officer and executive vice president pleaded guilty in July of 2022 conspiracy to commit mail and wire fraud. And there will be more. And if that weren't enough of an example of nuclear boneheaded illness, he hears
Libbe HaLevy 
00:08:31
On August 30th, 2021. The department of the interior announced that the us fish and wildlife service has opened new or expanded hunting and sport fishing opportunities across 2.1 million acres, the largest expansion of outdoor recreation opportunities in recent history. And what does that include? The Rocky flats radioactive dump, excuse me, national wildlife refuge. Put that part in quotes. Yes. The former nuclear weapons manufacturing site near Denver, Colorado is open for you to shoot radiation, addled, mutant critters. These are beneficial because they will cook themselves from the inside out with the residential radioactive heat that they have ingested bad. And that's why department of the interior you are this week's
Libbe HaLevy 
00:09:33
Internationally. North Korea appears to have restarted a nuclear reactor in young, beyond this, according to the international atomic energy agency or IAEA, the young beyond complex is believed to have produced plutonium for nuclear weapons. In the past, this new report suggests that the country may be at work expanding its nuclear arsenal since early July, 2021 indications, including the discharge of cooling water, consistent with the operation of a reactor signs of ongoing milling mining and concentration activities at a suspected uranium, mine and ongoing activities at a suspected enrichment facility and Kang some point to a continuation of north Korea's nuclear program and is a clear violation of relevant UN security council resolutions. This news challenges, the Biden administrations expressed interest in renewing nuclear talks with North Korea quote, anywhere, anytime without preconditions and in the UK. A new BBC drama called vigil is focusing attention on the fast lane peace camp, the longest running anti-nuclear peace camp in the world.
Libbe HaLevy 
01:10:47
The show is a point of contention for the residents because they point to its inaccuracy, but Hey television, but at least articles are being written and we will link to one on our website, nuclear hot seat.com under episode number 5 33. We'll have this week's featured interview in just a moment. But first the pro nuclear propaganda keeps coming thick and fast setting up talking points that the casual reader or legislator will catch in headlines and absorb as gospel truth. When it's really just the opposite. What is there to counter the lies of the nuclear industry, all the money and influence and smug smarmy talking points. Yeah, I'm pretty heated up this week. That's because while David May have won out over Goliath, sometimes this battle feels impossible and still I, we have persisted for eight years. Nuclear hot seat has been one of the only places where you can get a one hour hit of honest nuclear information every week interviews with genuine experts around up of international news, never enough time for all the stories that deserve it, but still numb nuts of the week.
Libbe HaLevy 
01:12:06
Bad puns, sometimes a touch of musical theater. Where else can you find all of this in a weekly counterbalanced to nuclear industry lies? Of course, the show has been operating for years on a budget. That's less than what one nuclear lobbyist gets to spend for one week of lunches with powerful legislators and our budget is dependent on you. The listeners to keep us going right now, to be honest, finances have been getting pretty thin. So if you are against nukes and want to help get the word out, help us with a donation. It's easy. Just go to nuclear, hot seat.com and click on the big red donate button. That's where you can send a one-time donation or set up a monthly donation of any size. Please do what you can now and know that whatever you can do to help I'm deeply grateful that you're listening and that you care here's this week's featured interview.
Libbe HaLevy 
01:13:09
Susie Snyder is project lead for the PACS, no nukes project and coordinates the dunk bank on the bomb research publication and campaigning activities. She is an international steering group member of the international campaign to abolish nuclear weapons and a 2016 nuclear free future award Laureate. Previously, Mrs. Snyder served as the secretary general of the women's international league for peace and freedom at their Geneva secretariat. Now don't bank on the bomb has published their 20, 20 global report on the financing of nuclear weapons producers. And this is not only another interesting repost that you promised yourself. You'll read one day, it provides a blueprint for how we, you and I, and anyone can help leverage money out of the nuclear weapons industry. We initially spoke on Friday, May 10th, 2019 for nuclear hot seat, number four 12. And her information is as good today as it was then note that there will be a brief unplanned appearance of a young activist who underscores the reason why we do this work. Susie Snyder. Thank you so much for being with us here today on nuclear hot seat.
Susie Synder
01:14:27
Great to be here. Thanks so much.
Libbe HaLevy 
01:14:31
First of all, what is packs and what are the organization's goals?
Susie Synder
01:14:36
Well, PACS is a Dutch peace organization and what we're doing, we are working to reduce human suffering as a result of conflict. And so to, to prevent war prevent suffering, and generally to make sure that we build norms that keep people safe and keep people alive.
Libbe HaLevy 
01:14:58
What are some of your cornerstone programs? I'm certainly familiar with don't bank on the bomb because I've followed that protocol with my own finances. What is this? And how can people participate in it?
Susie Synder
01:15:11
I don't think on the bomb is a great project. That is what we do is we, we do three things. We examine the impact of the financial sector on companies that produce nuclear weapons. We named those companies named them and shamed them. And we encourage people to get in touch with their financial institutions so that they develop policies so that they don't have any exposure to these companies that do produce the key components for nuclear bombs. So it's, it's naming the ones that have investments. It's supporting the ones that have great policies not to invest. And it's of course, identifying the companies that make the bombs, because if we don't know who's doing it, we don't know what we can do about it.
Libbe HaLevy 
01:15:54
Speaking of those companies, there has just been a new report that came out naming 28 separate companies as being involved in the manufacture of nuclear weapons. How did that report come about and what are some of the findings you've made because of it?
Susie Synder
01:16:11
Well, let me tell you, let me, it was a good deal of research and we are extremely rigorous in our research. So we've been looking at contracts and announcements for contracts or requests for proposals and so on for the last, for the last six months. And so what we did is as we looked at these, we looked at these different issues and we, sorry, sorry. I'm sure that many of your listeners also have children they're hearing in the background.
Libbe HaLevy 
01:16:42
This is the reason we do the work that we knew for the children. And so this could not be more perfect.
Susie Synder
01:16:53
It is just the reality, you know, working moms everywhere. So what we did is we looked at a contract. We looked at the government plans, different government plans for new types of nuclear weapons, for the weapons that are under these so-called modernization programs. And then we look to see, okay, who's actually doing this in-house so to speak, like what countries are doing it, there's only nine countries that have nuclear weapons. So it's not so many at the end of the day. And we look at who does stuff in houses and state run agencies and who contracts out now, not everybody contracts out. Russia does stuff. Mostly in house North Korea does everything in house. Pakistan does stuff in house, but India, the us, the UK, France, they all count. They all hire external contractors. So then we follow the money who bids on the contracts, who gets the contract and what are they doing?
Susie Synder
01:17:48
What are they actually doing under these contracts? And that's where we found exciting. Well, it's exciting. And it's not a nice way, but you know, we've found over $116 billion in existing contracts right now for keeping nuclear weapons on the planet. And some of them until 2075, which all of these countries have said they had to state at one time, or other said, no, we need a world without nuclear weapons. And I'll tell you, you don't get to a world without nuclear weapons by hiring Boeing or Raytheon or Lockheed Martin to build a new nuclear arsenal for you.
Libbe HaLevy 
01:18:26
Some of the stories that I've read about coming out from the contracts are truly it's like going into bizarro land. They give us some examples. For example, when the head of Raytheon was asked, if there was a growth opportunity in the us exit from the inf treaty.
Susie Synder
01:18:47
So this was really surprising. I mean, okay, usually what's nuclear weapons. Nobody's really nobody's should be really proud to be making nuclear weapons. These are weapons designed to, you know, your listeners know this already. These are weapons designed to annihilate cities. They're not for battlefields. They're not for strategic pinpoint accuracy. This is a city Buster. And that's, I think that's really important to keep in mind. And for the most part over the last, almost the last generation, people have been shying away from, from taking pride in this. But then there are a few and there's been a slight change in the rhetoric around this. So when Donald Trump took office, he asked these questions, why would we have nuclear weapons? If we could never use them? And he started saying, well, maybe we need, you know, we need to go back to make more and the biggest and the best weapons.
Susie Synder
01:19:38
And he's basically inciting an arms race by withdrawing from the intermediate nuclear forces treaty this treaty from 1987, that prohibited an entire class of weapons. He opened the flood gates on this. And so in Raytheon and Raytheon of all companies, Raytheon kind of was getting out of the nuclear arms game. It was seen as a, as a losing interest, but then the withdrawal from the IMF came about and they said, oh wait, we might have an opportunity here, at least in the short term. So you, you saw the investor relations call. They said they were asked the question, oh yeah. You know, is there any opportunity for us? And over the next quarter rate, beyond that 500 million in new contracts related to Ms. Cell technology. So Raytheon starting to cash in on this new nuclear arms race. And I just have to ask the question, what are they, you know, they're only looking for short term game, what are they looking for in the long-term? Because this is not the kind of product that we should be supporting.
Libbe HaLevy 
02:20:38
It's a terrifying thought that nuclear weapons are looked at as a growth industry and an opportunity for investor profits when really their end game is the destruction of everything. And their profits will mean nothing. There are other programs that have been brought up in the reading that I've been doing. And another one had to do with bowling and a new program that the company that brought us the twice crashed 7 37 max, is being asked to develop what is a flight termination receiver and what are the implications of the attempt to develop it?
Susie Synder
02:21:15
Okay. So this is something that within the nuclear policy community, there's some debate, right? So the flight termination receiver is the idea is you, you can call the missile back because it takes about 25 and 40 minutes for an Intercontinental ballistic missile to be launched and hit its target. And that means that once you press the button, there's fish two hours until the end of civilization, as we know it, because any target they're gonna, they're gonna see the incoming missile and they're going to launch and return. They're gonna try to take everything out before you take out what they've got. That's the whole, that's what there was this whole concept behind mutually assured destruction. So with what bullying is doing now is they're making this missile technology so that if you launch and you decide, oh wait, whoops, our information was wrong. Oh, actually it was a weather balloon.
Susie Synder
02:22:11
Oh no, that wasn't an incoming missile. It was, you know, it was a pigeon, whatever it is. And I don't mean to make light of it, but seriously, there's been so many near misses. It could be anything. The idea is that the missile would then go off course or with self-destructs. So it wouldn't have the same. It wouldn't hit its target. So it is to be able to shift it in flight. Now on the one hand, you know, this could be great. Cause then it, you know, it won't hit its target and you could, you could stop some insanity. But on the other hand, if you see the missile coming in, you're going to fire with everything you've got. And so it's a losing situation. It's a losing proposition. And honestly, as you said, how much can we trust Boeing right now?
Libbe HaLevy 
02:22:57
It's how much do we trust anybody who is working in nuclear arms because they can somehow justify it. I've also seen that one of the problems with having a flight termination receiver is that it might call for a launch of a weapon and then using it just as a scare tactic, because they think, well, we can pull it back and there will be no harm, no foul when indeed you're right. The retaliation could be volleyed out before we could pull it back and they might not be able to do so. And there goes the planet, or if not the planet, at least the people in the life forms on it.
Susie Synder
02:23:35
Exactly. And what we've learned from new climate research from new modeling just the last 10 years is that it doesn't take a thousand bombs going off to destroy the civilization that we, that we know it would take a hundred weapons between, for example, India and Pakistan, and 2 billion people, 2 billion people were at risk of famine. It would cause grave environmental catastrophe. It would, it would be a nuclear winter. And in the eighties, we are totally aware of this. So like, okay, this is not going to happen. We're going to stop it. We're going to shut this down. This is insane. And right now it's our time to stand up and say, Hey, this is insane. There are so many more things that we could spend the money on the U S government alone is spending $70,000 on minutes on producing nuclear weapons, 70,000 a minute. Imagine what $70,000 a minute could do for public education, addressing climate change, the nuclear weapons problem. It's complicated, but it's, it's a relatively easy fix. And it's just a matter of deciding to do it. And now's the time for people to, to demand that we do,
Libbe HaLevy 
02:24:57
You know, you're right. On the one hand, it's a terribly depressing image for those of us who oppose nuclear and have managed to become conscious about it yet in the intertwining of the private sector and nuclear weapons, there are potential points of leverage. Explain what you mean by that.
Susie Synder
02:25:17
This is what I'm finding is very exciting. So two years ago, most of the nations in the world adopted a new treaty on the prohibition of nuclear weapons. They said, you know what? This has gone bonkers long enough. And the consequences of any use of nuclear weapons are so great. We need to prohibit everything to do with them, prohibit all the making, having using preparance use prohibited, make it illegal, make sure that we are collectively responsible. If any weapons get used, you know, reinforce the nonproliferation standard by doing so protect the environment. This is the most Everence in the world said, yes, we're going to do this. And after that financial institutions, banks, pension funds, insurance companies, they said, wait a minute, wait a minute, wait a minute. If the weapons are illegal, the companies that are making the weapons, they're going to start to go down, let's get out, let's get out. Now let's prevent any reputational risk or regulatory risk. Let's end our financial involvement with these companies. And 10% of them dropped out. It was amazing
Libbe HaLevy 
02:26:33
When you said 10% of them dropped out, explain a little more about what that exactly means.
Susie Synder
02:26:38
We've been doing this kind of analysis of the environment, financial sector and whoever producers for, for a while. Now, since 2013 and we track every year, how many, how many banks, how many financial institutions and best, and from the adoption of the treaty on the prohibition of nuclear weapons until a year later, there was a 10% reduction. It's an actual number. There's 30, fewer financial institutions that had investments in the companies that produce nuclear weapons. And some of these are really like this is blue cross and blue shield that previously had some investments and then got out. This is, you know, the Norwegian government pension funds that said, oh, wait a minute. We better change our relationship here. This is ABP, which is the fifth largest pension fund in the world. And they said, oh, hang on. Nope, nuclear is illegal. Now, got to get out of that game, which is quite impressive. We're putting together the numbers for this year. And I think we're going to see some, some additional positive change. This Nope, even though a few companies are starting to make money off of new contracts. And most of the world, this is seen as a bad investment.
Libbe HaLevy 
02:27:52
I often think of PACS and the Nobel peace prize, winning international campaign for the abolition of nuclear weapons or I can, which was behind the treaty in the United nations, the treaty on the prohibition of nuclear weapons. I often think of you two as kind of either conjoined or somehow being under the same umbrella. What is the relationship between the two groups?
Susie Synder
02:28:18
PAX is a partner of the international campaign to abolish nuclear weapons. And I can as a campaign coalition, and we've got over 500 partners in more than a hundred countries around the world. And it was, I can working with these partnerships also with, with concerned governments, with international organizations like the global red cross that got this treaty to happen. It was, it was through partnership. It was through a movement. And PAX is that as a part of this bigger movement, we're really proud to be a member of this campaign coalition because it means that we're, as we said in the local papers here, the Nobel peace prize got one in our little town, at least a little bit. It's quite amazing.
Libbe HaLevy 
02:29:03
Let's switch over to talking a little bit about ICANN and the impact that that is having and can potentially have the entire nuclear weapons landscape in the world. It is not a campaign to ask the nine nuclear countries to get rid of their weapons. It's a campaign to get all of the countries that don't have nuclear weapons to agree, to not get nuclear weapons. And then there are other provisions involved with it as well. Can you explain what those are and how those would mess up the nuclear countries?
Susie Synder
02:29:37
Sure. So the thing is with, with icon is that we're working at over a hundred countries to raise the stigma against nuclear weapons. And most countries of the world have already rejected nuclear weapons. It's just this nine that are, seem to be a bit stuck and seem to be kind of a, I dunno, it's a little bit of old thinking and that doesn't quite relate to the current world order, but that I can is working even in the nuclear armed countries to say, Hey, we have a plan to get to no nuclear weapons in the world. We know the nuclear armed countries, they're clearly not ready yet. They haven't quite matured to the level of, of many others to be able to, to take a more realistic and pragmatic approach to their security, but the other countries have. And so countries like Austria and Ireland, South Africa are fully on board with this treaty because they recognize that there is no, no benefit to them and only risk from supporting nuclear weapons.
Susie Synder
03:30:37
What this means is that financial institutions in those countries have seen what happens with other weapons, prohibitions, and they get out of the, of the game when it comes to investing in companies that produce the weapons companies like Airbus, Airbus is a com as a Dutch registered company. Airbus has operations throughout Europe. Airbus is known for making airplanes. Airbus also makes missiles for the French nuclear arsenal. And what this does is it says that if Airbus, for example, when Germany signs on to the ban treaty, the operations that Airbus has within Germany, can't be involved in the production of missiles for France or for anybody else because that's prohibited under the treaty. And that would change the landscape for France. France doesn't have another capability or they have to move manufacturing capabilities. And that's, that's really important also, but she also has this great impact because it makes the question of it challenges.
Susie Synder
03:31:43
The assumption that nuclear weapons would benefit anyone's security. And in fact, puts the onus on those who have the weapons prove it. You've been saying this for so long with no evidence. You've been quite hysterical about your security concerns. No, be rational, become, prove that this is the only way forward. And if it is in fact, the only way forward, why are you so United against other countries getting the same weapons? Why does North Korea use the same language as France and defending its its decision to get nuclear weapons? You know, be a calm, rational actor in this field and not the hysterical nuclear armed countries that we've come to know. It seems that this
Libbe HaLevy 
03:32:27
Program, the treaty for the prevention of nuclear war and the countries that sign onto it would really signify a grassroots erosion of the ability of the nuclear industry to operate unimpeded. In other words, putting perhaps if not a block in the road, a stone in the shoe that they can't move forward as they planned on it. And here in the U S we are starting to see some changes, at least on the state and the local level in January, a bill was introduced in the Massachusetts state legislature that would require the state's pension funds to divest from nuclear manufacturers. The city of Cambridge has already done. So, and here in California, OHI will not make any future investments in the makers or funders of nuclear weapons. Do think that the best way for us to proceed is to work on the local grassroots level rather than going for the big guys in Washington DC, or the heads of whatever countries, people listening to this show in 123 countries that listened to it. I'm not going after the top of the governmental food chain, but starting local is the path we need to follow.
Susie Synder
03:33:40
Well, I think it depends on where people are. So in the U S you know, one out of every eight Americans lives in California. So when the California state legislature passes a resolution calling on the U S federal government to endorse and embrace the treaty on the prohibition of nuclear weapons, that is significant. And that is a demonstration of the will of the people. Nuclear weapons are the opposite of democracy. They're the opposite of people's movements. And it's going to take people's movements, being creative in the locations they are to get change. We just had today, which said, Berlin, both the city of Berlin, as well as the federal state of Berlin, come on board and call on the German governments to join this treaty.
Libbe HaLevy 
03:34:31
That's fabulous. I hadn't gotten that news yet.
Susie Synder
03:34:35
Yeah. And it's happening every day. There are new cities joining. There are new there's new state resolutions being discussed there, conversations happening. And the key thing is nuclear weapons are an anachronism and we can move past them, but we have to talk about them. And we have to talk about the, not just with our friends, that it's comfortable to talk about them with, but to talk about them in other places and reach out, because I'll tell you, we ran a petition campaign a couple of years ago in the Netherlands. And what we found is that nine out of every 10 people we asked said, of course we don't support nuclear weapons. Nuclear weapons are dumb. Wait, there's still a problem. I thought they were gone. Most people don't know. And as soon as they know, they think, oh my gosh, this is ridiculous. This is a problem of the eighties. Let's, let's send it to the dustbin of history, that attitude and that emphasis and that is starting to catch like a wildfire throughout the world. And it will change the minds of those sitting in the high political offices. If you are friends with the head of state, by all means, call your buddy and tells him to get on board with this treaty. If however, you are not friends with the head of state, think about other ways you can, you can help support this, this effort to make nuclear weapons history.
Libbe HaLevy 
03:36:01
That brings us to the practicalities. What are things that people on the ground can do? And what tools do you have? Because the research is extensive and it is impeccable. Everything is footnoted. Everything is accurate in it because we can't, our side can't afford to make mistakes. What do you have available that we can use to support anything that we are saying or doing on the ground?
Susie Synder
03:36:27
Well, the first thing I would encourage your listeners to just sign up to our newsletter. We're constantly putting information out. It's at nuclear ban.org, and there's tons of info there. Well, now it depends again where people are. If you want to figure out how to make sure your personal finances are in no way, connected to the companies that produce nuclear weapons, whether it be through your bank or through your pension investments or other things, we have checklists on our website for people to use. We just quickly scan the websites. See if your bank's listed, send them a message. We have tools you can directly send your bank a message. And a lot of people these days, myself included use 'em to banking on our phones, right? Mobile banking is the thing. And I encourage people all the time, pull out your phone, go to your banking app and just send a message directly to your bank right now and just say, Hey, are we in any way connected to companies that produce your bonds?
Susie Synder
03:37:27
When you ask that question through your mobile app, through walking into your local bank branch, whatever it is, you're starting a chain reaction of the good kind, the person on the other end probably has no idea. So they're going to have to ask somebody is going to have to ask somebody is going to have to ask somebody. We saw a number of financial institutions get out of this type of investment because people started asking questions on their Facebook profiles. And there's this like, oh, that's not good. We can't have this. Oh, wait, wait, let's check. Let's check. Okay, well, let's get that. They divested first. And then they put into place a policy to make sure that they'll never have any kind of investments and connected to the producers in the future. And it's part of their internal due diligence. Now it wasn't a huge number of people that did this. It was three or four people that saw something in a newspaper that saw a tweet that heard something on the radio. And they took action because it truly is. As Margaret Mead said, it truly is a small handful of thoughtful and committed people that can change the world. And there are many people who would love the extra energy and attention. And the quick question, do we have anything to do with the nuclear bomb? If so, how can we avoid it? And we can, and we will.
Libbe HaLevy 
03:38:52
The brilliance of this program is that any individual can make an enormous difference simply by taking a few steps that are already brilliantly strategized and plotted out and framed as you have done, as the people with PACS have done. And I can as well, if you have any final thoughts to share with the listeners today, what would that be?
Susie Synder
03:39:20
I would ask your listeners to tell a friend, each one can reach one and each one can teach one. And that is how we will get this change. And that is how we will be able to retire from working on nuclear weapon issues and put our energy into dealing with the new challenges that face a new century.
Libbe HaLevy 
03:39:42
Susie Snyder, you have been doing brilliant work. I've been aware of your work since Helen Caldicott conference. I believe it was five or six years ago and the progress has been astonishing and breathtaking. I always report on any positive steps that we find out that have been taken by either PACS or I can on nuclear Hotsy. Cause we've got to get our new good news from somewhere. And it seems to come inordinately from these two groups.
Susie Synder
04:40:09
Thank you so much. It's been a great pleasure speaking with you. It's always a great pleasure and I really appreciate the opportunities today.
Libbe HaLevy 
04:40:17
And I appreciate you being my guest this week on nuclear hot seat. I love this woman's energy. Susie Snyder, a PAX Netherlands and don't bank on the bomb. We will have a link to that website where you can download the 20, 20 global report on the financing of nuclear weapons. Producers make certain that you do download it, send a copy to your bank, your credit union, your pension fund, financial advisors. And if you find out that any of them or their organizations support any of these nuclear weapons producers, take your money someplace else and talk with your friends about doing the same. It really can make a difference.
speaker 3
04:41:05
Activists
Libbe HaLevy 
04:41:13
Fighting against the nuclear juggernaut is never a one and done experience. It seems that every time we make a step forward, the pushback from the nuclear industry and his cronies, take us back at least one step, if not more, that's why we need to persist this next activist. Personifies that persistence. Melissa Bumstead is head of parents against the Santa Susana field lab, a radiologically contaminated former rocket Dyne site in the Hills of Simi valley, only 30 miles from downtown Los Angeles. We've covered the work of this group and Melissa and its fight to obtain a complete cleanup of the site against staggering political pressure and odds. Here we talk about the most recent demonstration to push for cleanup and what happened? I spoke with Melissa Bumstead on Monday, September 6th, 2021, Melissa. Bumstead thanks so much for joining us here on nuclear hot seat.
Melissa Bumstead
04:42:16
Thank you so much for having me. What
Libbe HaLevy 
04:42:19
Is the current status at the Santa Susana field lab as regards the,
Melissa Bumstead
04:42:25
The cleanup at the Santa Susana field lab is looking pretty dire right now. DTSC the department of toxic substances control is still having, as far as we know private negotiations with Boeing about the cleanup, they are refusing to show us some of the data that we need to see what's happening. It's just a big mess. It feels very frustrating.
Libbe HaLevy 
04:42:47
What has been the latest action? What has been the most recent action that was taken by those who are trying to get the cleanup pushed forward?
Melissa Bumstead
04:42:57
About a week ago, a big group of us over 20 EGA, environmental justice communities from across California. We all have been working together for weeks now held a protest in Sacramento, right in front of the California EPA building. And that was an opportunity for each group to bring out specific demands for their sites that have not been cleaned up the department of toxic substance control. We call them the DTSC they're the regulating agency over Mike cleanup and also all these EGA communities across California. And again, and again, we've come to them as our own group, trying to make sure they're not going to compromise with Boeing and leave up to 90% of the contamination onsite. And it turns out this is the same exact story. Every single group had when they shared their demands, their children are sick. Their children have cancer. They've lost whole communities and the same exact story that they come to Cali PA and they come to the DTSC looking to be protected like the agency is meant to, and they get the same run around the exact almost like they've written our script.
Libbe HaLevy 
04:44:09
And that's not an unusual response to have to the way the officials operate. We've certainly seen that with the nuclear regulatory commission and EPA is infamous for it. So about how many people were at this demonstration,
Melissa Bumstead
04:44:26
I think because the fires that are happening up in Northern California right now, the air quality was very, very poor in Sacramento that day. So unfortunately we had about, about 40 people show up, which isn't bad, but we had been hoping for hundreds. Nevertheless, I think we were still enough of a force to actually have the director of the DTSC Dr. Meredith Williams and the secretary for Cal EPA, Jared Blumenfeld. They actually came down and they addressed our group. How satisfactory or not was the way that they addressed you. And the information that they shared patronizing is not even the word for it. They said that they understand our suffering. They appreciate the accountability. They're so glad that we're here sharing what we need from them that we're motivating them to do more better. I mean, it was the exact, all the nice words, all the nice words.
Melissa Bumstead
04:45:22
And I have to admit, I was pretty irate that day. I had driven six hours straight from Los Angeles to Sacramento. I'd been up since three that morning. I don't normally try to interrupt speakers at protests. However, I wasn't going to let them leave without calling them. Don't change the cleanup standards at the Santa Susana field lab. It's called this Fram, that deals specifically with the chemical contamination. And Boeing's part of the cleanup and Meredith Williams. The director shot back at me saying, you don't understand, you don't have the latest updates. I believe she actually said, you're not up to date with those changes and you don't know what you're doing. It was definitely the implication. I mean, it was not, I mean, I was shocked just from the perspective that somebody would say that out loud in public, you know, like to an EGA community, but just really, again, shows they don't want us to participate in how they're doing their job.
Melissa Bumstead
04:46:22
And they're a public agency. They're supposed to be servants of the public. And I've been only working with the Santa Susanna field. I've cleaned up for five years, but I've been entrenched daily. It's probably out of balance that I know so much about the Santa Susana field lab cleanup. And she hasn't, you know, she's, she's a director. She's got to do all these sites. And each one of us there knew everything there was to know about our site. And for her to say that the EGA community is not up-to-date. I mean, essentially she was saying that we're a nuisance, we're part of the problem of getting these cleanups. I mean, that was heavily inferred. And afterwards I went to speak to her and secretary Blumenfeld who I thought that I had a relationship with. I thought he was on our side for years now. I thought I thought things were going really well. Pretty much said that because I don't have the degree. The other people who've been advocating for it don't have a degree. He said, Meredith Williams, Dr. Meredith Williams is the only one with a PhD and we have to listen to her, but it doesn't sound
Libbe HaLevy 
04:47:29
Like she a PhD in humanity or common sense.
Melissa Bumstead
04:47:33
Well, apparently she has it in product safety. Apparently her degree is in product safety. And so that's quite a bit different than, you know, regulating nuclear sites. And so that was it really coming me to the court. To be honest with you, I was depressed for days because it was so emotionally draining to hear about all these children's suffering all across California, their helplessness, how they've tried every venue. I mean, they've jumped through like us, every hoop at the DTSC has put before us to try to make sure we get the right cleanup. And instead we're treated like we're just angry little children who can be pat on the head and sent back to our rooms.
Libbe HaLevy 
04:48:12
They're there, Missy, don't worry your pretty little head about it. That's my phrase for it. What, if anything, was the media response to this demonstration that you and the other environmental justice groups had?
Melissa Bumstead
04:48:26
Well, we did get coverage on the Los Angeles daily news, which was great. Again, we knew that the couldn't have been a worse time for this protest. I mean, Afghanistan is falling apart. The east coast is being hit with storms. COVID is raging school just started. I mean, everything is bad, but here in California, there is an election in two weeks. If governor knew some should be recalled or not. And we thought that if we were to make show up before that election, it might put a bit of extra pressure on secretary Blumenfeld because he's a Newsome appointee. And maybe that would work in our favor. But unfortunately the timing, I mean, we pretty much got swallowed up and the world falling apart, which it makes sense, but we still have, you know, we can't wait. We can't wait for the right timing. Our children are literally sick and cleanup agreements are being signed. So
Libbe HaLevy 
04:49:19
Despite your best efforts to bring this important issue up to the officials who are supposed to be taking care of it and protecting us, it sounds like it's been an exercise in futility once again. So what do you do with that kind of ignorance and deafness and blackout?
Melissa Bumstead
04:49:40
I don't know. I know we can't stop, but the thing I don't understand, the thing I can't get to the root of, and I don't know how we can fix it if we don't know what the root problem is, but why is our government working against the people and for the polluters? I mean, that's, that was our big visual that really showed exactly the way we're feeling. We brought a giant bed and a bedroom set, and we had people dressed up. I was a fancy lobbyist and we had people who were dressed up as polluters and also as Cali PA and DTSC and corporate developers. And we were all in bed together, drinking champagne, smoking cigars.
Libbe HaLevy 
05:50:18
That explains that picture of you in the green feathered boa with the champagne glut. I was wondering, that's not unusual for somebody who's to be at a protest, but now this makes perfect sense.
Melissa Bumstead
05:50:31
Right, right. And so that, but that is the problem. It's not just even a matter of getting the cleanups that we need. The agency itself is toxic. The people who are working there and who have worked there through numerous directors, numerous Cal EPA, it just seems like it's still never changes if Obama's in office or if Trump is in office or now we're back to Biden again, it's just, I don't understand why the agency itself is so broken.
Libbe HaLevy 
05:50:59
I understand that there is now thinking about starting a podcast on behalf of the Santa Susana field lab cleanup, where are you in that plan?
Melissa Bumstead
05:51:14
Kind of in the hopeful panicky, scatterbrained, but that's how we do everything here. We're not professionals at any of this. We just kind of throw ourselves out there, kind of like spaghetti against the wall and see what sticks, but we have to have a way to share the heart of what the problem is. And I don't have time to write novels every day of what's going on. So we're hoping that a podcast, I mean, look at what you're doing. I mean, it's just, your podcast is so remarkable. So if we could be like 1000000th of a time, as good as you, then I would be very happy.
Libbe HaLevy 
05:51:48
I think we can get the numbers up higher than that. And I agreed that the way for any movement to move forward is to have your own channels of communication and let people know so that they can get the unfiltered truth about what's going on. We spoke earlier today about this and you know that you have my support to help get this going, hopefully in the very near future, because you don't have to be perfect. You just have to be there.
Melissa Bumstead
05:52:19
Thank you. And, and I think that a podcast brings people together and that sharing of knowledge and sharing of information. I mean, that's what we really saw at this environmental justice protest. You know, we really were stronger when we were together and sharing that knowledge. And we were enough of a force to make the director and the secretary come down and feel like they had to address us. I don't think they got the warm reception. They were hoping for, it felt to me like they did walk away, like wound the dogs. I don't think that'll be enough. But if we, if we keep going, you know, and keep working together and keep sharing information, it's, we're going to get to their Achilles heel eventually.
Libbe HaLevy 
05:52:56
Well, it sounds like those other groups that were at that demonstration would be a great place for you to have a whole series of interviews available to you over the coming weeks and months for this. And when you get not, if when you get this podcast up and running, we will, of course feature you and promoted here on nuclear huts.
Melissa Bumstead
05:53:18
Oh, thank you so much. I can't tell you how much that means to us.
Libbe HaLevy 
05:53:22
Well, you guys are only 30 miles away from me, so this is my neighborhood, nuclear nightmare. I mean, I've got JPL and I've got sand and fray also to worry about, but you guys are like right there.
Melissa Bumstead
05:53:35
And you know what? I was kind of shocked to nuclear contamination and America. It's just not part of the news. It's not something we're seeing on television. And yet, even in the small environmental justice protest, we have three groups coming from three different radioactive contamination sites. It's just shocking to me that there is so much, even in California, we're supposed to be the environmentalist of the whole nation, maybe even the world. And there's three sites with radioactive contamination, hurting people, and we can't get the government to clean it up.
Libbe HaLevy 
05:54:08
You know that I've got open ears and always time on nuclear, hot seat for you and the concerns of the parents and others around Santa Susana, field lab, and Melissa Bumstead. Thank you for all the hard, important work and the heavy lifting that you are doing on behalf of the children, the parents and the environment life.
Melissa Bumstead
05:54:30
Thank you so much. And I keep rocking on, I love your show and thank you for having us. Anytime,
Libbe HaLevy 
05:54:36
Melissa Bumstead parents against the sadness Susana field lab, we will link to them on our website, nuclear hotseat.com. Under this episode, number 5 33 on September 30th, international physicians for the prevention of nuclear war is sponsoring a webinar internationally called eliminating the existential threat of nuclear weapons participants in this high level discussion will include you and under secretary general, Izumi NACA me-too and the hens of two NGOs with official UN status. Peter Maurer, president of the international committee of the red cross, and checar Maita president of rotary international. They will discuss the UN treaty on the prohibition of nuclear weapons and other steps that we can take to eliminate the existential threat posed by nuclear weapons. Again, this will be September 30th at 11:00 AM, Eastern daylight time and happy birthday to Greenpeace 50 years old Jews. You don't look a day over. Where would we be without you?
Libbe HaLevy 
05:55:46
This has been nuclear Hotsy for Tuesday, September 7th, 2021 material for this week show has been researched and compiled from nuclear-news.net dune renard.wordpress.com beyond a nuclear.com the international campaign to abolish nuclear weapons, or I can don't bank on the bomb.com IPP and w.org fws.org, Arnie Gunderson, and fairwinds.org, nuclear energy information service NEI s.org, the bulletin.org manager, Joe Green, the mirror.co.uk and the captured and compromised by the industry. They're supposed to be regulating nuclear regulatory commission. Now, if you'd like to make certain that you never miss out on another episode of nuclear hot seat, it's real easy. Go to our website, nuclear hot seat.com go to the yellow opt box, put in your first name, put in an email address. Shazamm you will get one email a week, which has the link to the episode and a brief rundown of some of the material that's in it. It's the easiest way for you to make certain that you get your hit of honest nuclear information.
Libbe HaLevy 
05:57:01
And before long, it will all be available on our new upgraded snazzy website, which I've just had a first glimpse of, and it is gorgeous and has a ton of new features that I know you'll appreciate. Won't tell you about them yet. We'll let that be a surprise. Now, if you have a story lead, a hot tip or suggestion of someone to interview, send an email with that information to [email protected]. That's where I get some of my best leads. And it's all dependent on you telling me what's going on in your nuclear neighborhood. This episode of nuclear hot seat is copyright 2021 Leiby Halevi and heart history communications, all rights reserved, but fair use allowed as long as proper attribution is provided or just link to it. That's the easiest way. This is Leiby Halevi of heart history, communications, the heart of the art of communicating, reminding you that when it comes to all things, nuclear, not only what you don't know can hurt you, chances are it probably already has. There you go. That is your nuclear wake up call. So whatever you do do not go back to sleep because we are all in the nuclear hot seat,
Announcer
05:58:24
Clear hot seat. What are those people thinking? Nuclear hot seat. What have those boys been breaking clear, hot seat? The Ms. Sinking our time to act is shrinking, but linking nuclear Hotsy it's the bomb.